Internal source of strength lifts Archbishop Hoban into seventh straight regional final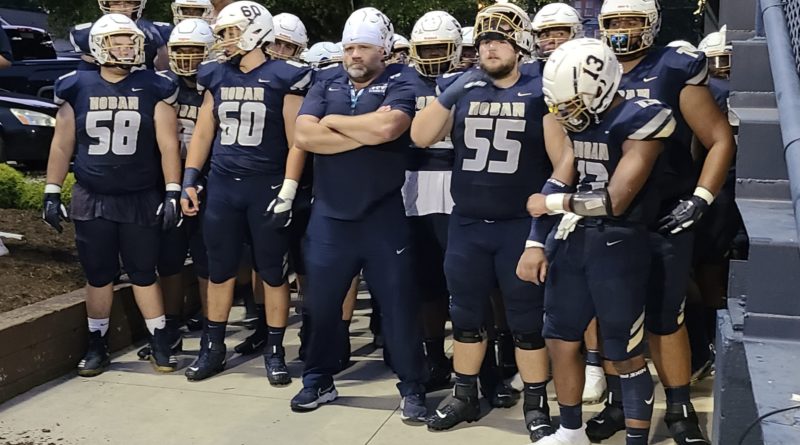 Story and photo by Ryan Isley
RAVENNA, Ohio — As the Archbishop Hoban football team celebrated its 35-7 win over Nordonia on Friday night to send the Knights to their seventh consecutive regional final, Mike Winkler beamed with pride as he stood with his arms crossed.
Winkler was watching what months and years of hard work had produced once again for the Knights — a celebratory postgame huddle. After all, winning has become commonplace for the defending Division II state champions, as Hoban has hoisted a state championship trophy in five of the past six seasons.
But while Winkler stands out in a crowd, many probably don't even know who he is. And part of the reason is because Winkler, the director of strength and conditioning at Hoban, doesn't go looking for the spotlight.
"It isn't about me," Winkler said. "First and foremost, it is about the school and about the kids."
One person who sees firsthand what Winkler and the strength and conditioning program mean to the football program is Hoban head coach Tim Tyrrell.
He sees the effort and hard work Winkler and assistant strength and conditioning coach Maddie Diestel put in with the team and understands that without their dedication, the Knights wouldn't be where they are.
"Him and his staff don't get enough recognition," Tyrrell said. "People like Mike (and Maddie) get put in the background because they aren't on the field doing it. But they set it up so we can be successful on the field."
But who is Mike Winkler, and how did he get to where he is today at Hoban?
Winkler is a graduate of Walsh University, where he received a bachelor's degree in physical education in 2004 and then a master's degree in sports science and coaching from the University of Akron in 2005, where he began his career as a graduate assistant strength and conditioning coach.
From 2006-2013, Winkler spent time with three teams in Major League Baseball (the Pittsburgh Pirates, Los Angeles Dodgers and Cleveland Indians) as a strength and conditioning coach.
He was then hired at Hoban in 2014, where he has been ever since. While at Hoban, Winkler was named Ohio State Director for the National High School Strength Coaches Association (NHSSCA) in January of 2017, and NHSSCA Regional Strength Coach of the Year in 2019.
"This is my eighth season at Hoban, and there is nowhere else I would rather be," Winkler said. "The high school level is something else. There's no better place."
When a player first gets to Hoban, he doesn't get thrown into a heavy lifting program right away. Winkler takes time to get to know the players and their individual needs and strengths before formulating a program for them.
"As a freshman when they first come, it is very introductory, basic movements," Winkler said. "I have to get to know them as athletes and how they move — safety first always. And then I will progress them accordingly."
One former player who can speak to what Winkler and the strength and conditioning program means is Matt Salopek, a linebacker at Miami (Ohio) who is second on the team with 94 tackles this season.
When Salopek first walked into Hoban as a freshman in 2015, he was 6-foot-1, 165 pounds. By the end of his junior year, he was up to 210 pounds.
"There are so many different training regimens for different sports, and I think he really knows what he is doing with each sport," Salopek said, "For football, it's just the different kind of lifts we need to be able to do to be able to be successful."
A player also has to eat the right foods while working out.
"He knows what our bodies can take at that level," Salopek said. "And he helps you build a diet to follow. That's what he did with me, and it helped me put on weight."
One of the reasons Salopek has been able to make the move from safety to linebacker in college is because of the four years he spent learning from Winkler at Hoban.
"There were kids who came in with me in my class (at Miami) who just never truly lifted a lot or as intensely as we did in high school," Salopek said. "When I came into college, I was far ahead of a lot of kids."
Lifting and getting a player's body right is a yearlong program at Hoban. The bulk of that process starts in January and runs through July, when the team starts football practices. And that is when the players see more of Winkler and Diestel than almost anybody else in their lives.
"The easy part is football, the hard part is January to the end of July," Tyrrell said. "Him and coach Maddie are with those guys most times more than their parents from January to the end of July. There is nobody who is closer with our kids than our strength staff in Mike and Maddie."
Current Hoban running back Lamar Sperling, who has rushed for over 2,000 yards this season as a junior and has 655 yards rushing and 13 touchdowns in the postseason — including 193 yards and four scores Friday against Nordonia — took his praise of Winkler and Diestel a step further.
"They have done a lot for me," Sperling said. "From the jump, from freshman year, they gave me what I need. And being with them even outside of lifting, they support us a lot. They are more like family than coaches."
Tyrrell believes the atmosphere within the strength and conditioning program has helped the Knights sustain success.
"When you have a weight room and it's run right, It's the culture," Tyrrell said. "It's a culture that Mike and his staff have built. You can't win without this. It's an amazing thing."
Winkler is always quick to give credit to those around him. One such person is Diestel, a 2014 Hoban graduate who earned her bachelor's degree in exercise science from Ashland University. She joined the Hoban staff in 2019.
"Coach Maddie, I can't say enough about her," Winkler said. "She has brought our other programs along so far since she joined our staff. The kids just love her and adore her. She has been phenomenal."
He also knows this wouldn't be possible without someone at home who supports his passion and his career, especially one that requires such long hours. His wife Nicole fits that bill.
"I couldn't do it without the love and understanding of how many hours we have to put in from my wife," Winkler said. "It's a lot of hours. She loves every bit of it, and she comes to every game."
Besides the players and the school, Winkler loves his job. His Twitter account is always full of tweets and videos from strength and conditioning coaches across the country or articles on the subject. He aims to spotlight what a good strength and conditioning regimen can provide even if it isn't used to further one's athletic career.
"A huge passion of mine is improving our craft as strength coaches," Winkler said. "Not every kid is going to play college athletics. A goal of mine is they will know how to go into their rec center, and they will know how to stay in shape for the rest of their lives. It is about everlasting health."
The players and coaches might always get credit for the success of the Hoban football program, but those championship runs begin with Winkler and his staff in the weight room of the Didado Family Health and Fitness center, said Salopek, who raised a state championship trophy in each of his four years at the school.
"I don't think there is any doubt in my mind," Salopek said. "We couldn't have won our four state championships without starting in the weight room."
For Winkler, seeing the kids celebrate those successes is everything.
"It's the most fulfilling seeing these kids with big smiles after big wins," Winkler said. "It's awesome."