Ohio's top high school football players: Meet the state's best wide receivers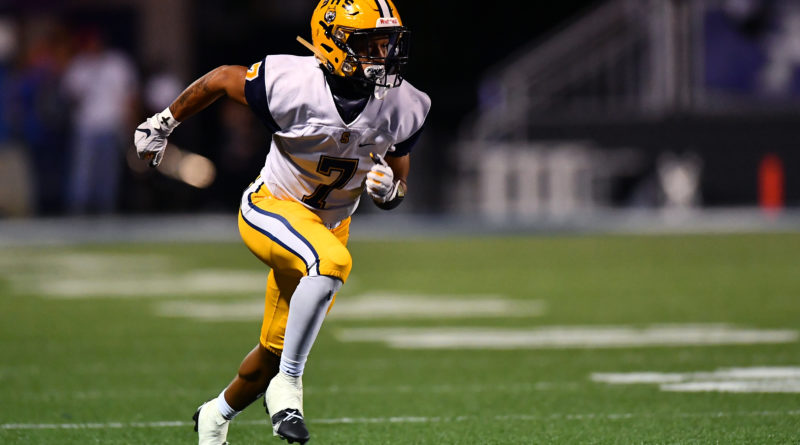 By Jordan Carter
Over the next few weeks, we'll be taking a position-by-position look at some of the top players in Ohio high school football.
Our first list focused on the linebackers, and next up are the wide receivers.
There are thousands of standout football players in Ohio, and these lists are not intended to be comprehensive! Use the comments section to discuss the other wide receivers worthy of fans' attention in 2021.
Pictured above is Springfield's Anthony Brown (photo by Ben Jackson), who's committed to play for Minnesota.
—
We want your opinion!
VOTE NOW: WHO'S THE BEST WIDE RECEIVER IN OHIO?
—
TOP WIDE RECEIVERS IN OHIO
Kaden Saunders, Westerville South
Four-star Penn State commit Kaden Saunders is 5-foot-10 and 175 pounds, and outside of the Nittany Lions, he was receiving substantial interest from Alabama, Cincinnati, Arizona State, Florida State and several MAC schools. Saunders is coming off a monster junior season in which he made 45 receptions for 946 yards (a 21-yard average) and scored 15 touchdowns. Saunders is a walking highlight reel. His ability to make defenders miss and use his blazing speed to outrun the rest is top-tier in his class. If he catches the ball, you better find a way to take him down then. If not, you might as well call it a track meet trying to race him down.
Alex Afari, Lakota West
Three-star Kentucky commit Alex Afari is 6-foot-2, 195 pounds and ranked No. 14 in Ohio. The pure athlete can use his taller frame to go over the top of defenders to snag a catch, and on defense he can play anywhere from cornerback to strong safety to free safety to linebacker. If you need a reliable player no matter the position in the class of 2022, Afari should be at the top of the list.
Marvin Conkle, Benedictine
A 6-foot-1, 180-pound receiver, Marvin Conkle is one of the most underrated players on this list. He has all the attributes needed to play football at the next level — most notably his awareness of the ball. He knows just when to stop during a route in order to make a play for his team. The Bengals lost senior quarterback Ronnie Schultz midway through the season with an injury, but Conkle's presence has helped junior CeeJay Yarboro settle in behind center.
Terence Thomas, Boardman
Three-star Purdue commit Terence Thomas should be nicknamed "Houdini" for his outstanding ability to make defenders miss. At 5-foot-11, 185 pounds, Thomas' strength is his blazing speed. He's also shifty and has good footwork, but he rarely gets to showcase his open-field footwork because he's too busy outrunning his competition. If Thomas gets a foot or so in front of you, more times than not he won't be caught.
Dom Foster, Harding
Dom Foster plays wide receiver and cornerback for Harding, but the three-star prospect expected to focus on offense at Syracuse. At wideout, the 6-foot-2, 175-pound Foster will straight-up run past you and collect his touchdown with ease. One false step is all Foster needs to have you beat deep. At the cornerback position, his speed allows him to keep up with receivers even if he gets beat. Did we forget to mention he's fast?
Rodney Harris II, Princeton
Three-star wide receiver Rodney Harris II is a sure-handed, reliable receiver who has ideal height for the position (6-foot-3, 195 pounds). Harris' playing style resembles former Cincinnati Bengal AJ Green. Harris defines the true definition of a deep-threat, play-making receiver — throw the ball up in his direction and allow him to take care of the rest.
Claishon Ivory, Euclid
Standing at 5-foot-11, 165 pounds, three-star wide receiver Claishon Ivory is the ultimate underdog of his class. At the receiver and slot position, Ivory can dominate. Arguably one of the fastest, most agile receivers in his class, Ivory just needs the ball in open space and he will make a highlight reel out of the rest. You do not want Ivory and your best tackler out in open space.
Jaylon Clark, Bedford
Jaylon Clark is one of the best slot receivers on this list, but he's often overlooked because of his 5-foot-8, 150-pound frame. Clark is a deep-threat slot receiver capable of flipping sides of the field in a blink of an eye. He's a great route runner who creates separation from defenders and thrives on kick returns.
Devin Johnson, Berea-Midpark
Three-star Miami (Ohio) commit Devin Johnson stands at 6-foot-1, 185 pounds and is one of the best route runners in his class. He excels at creating his own space in the open field through his route running and shifty juking skills to make defenders miss and create big plays.
Anthony Brown, Springfield
Four-star Minnesota commit Anthony Brown stands at 5-foot-10, 170 pounds. He plays a variety of positions for Springfield but projects as a slot receiver in college. While he could follow in the footsteps of a player like Rondale Moore at Purdue or K.J. Hamler at Penn State, he could have a unique skill set among the players currently at Minnesota. After catching 40 passes for 829 yards and nine touchdowns last season, Brown has a dozen scholarship offers from schools in the Big Ten, ACC, Big 12, SEC and more. Brown's speed is among the best in his class, and he terrorizes defenses with his ability to beat them deep.
Brandon White, Archbishop Moeller
Three-star Kentucky commit Brandon White is 5-foot-9, 165 pounds, and he bears an uncanny resemblance to former West Virginia Mountaineer Tavon Austin. Quick, shifty, and elusive sums up White's abilities on the field. He's not the guy you want to go man-on-man against. If there's no safety over the top to help, White often blows past the corner with ease and finishes in the end zone.
Tayshaun Mayfield, Hilliard Bradley
Two-star recruit Tayshaun Mayfield is a power back at the receiver position at 6-foot-2, 200 pounds. Once you give him the ball in space, he thinks first about barreling over defenders rather than running around them. It's often takes at least two players to bring him down unless he's already high-tailing into the end zone.
Evan Harper, Mentor
Anybody need a physical, deep-threat receiver? Look no further than Evan Harper, who has dazzled as a big-play threat whether lining up as a wide receiver or running back this season. Harper adds a secret weapon to his 6-foot-1, 190-pound frame — and that is crisp route running. Harper has no problem creating space for the quarterback to get the ball to him.
Cooper Rusk, Nordonia
Speed? Hands? Cooper Rusk is the total package of a receiver at 6 feet, 180 pounds. He had 802 yards and nine touchdowns on 55 receptions last season and is continuing to thrive for Nordonia this year with 714 yards and six touchdowns.
Sam Cannon, Upper Arlington
Sam Cannon isn't a big guy (5-foot-9 and 165 pounds) but his strength is his electrifying speed. He finds ways to make opposing defenders' knees drop at the stop of a finger, and he's a very good route runner. Cannon is a deep threat who's put up a number of highlight-reel plays this season. Just throw his way and allow him to excite you.
Will Futhey, Waverly
Three-star receiver WIll Futhey stands at a whopping 6-foot-5, 200 pounds. Route runner? Check. Secure catching? Check. Awareness of the ball? Check. Futhey has the skill set to become an elite receiver not just in college, but in the NFL. He sometimes struggles with outrunning defenders after the catch, but he makes up for it with his stature. Futhey is most effective in the red zone, but he's also prone to 60-yard highlight-reel catches over the top of a defender.
Terrell McFarlin, St. Xavier
Terrell McFarlin isn't just talented but underrated. Similar to AJ Brown, McFarlin is shifty and can change direction quickly without any delayed speed. With great awareness of the ball, McFarlin excels running after the catch. Give the 6-foot-1, 190-pounder the ball and some space and he'll make the rest look good.
Rick Coleman Jr., Harvey
A 6-foot, 165-pound athlete, Rick Coleman Jr. boasts some of the best open-field moves in his class. Playing both quarterback and receiver, he finds ways to get out in space and make a fool out of defenders trying to take him down. Coleman nearly always breaks the first tackle attempt and is the true definition of an ankle-breaker on the gridiron.
Ryne Shackelford, Keystone
Three-star junior receiver Ryne Shackelford stands at 6-foot, 175 pounds and holds offers from Kentucky, West Virginia and Marshall. Shackelford is a sure-handed, reliable possession receiver with comparable talents as Julian Edelman, and is a consistent option when you need a first down.
Trey Martin, Green
Last season, junior wide receiver Trey Martin set a single-season school record for receiving touchdowns. His five-touchdown outburst in the first half against North Olmsted this season would be a good season for many high school receivers, but he's kept up the production from there. Martin has a sense for the end zone.