Top stars, best performances in Friday's Round 2 Georgia high school football playoff games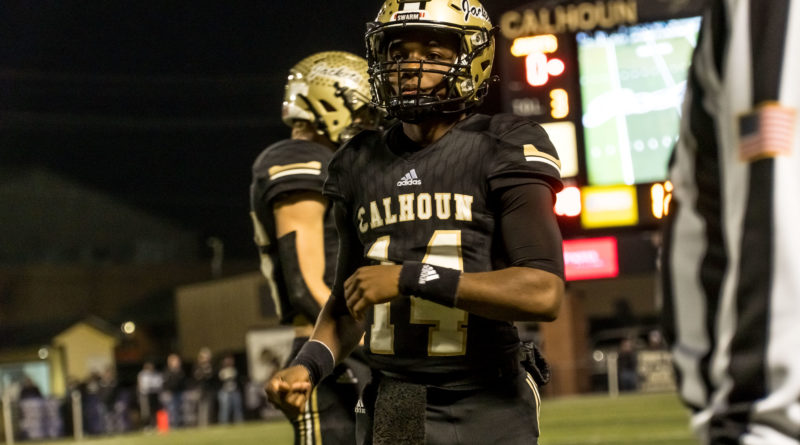 Here are some stars from Friday night's second-round games across Georgia.
If you know of a top performance we should include, please let us know in the comments.
Pictured above is Calhoun quarterback Christian Lewis (photo by Willie Prince), who threw for 447 yards and three touchdowns in a 49-42 win at Ware County. 
—
Jay Carter, Warner Robins LB
Carter came up with the stop on Cartersville's fourth-and-goal attempt during the final minute of the game, and he forced a turnover earlier in the game after recording a sack in the 24-17 win. 
Jacurri Brown, Lowndes QB 
Brown threw for 196 yards and a score, the game-winning touchdown pass, while rushing for another score on the ground. On defense, he played safety in the fourth quarter and came up with an interception to seal the 35-34 win.
Sam Horn, Collins Hill QB
Horn threw for 216 yards and four touchdowns in a 48-6 win over Pebblebrook. 
Nakai Poole, Norcross WR
Poole caught six passes for 152 yards and two scores in a 35-34 loss to Lowndes. 
JJ Silva, Brookwood K
Silva kicked three field goals, including the game-winner in the 17-14 win over North Gwinnett.
Hayden Clark, Mill Creek QB 
After McEachern took a 14-0 lead in the second quarter, Mill Creek scored 45 unanswered points led by Clark's three touchdown passes to win 52-30.
Cameran Brown, Northside-Warner Robins QB
Brown threw eight passes for 169 yards and a score while adding 104 yards and three touchdowns on the ground in a 42-13 win over Douglas County. 
Jamun Evans, Carrollton RB 
Evans finished with 136 yards rushing and two touchdowns in a 43-21 win over Alcovy. 
KJ Bolden, Buford WR
Bolden caught a touchdown pass and recovered a blocked punt in the end zone for a score in a 44-7 win over Lovejoy. 
Rodney Shelley, Langston Hughes DB 
Langston Hughes took a 21-6 lead going into the half after a 64-yard punt return touchdown from Shelley in a 28-8 win over Shiloh. 
Cole Speer, Calhoun ATH
Speer caught 10 passes for 201 yards and a score in a 49-42 win over Ware County. 
Kyle Durham, Johns Creek QB 
Durham led Johns Creek to its first quarterfinal berth in school history after throwing two touchdown passes and rushing for another score in a 45-14 win over Evans. 
Harper Holloman, Westlake LB 
Holloman recorded the only defensive touchdown of the night when he returned an interception for a touchdown in a 45-10 win over Kennesaw Mountain. 
Christian Lewis, Calhoun QB 
Lewis went 29-for-50 for 447 yards and three touchdowns while adding a score on the ground in a 49-42 win over Ware County. 
Nyqua Lett, Creekside QB 
Lett threw three touchdown passes, including the game-winner that broke a 34-34 tie with 10 seconds remaining in a 41-34 win over St. Pius X. 
Justin Thomas, Benedictine ATH
Thomas scored four touchdowns in the first quarter and one in the second in a 63-7 win over Luella. 
Daequan Wright, Perry ATH 
Wright caught a touchdown pass, rushed for a touchdown and threw for a touchdown in a 42-7 win over Flowery Branch. 
Deyon Bouie, Bainbridge S
Bouie caught a touchdown pass and returned an interception 90 yards for a score in a 48-7 win over Northwest Whitfield.
DJ Bell, Pierce County RB 
Bell rushed for 300 yards and five touchdowns in a 49-0 win over Dawson County. 
Isaiah Mitchell, Peach County WR
Mitchell caught a touchdown pass and returned a kickoff for a touchdown in a 24-21 win over Monroe Area.