Jarvis Durr, Brandon edge Oak Grove 21-20 in 6A South Finals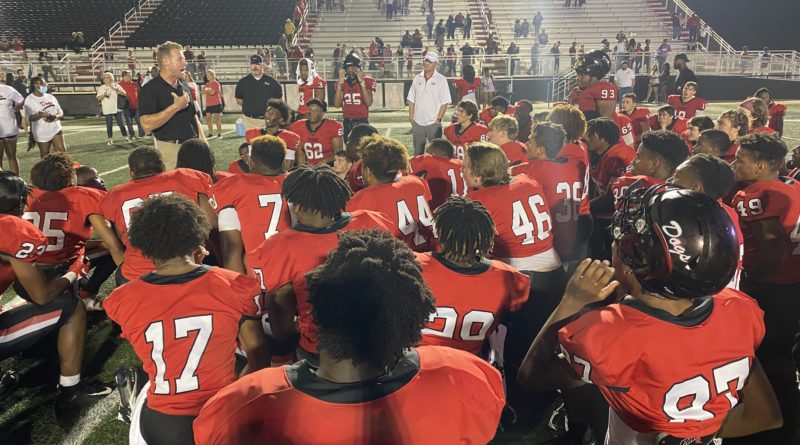 BRANDON — Some games come down to whether a team can get one final stop.
On Friday night, Brandon got two of them.
The Bulldog defense stopped Oak Grove on a 2-point conversion, then forced the Warriors to turn the ball over on downs at the Brandon 40-yard line with six seconds left to hang on for a 21-20 victory to clinch the MHSAA Class 6A South State Championship at Bulldog Stadium.
The Bulldogs (11-2) will face Madison Central for the Class 6A State Championship at 7 p.m. next Friday night at Southern Miss' M.M. Roberts Stadium.
It will be Brandon's second appearance in the 6A state title game and first since 2012.
"Just want to see your kids compete for 48 minutes and that's what happened," said Brandon coach Sam Williams. "The kids played really physical tonight defensively and Jarvis did a great job of running hard in the second half. Oak Grove is a very talented team and we found a way to win."
After the two teams played to a 7-7 tie in the first half, Brandon running back Jarvis Durr scored on a 77-yard touchdown run on the Bulldogs' first play of the second half to give Brandon a 14-7 lead with 9:29 left in the third quarter.
Bulldog defensive back Braylon Washington came up with a big fourth-quarter interception, and four plays later, Durr scored on a 3-yard run to extend the Bulldog lead to 21-7 with 5:08 left.
But the Warriors weren't done yet — Oak Grove quickly cut the lead to 21-14 on a 21-yard touchdown pass from Kabe Barnett to Jaylen Aborom with 3:46 left.
After forcing Brandon to punt with 2:34 remaining, the Warriors drove 71 yards in 11 plays and Cameron Sheppard scored on a 1-yard touchdown run, but the potential go ahead two-point conversion pass fell incomplete with 45 seconds left to cut the Brandon lead to 21-20.
Oak Grove recovered the ensuing onside kick, and a after a run play for four yards and two incomplete passes on fourth down, the hook-and-lateral play was stopped at the 40-yard line, one yard short of the line to gain for the first down with six seconds left to seal the win for Brandon.
"I felt like they had a lot of momentum going on and we felt our best chance was to go for two and they did a great job stopping it," said Oak Grove coach Drew Causey. "At the end, J.T. bobbled the ball and came up short. It wasn't our night, but I'm proud of the guys, we continued to fight and I'm extremely proud of them."
Durr finished the night with 179 yards rushing on 23 carries with two touchdowns to lead Brandon.
"I just saw big gap and made it and it came through. Coach always tells us to step up and make a big play and we came through," Durr said. "Defense came through at the end to get at that stop. We want to get our revenge next week."
Barnett finished 22-of-46 for 239 yards with two touchdowns to lead Oak Grove (10-3).