Brandon offense lights up scoreboard in 42-28 win over Meridian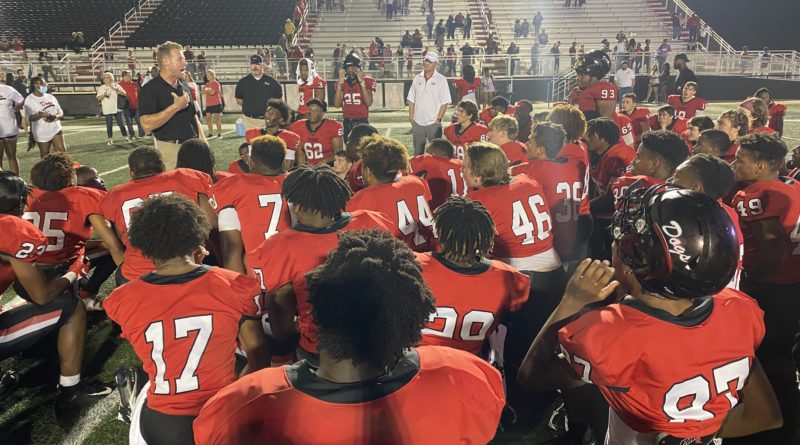 BRANDON — Some teams start fast and fizzle out as the season wears on, while others seem to get better and better.
Count the Brandon in the latter category.
The Bulldogs jumped ahead 15-0 early and overcame some big turnovers to hang on for a 42-28 win over Meridian to move to 4-0 in Region 3 and pick up their fifth win in a row after starting the season 0-2.
It certainly wasn't pretty, but the win sets up a huge showdown between Brandon and Oak Grove — both 4-0 in Region 3 games — next Friday night right here at Bulldog Stadium.
"It wasn't very clean," Brandon coach Sam Williams said. "(The Wildcats) do a great job. They are really athletic and really physical and I didn't think we handled that very well at times. But our execution wasn't very clean, and it was kind of a humbling experience for us with the turnovers. But we'll get better."
That Brandon wasn't 100 percent on its game and still won by two touchdowns made Friday's win all the more impressive.
Sophomore tailback Nate Blount paced the Bulldog offense with 17 carries for 131 yards and three touchdowns and junior receiver Lester Miller provided the fireworks with five catches for 213 yards and one score.
Quarterback Landon Varnes completed 12 of his 26 passes for 250 yards and a touchdown, but threw two big picks. Jarvis Durr made the most of his 11 carries, going for 164 yards and touchdown runs of 66 and 67 yards.
The Bulldogs went ahead 8-0 on Durr's first touchdown run, which came on the second play of the game. After a quick three-and-out from Meridian, the Bulldogs went 49 yards in eight plays and went ahead 15-0 on Blount's first touchdown run.
Meridian finally responded with three-yard run from Mark Smith with 4:14 left in the first half to cut the Brandon lead to 15-7.
Varnes hit Miller for a 69-yard touchdown to stretch it to 22-7 with 3:41 left in the second quarter, and Meridian blocked a field goal attempt to keep it there headed into the halftime break.
Meridian trimmed the Brandon lead to 22-14 on its second possession of the second half, driving 58 yards in 13 plays before sophomore Daniel Hill scored from three yards out.
Hill —one of the state's most impressive underclassmen — finished the night with 13 carries for 67 yards and six catches for 63 yards.
Brandon responded to Hill's touchdown with a six-play, 74-yard drive capped by Blount's second scoring run to extend its lead to 29-14.
On Meridian's ensuing possession, Brandon junior lineman Trey Trigg stripped the ball away from Hill and rumbled 20 yards for a defensive touchdown that stretched the Bulldog lead to an insurmountable 36-20 with 11:06 left in the game.
The loss was the third one in as many weeks for Meridian (4-4). The Wildcats have given up 161 points through four Region 3 games.
"I know folks are tired of hearing that we're close but not quite there yet," Meridian coach John Douglass said. "I'm certainly tired of saying it… But we have to take that next step at some point. The Oak Groves and the Brandons of the world, they expect to win every time they step on the field. We've got to get there."
The Wildcats will head to the Pine Belt next week for a game at Petal.
Feature photo by Tyler Cleveland