Bernard Blackwell North-South Football All-Star game rosters loaded with talent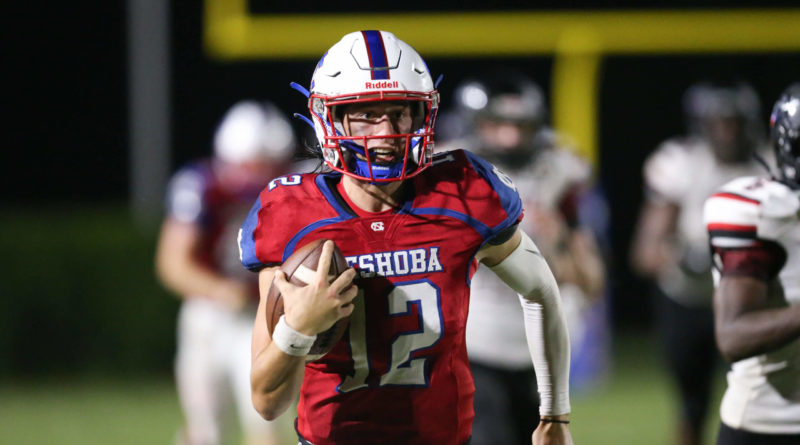 CLINTON, Miss. — The Mississippi Association of Coaches announced the coaches and rosters for the Bernard Blackwell North-South All-Star Game Wednesday morning in a press conference at the MHSAA headquarters.
The South team will be led by Laurel head coach Ryan Earnest. His assistants for the game include Katlyn French (Biloxi), William Clay (Laurel), Monroe Allen (Mendenhall), Bobby Bass (Newton County), Brandon Wall (South Pike), Quincy Patrick (West Harrison) and Tony Vance (Hattiesburg).
The North team will be coached by Louisville head coach Tyrone Shorter. His assistants include Shelby Ford (DeSoto Central), Ron Price (East Webster), Dillon Mitchell (Louisville), Patrick Schoolar (Neshoba Central), John Keith (Nettleton), Timothy Wilson (Provine) and Henry Johnson (Clarksdale).
Here's a look at the rosters, as selected by the coaches of each respective team:
(Eli Anderson feature photo by Keith Warren)
South Roster
QB James Ford, Sumrall
QB Ashton Hollins, George County
RB Omar Johnson, Columbia
RB Carlos Brown, Stone
RB Jamari Thompson, Pearl
WR Jonathan Vaughn, Meridian
WR Tyrell Pollard, Oak Grove
WR Isaiah Atkins, Harrison Central
WR Jermarius Lewis, North Pike
WR Dee Burks, Scott Central
OL Cameron Pascal, Union
OL Colt Lee, Warren Central
OL Breland Curry, Moss Point
OL Connor Foy, Pearl
OL McKale Boley, Oak Grove
OL Robert Cook, D'Iberville
OL Jason Townsend, Columbia
OL Conner Davis, Poplarville
DL Kalvin Dinkins, Lake
DL ArJalen Marshall, Laurel
DL Greg Nunnery, McComb
DL Carrington Wilson, Brandon
DL Kazarius Bowie, Brandon
DE Cartize Booth, Bay Springs
DE Peyton Anderson, Columbia
DE Kam Williams, D'Iberville
LB Ahmad Harmon, Poplarville
LB Raymond Collins, Harrison Central
LB Avery Sledge, Forrest County AHS
LB Colin Crowder, Newton County
LB Luke Holland, West Harrison
DB Dontavius Howard, Oak Grove
DB Kendorean Russell, West Jones
DB Heaven Coleman, Kemper County
DB Kam'Ron Norwood, Hattiesburg
DB Tyrane Stewart, South Pike
DB Jody Durr, Magee
DB Jalen Nelson, Northwest Rankin
ATH Trent Howell, George County
K/P Nate Jones, Petal
LS Brandin Talley, St. Martin
North Roster
QB Eli Anderson, Neshoba Central
QB Jace Hudspeth, Louisville
RB Ja'Karius Grant, West Lauderdale
RB Joe Moss, Grenada
RB Deriaun Townsend, Winona
RB Darrius Triplett, Caledonia
TE Ryan Musselwhite, DeSoto Central
TE James Scott, South Panola
WR Jarvis Rush, Louisville
WR D'Anthony McGlothan, J.Z. George
WR Ja'Naylon Dupree, Neshoba Central
WR Red Parker, Houston
OL Tyshawn Graham, Caledonia
OL Logan Johnson, West Lauderdale
OL Deshawn Leonard, Clinton
OL Milton Regalado, New Albany
OL Jose Hernandez, Lake Cormorant
OL Lanorris Hickman, Louisville
OL Jalen Lairy, West Point
OL Ze Marion Tucker, South Panola
DL D.J. Burgess, Lafayette
DL Maxton Woodward, Neshoba Central
DL Donterry Russell, Provine
DL Tymon Wells, Simmons
DL Deitrick McCray, Columbus
DL Aaron Robinson, South Delta
LB Chaussey Tripplet, Noxubee County
LB Jordan Allen, Clarksdale
LB Kobe Smith, East Webster
LB Keegan Wilfawn, Oxford
LB C.J. Barney, Madison Central
DB Kamerun Gipson, Starkville
DB B.J. Washington, Madison Central
DB Dillon Williams, Southaven
DB Aquarius Winston, Southaven
DB Dandreyus Giles, Holmes County Central
DB Fred McMillian, West Point
LS Kainan Reed, East Webster
K Jackson Cheek, Nettleton
P/LB Ben Goubeaux, Oxford
ATH Vontrez Rush, Simmons
ATH Telvin Amos, Lake Cormorant
The 2021 Bernard Blackwell All-Star Classic is set for 11:30 a.m. on Dec. 18 at Joseph Milner Stadium in Gulfport. The contest will be the 73rd in the series.