Ca'Lexis Campbell, Leake Central roll past Northeast Lauderdale in key Region 4-4A game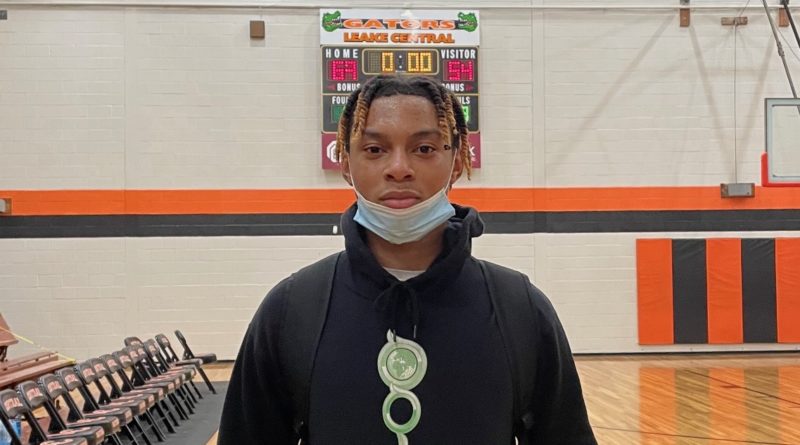 CARTHAGE — Leake Central's Ca'Lexis Campbell had to make up for being late, and he did.
After not being able to start the game due to arriving late Campbell helped lead the Gators to a 71-54 win over NE Lauderdale in a key Region 4-4A contest on Friday night.
"I thought we did pretty well Northeast has a solid team and we had trouble keeping them off the boards," said Leake Central coach Carl Wilbanks. "Ca'Lexis starting hitting three's and that really helped us."
NE Lauderdale held a slim 17-15 lead at the end of the first quarter. Leake Central began the second quarter on a 8-0 run to take a 23-17 lead and never trailed for the remainder of the game. The Gators took a 36-28 lead at halftime, with Campbell scoring 11 points in the second quarter.
"I didn't start cause I was late, so I felt like when I got into the game I needed to do what I do," Campbell said. "The guys started out good without me and I just wanted help my team out. We made some switches defensively and then offensively they were overplaying me on the three-ball so I just drive to the rim or pass the ball for a open shot."
Campbell finished with a game-high 19 points to lead Leake Central. Jarred Gray added 14 points, while Kameron Luckett chipped in 13 points and Anthony Hopkins had 10 points for the Gators (13-1, 2-0 Region 4-4A).
"Ca'Lexis can just go and he's one of the best players I've had since I've been here and he's a great kid," Wilbanks said. "We're happy to start 2-0 in district, but there's a long way to go and have to fight for not having any let downs."
Amari McDonald and Jadez Blaylock each had 16 points to lead NE Lauderdale, while Tylon Brewster added 10 points for the Trojans (10-4, 1-1).
"They were quicker and longer than we noticed on film, we had to adjust and they played really well," said NE Lauderdale coach Lewis Lightsey. "They shot it really well, so give them a lot of credit. This division has always been a hard girls division, but this year I think it's a hard boys division, because there a lot of good teams and it's going to be a dog fight each night."
In the girls game, Leake Central beat NE Lauderdale the 55-39.
Both teams continue Region 4-4A play on Tuesday as Leake Central travels to Choctaw Central, while NE Lauderdale travels to Kosciusko.