MHSAA 5A Football Championship preview: Cameron Young, Dante Dowdell set for run-happy showdown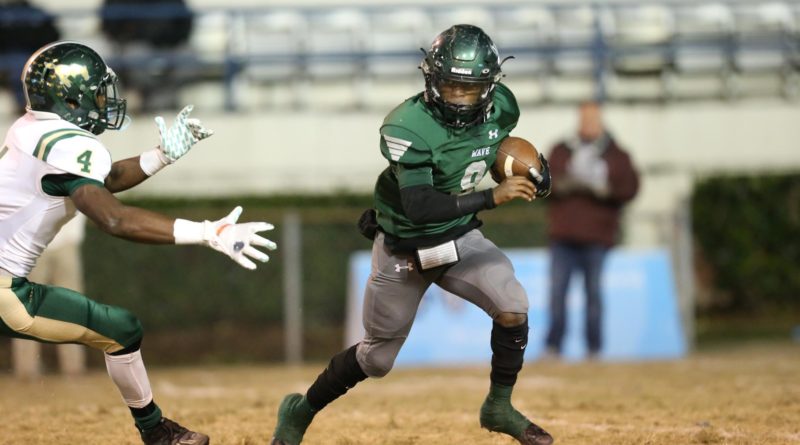 SBLive is previewing all six MHSAA Football State Championship games ahead of Friday's and Saturday's games at M.M. Roberts Stadium in Hattiesburg.
PREVIEWS: CLASS 6A | CLASS 5A | CLASS 4A | CLASS 3A | CLASS 2A | CLASS 1A
Last year's MHSAA 5A Football Championship game between West Point and West Jones was a fitting end to a season that was full of exciting games, and this year's matchup looks to be just as good.
This year's Green Wave team comes in undefeated at 11-0 after mauling Ridgeland and Vicksburg in the first two rounds of the playoffs and slipping past Neshoba Central 20-14 in the North State Championship at home last Friday night. They'll face a Picayune team that comes in 13-1 and hasn't lost since September.
West Point's 5A North title is its sixth in a row, and puts the Wave back in the title hunt after coming up just short in a 33-27 shootout against the Mustangs in the title game last year.
The Green Wave offense has run coach Chris Chambless' run-happy option attack to perfection this season. Team captain Cameron Young is back in the title game after rushing for three touchdowns against West Jones last year. His 1,344 rushing yards and 18 touchdowns are both good enough to lead a West Point offense that has averaged nearly 400 yards a game on the ground. Keshawn Henley has added 1,042 yards and 16 more touchdowns, and quarterback Kahnen Daniels has carried the ball 88 times for 988 yards and eight scores.
The West Point defense has given up just four touchdowns in three post-season games and pitched two shutouts in the regular season against Lafayette and New Hope, two teams that combined for 14 wins this year.
"They are a typical West Point team that forces you to play a near perfect football game in all three phases," Picayune coach Cody Stogner said. "They are athletic and they don't stay in the same formation for more than a play or two in a row. They get after you with those big linemen and they probably have the best defense we've seen all year."
Picayune has been great in their own right.
The Maroon Tide's 32-28 win over Laurel was their 10th in a row since dropping their only game of the season 27-13 to 6A foe D'Iberville.
Picayune runs a similar scheme to West Point, just out of a different formation. The Tide is led by all-everything tailback Dante Dowdell, who has amassed an amazing 2,406 yards on 304 carries with 26 touchdowns. Backup Chris Davis has contributed nearly 60 yards a game and found the end zone 15 times. The fullback, Darnell Smith, does a great job of opening holes and has also carried the ball 75 times for 600 yards and eight touchdowns.
The Picayune defense has not been as dominant as their counterpart from West Point, but they are coming off a huge win over Laurel, a team that also comes at you downhill with a relentless rushing attack and a big, physical back. Linebackers Amarion Tyson and Dorian Robinson are the guys to watch on that side of the ball.
"Picayune is very well coached and their kids love to play football," Chambless said. "They get after it, and their coaching staff ought to be proud of that. We've got a huge test ahead of us."
With the way both teams like to run the ball, it'll likely come down to who can control the line of scrimmage. One thing's for sure — the game will be over before you know it.
"I would assume it'll be one of the fastest there is in the country," Stogner said, laughing. "But both both teams believe in what we do, and you can bet we're both going to continue to do it."