SBLive Mississippi Power 10 (Oct. 25): Brandon's big win over Oak Grove shakes up football rankings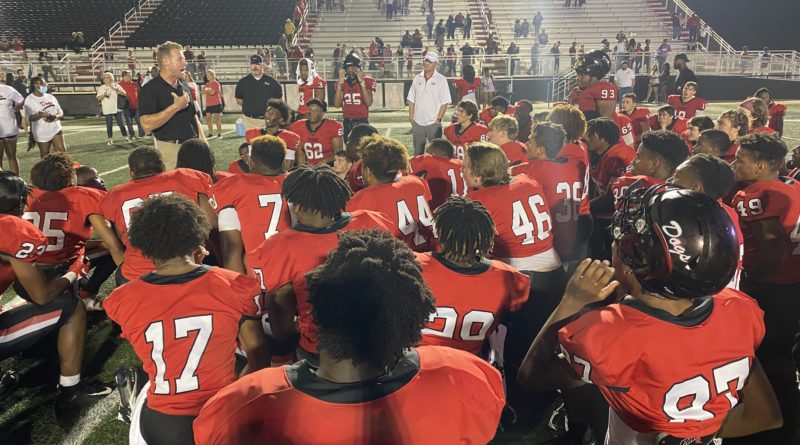 Each week, SBLive's Tyler Cleveland ranks the top 10 teams in Mississippi high school football, regardless of classification.
Here's a look at the SBLive Mississippi Power 10 Rankings for the week of Monday, Oct. 25.
STATEWIDE MISSISSIPPI SCOREBOARD | LAST WEEK'S POWER 10 RANKINGS
SBLIVE MISSISSIPPI POWER 10
Last week: No. 1
Friday night: beat Delta Streets 74-0
This week: off
Greenville Christian actually got to play a game Friday night, but it wasn't much of a contest for the Saints. The playoff seeding is little more than a formality, as coach John Reed McClendon's bunch would be considered 20-plus point favorites in every game they'll play in the MAIS 3A bracket.
Last week: No. 2
Friday night: beat St. Martin 48-0
This week: at Gulfport (7-3)
It was another routine night for Ocean Springs Friday, as quarterback Bray Hubbard racked up 325 total yards and four touchdowns in another blowout win. As good as the Greyhounds have been, they still need to take care of business these next two weeks against Gulfport and Harrison Central to win Region 4-6A outright, but beating the Admirals this Friday night would secure at least a share of the title and, likely, the top playoff seed.
Last week: No. 5
Friday night: beat Germantown 31-0
This week: at Murrah (1-8)
The Jaguars took care of business against their cross-town rivals Friday night, but the bigger news for the Jags was Oxford's 42-35 win over Starkville. That outcome created a three-way tie atop the Region 2 standings with Madison Central, Oxford and Starkville all sitting at 4-1. Unless the bus breaks down, the Jags are almost guaranteed a win this week against Murrah, which will set up a huge regular-season finale against Oxford in "the Jungle" next week.
Last week: No. 6
Friday night: beat Greenville 42-8
This week: hosts Saltillo (2-7)
With all the upsets and stops and starts in practically every region across the state, it's comforting to know West Point is still out there running over opponents and taking no prisoners. Through six games, the undefeated Green Wave has now beaten its six opponents by a combined score of 216-64. West Point rolled to another blowout win Friday night against Greenville, and can close out the regular season undefeated with two more just like it.
Last week: No. 9
Friday night: beat No. 6 Oak Grove 24-17
This week: at Northwest Rankin (2-6)
It would have been hard to imagine Brandon would sit alone atop the Region 3 standings at the end of October after the Bulldogs opened the season with back-to-back losses to Oxford and Madison Central, but here we are. First-year coach Sam Williams put a huge pelt on the wall Friday night when the Bulldogs handed then-No. 3 Oak Grove it's first loss to an MHSAA team since the 2019 6A State Championship. Brandon might need better quarterback play to make a deep run in the playoffs, but that opportunistic defense and the solid ground game led by Nate Blount and Jarvis Durr is so good, it may not matter.
Last week: No. 3
Friday night: lost to No. 5 Brandon 24-17
This week: at Pearl (7-2)
The Warriors are still one of the state's top teams, but for the second time this season, they couldn't mask deficiencies on the offensive and defensive lines. Brandon absolutely hammered the Warriors between the tackles on both sides of the ball, running 23 times for 48 yards and giving up 338 rushing yards to Brandon. But there's still time to right the ship, and the Warriors can clinch at least the second seed coming out of Region 3 with a win over the Pirates Friday night.
Last week: No. 4
Friday night: lost to Oxford 42-35
This week: hosts Germantown (4-5)
They say when you live by the sword, you die by the sword. With all the shootouts Starkville has won this season, they were bound to come out on the wrong end of one of them. The Yellow Jackets are still averaging nearly 34 points a game, but the latest loss raises the question: will the defense come into form in time for the playoffs?
Last week: No. 7
Friday night: beat DeSoto Central 35-6
This week: at Horn Lake (4-4)
The Tigers are clearly the class of Region 1-6A, but it's hard to say how they will stack up against some of the best teams in Region 2 when the playoffs roll around next month. The good news for Tiger fans is that they need just one more win to spend most of the post-season at home, and neither of the teams left should give them much trouble.
Last week: No. 8
Friday night: beat Laurel 24-21
This week: at Hattiesburg (4-5)
The Mustangs came together after an incredibly difficult week to beat Laurel 24-21 on an emotional night in Soso. The West Jones family lost senior offensive lineman Cade Thompson to an automobile accident, but was able to both put its grief aside and honor his memory against the rival Tornadoes. If the Mustangs can get past Hattiesburg on the road this Friday night, it'll set up a huge game against arch-rival Wayne County (6-1) next weekend.
Last week: No. 10
Friday night: beat Vicksburg 10-6
This week: hosts Callaway (3-5)
Not all wins are meant to be pretty, and the Rockets' monumental win over Vicksburg certainly wasn't. Neshoba Central took a 10-0 lead into halftime and hung on for the victory. But we're not into giving away style points, especially considering the Rockets sewed up the Region 2-5A title with the win. If Neshoba Central can beat Callaway Friday night in Philadelphia, it will mark the first undefeated regular season in school history and match the school record for consecutive wins (10).
Feature photo by Tyler Cleveland