SBLive Mississippi Power 10 (Oct. 18): Ocean Springs moves up to No. 2; Brandon, Neshoba Central move in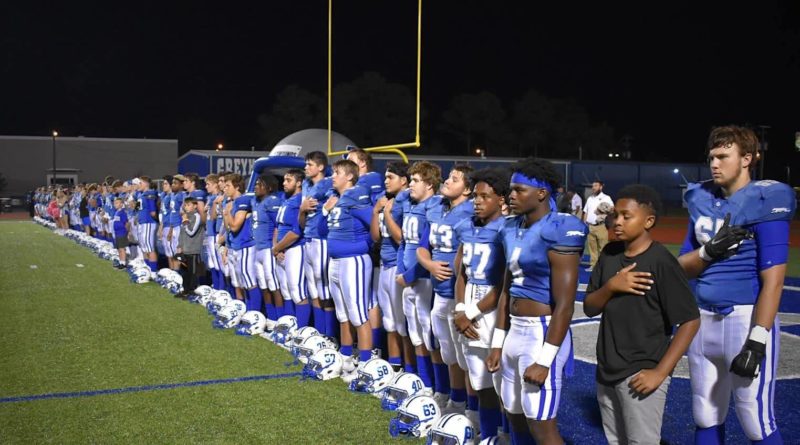 Each week, SBLive's Tyler Cleveland ranks the top 10 teams in Mississippi high school football, regardless of classification.
Here's a look at the SBLive Mississippi Power 10 Rankings for the week of Monday, Oct. 18.
STATEWIDE MISSISSIPPI SCOREBOARD | LAST WEEK'S POWER 10 RANKINGS
SBLIVE MISSISSIPPI POWER 10
Last week: No. 1
Friday night: off
This week: hosts Delta Streets (3-6)
The Saints were off Friday night after picking up a forfeit win over Rossville Christian last week (Oct. 8). Greenville Christian has only played two games in the past month because of cancelations, and hasn't been able to find anyone to play them in make-up games. The Saints will finish the regular season this Friday night against Delta Streets.
Last week: No. 3
Friday night: beat Pascagoula 42-3
This week: hosts St. Martin (2-5)
The Greyhounds just keep rolling along, leaving a slew of blown out teams in their wake. Friday's 39-point win over Pascagoula was Ocean Springs' sixth win in a row by three touchdowns or more. Quarterback Bray Hubbard is a clear-cut favorite for 6A Player of the Year, but he and the Greyhounds still have all of their biggest challenges ahead, with tough road games at Gulfport and Harrison Central in the next three weeks.
Last week: No. 2
Friday night: beat Terry 54-28
This week: at Brandon (5-2)
The Warriors didn't have to do much to get past Terry Friday night, and that's good, because they looked less than sharp. The Warriors gained just 193 yards of offense, and Kabe Barnett completed half of his 30 passes for 125 yards without a touchdown. But a win is a win, and the Warriors are 4-0 headed into a massive showdown with Brandon (also 4-0 in Region 3) Friday night.
Last week: No. 4
Friday night: beat Murrah 50-0
This week: hosts Oxford (4-3)
There is no margin for error in Region 2-6A, but that hasn't been an issue for the undefeated Yellow Jackets, who are now alone in first at 4-0. Their 35-28 win over Madison Central back on Sept. 24 is still probably the most consequential victory in all of 6A this season, but there's no rest for the weary. The Jackets host Oxford (3-1 in Region 2), and a win would go a long way to securing a permanent hold on the top playoff seed.
Last week: No. 5
Friday night: beat Tupelo 35-3
This week: at Germantown (4-4)
The Jaguars just keep getting better and finding new ways to win. They came into Friday night's matchup against Tupelo as sporting one of the best rushing attacks in the state, so naturally it was quarterback Vic Sutton who stole the show with 238 passing yards and a trio of touchdown passes. They'll be favored the next two weeks against Germantown and Murrah before closing out the season with what looks like it will be a huge game against Oxford on Nov. 4 in the Jungle.
Last week: No. 6
Friday night: beat Lake Cormorant 40-21
This week: at Greenville (1-4)
Here's the thing about facing West Point: they'll let you score a couple of touchdowns, provided you let them take a 40-point lead. The Green Wave are taking no prisoners as they march towards an undefeated regular season. None of their three remaining opponents — Greenville, Saltillo and Columbus — currently have winning records. They need to win two of those three to lock up the top seed coming out of Region 1.
Last week: No. 8
Friday night: beat Lewisburg 42-3
This week: hosts DeSoto Central (5-3)
The Tigers put together arguably their most complete game of the season Friday night and dismantled Lewisburg on the road. Two of their final three games are at home, but the biggest of the three by far is this Friday night's showdown with DeSoto Central. A win would put the Tigers alone in first place in Region 1, a loss likely means the No. 2 seed at best.
Last week: No. 8
Friday night: beat Florence 35-0
This week: hosts Laurel (4-3)
Another week, another blowout win for West Jones. The Mustangs have run roughshod through Region 3-5A so far, but their two biggest tests remain ahead. The first is set for this Friday night, when they host rival Laurel in an all-Jones County slugfest. If they can get past the Tornadoes, it'll set up a huge regular-season finale with Wayne County that will likely decide which team takes home the region crown.
Last week: NR
Friday night: beat Meridian 42-28
This week: hosts Oak Grove (7-1)
Brandon is a team that has improved with each passing week under first-year coach Sam Williams. After starting the year 0-2 with losses to Oxford and Madison Central, the Bulldogs have rattled off five wins in a row and are 4-0 in Region 3 games. A win Friday night over Oak Grove would be massive, as it would put the Bulldogs in the cat-bird seat for the top playoff seed and avenge last year's 24-22 loss to the Warriors.
Last week: NR
Friday night: beat Jim Hill 49-13
This week: hosts Vicksburg (7-2)
The Rockets make their Power 10 debut this week after waxing Jim Hill to pick up their eighth win in a row. Maybe more impressive than their 6-0 Region 2-5A record are their two non-region wins: they beat 6A Hernando on the road and handed West Lauderdale (7-1) its only loss of the season. But the biggest game to date is this weekend, when the Rockets welcome a stingy Vicksburg team that has rattled off seven wins in a row.
Dropped out: Oxford (4-3), Harrison Central (6-1)