SBLive's Top 15 quarterbacks in Mississippi high school football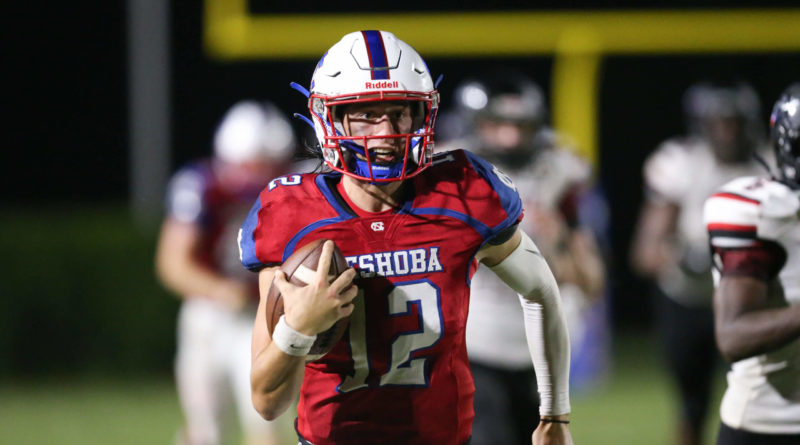 The 2021 football season is in full swing, and the talent on display in the state of Mississippi has made for some great ballgames through the first four weeks. Here's a look at 15 Mississippi high school quarterbacks who have been showing out on the football field.
—
We want your opinion!
VOTE NOW: WHO'S THE BEST QUARTERBACK IN MISSISSIPPI?
—
(Feature photo by Keith Warren)
SBLIVE'S TOP 15 QUARTERBACKS IN MISSISSIPPI
(The list is in alphabetical order.)
If you are looking for a guy who can put his team on his shoulders (and, more accurately, his legs) then you could do a lot worse than Lake Cormorant's versatile quarterback. Amos has the look of a three-year starter because he is one. His ability to run the ball is a constant threat, and he's shown improvement in passing proficiency as a senior. Through three games, he had completed 18 of his 36 passes for 380 yards with four touchdowns and averaged 7.7 yards on 22 carries with four more scores.
—
Anderson has truly stepped up his game through four weeks in his senior season. The 6-foot-2, 200-pound field general has completed 58 of his 85 pass attempts (68 percent) for 957 yards and 13 touchdowns in four games. He hasn't garnered many offers, but both Southern Miss and Memphis are recruiting him, according to 247sports.com.
—
Kabe Barnett | Senior | Oak Grove
Kabe Barnett proved he was capable of managing the efficient Oak Grove offense last season. He passed for more than 2,300 yards with 36 touchdowns and just five interceptions in 12 games as a junior, throwing the winning pass on a two-point conversion to clinch the 6A State Championship.
—
Davis has been a great player for the coach Clint Hoots and the Indians. Through three games, he had completed 63 percent of his passes for 482 yards and five touchdowns. The upside is huge for Davis, who currently checks in at 6-foot-3 and 185 pounds.
—
Howard, listed as a four-star recruit by both Rivals and 247sports, has been lighting up the scoreboard in Columbus the past two years. Through five games, he's completed 65 percent of his passes for 1,375 yards with 19 touchdowns and run for four more scores.
—
The sample size from the 2021 season is still small, but good grief, he's been good. Hubbard has Ocean Springs in the title race conversation after completing 40 of 61 passes for 666 yards with nine touchdowns against just one interception in three games. He's also averaged 5.5 yards on 38 carries with seven more scores.
—
Jace Hudspeth | Senior | Louisville
Hudspeth comes from a long line of football men from Louisville, and it shows. The senior is a big reason why the reigning 4A Champs are off to 3-1 start this season, having passed for 556 yards and a couple of touchdowns in the first three wins of 2021.
—
Kaden Irving | Senior | Gautier
The dude has been a one-man wrecking crew for the Gators down on the coast. In the first two games alone, he completed 39 of 67 passes for 672 yards with 10 touchdowns without turning the ball over once. He also averaged 5.4 yards on 11 carries with another score.
—
Jerry Johnson | Senior | Pearl
He's not a traditional quarterback in any sense, but Jerry Johnson has been the perfect triggerman for Pearl through four wins in four games. He's completed 30 of his 50 pass attempts for 523 yards with six touchdowns and one interception and rushed 37 times for 10.5 yards on 37 carries with five more touchdowns.
—
Will Loy | Junior | Wesson
Loy put up back-to-back monster seasons in his freshman and sophomore year, averaging 2,600 passing yards and tossing 64 touchdown passes against just eight interceptions. He hasn't been as efficient through four games in his junior year, but he's still on pace to pass for more than 2,000 yards and 24 touchdowns.
—
Keilon Parnell | Junior | Pascagoula
A quick Google search for "Keilon Parnell" will bring up his Perfect Game profile for his elite baseball skills, but Parnell doubles as one of the best running quarterbacks in the state. He led the Panthers to the 5A South State Finals last year as a sophomore, and has picked up right where he left off in his junior year. Through two games, he had passed for 318 yards and two touchdowns without an interception and rushed 23 times for 139 yards and three more scores.
—
Trent Singleton | Senior | Raymond
Raymond's fourth-year starter is easily one of the most proficient players in the state. His numbers, and prospect stock, soared after passing for 1,317 yards and rushing for 844 more with 23 total touchdowns as a junior last season. The 6-foot, 200-pound dual-threat is currently committed to Mississippi State.
—
Greenville Christian is absolutely loaded, but Smith is the guy who makes the offense go. In five games as a senior, Smith has completed 92 of his 155 pass attempts for 1,571 yards with 16 touchdowns and thrown just five picks. He's also averaged nine yards on 71 carries with 10 more scores. College recruiters are starting to catch up, and he's picking up offers left and right, most recently from Arkansas State and Southern Miss.
—
Zach Wilcke | Senior | Hernando
Hernando coach Will Wolfe told us before last season he had one of the best players in the state behind center, and he was right. Wilcke has come into his own as a senior, completing 88 of his 142 passes for 1,113 yards through four games with 11 total touchdowns. He says he's "100 percent" committed to Southern Miss.
—
Walls burst onto the scene as a sophomore last year, passing for 1,173 yards in eight games with 15 touchdowns and running for another. He got better as the season went on, too: He accounted for 300 yards of total offense and passed for five touchdowns in the first-round playoff win over Aberdeen. He's picked up right where he left off last season, and has the Cougars off to a 3-0 start in 2021.