Jerry Johnson, Pearl run roughshod over Ridgeland, 50-13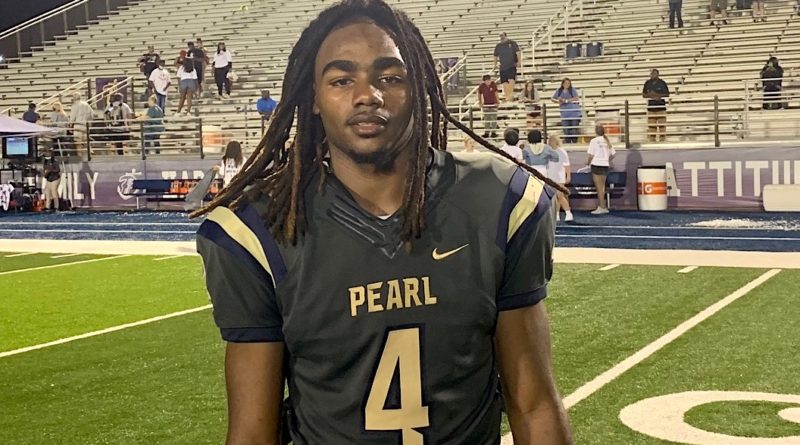 PEARL — Pearl coach Justin Hunter admitted he didn't do something last week that he should have — let Jerry Johnson loose.
On Friday night, he did.
Behind the play of Johnson and defense that forced six turnovers, the Pirates rolled past Ridgeland 50-13 at Ray Rogers Stadium.
"I brought him into my office and told him 'I'm sorry, I didn't let you do what you do last week,'" Hunter said. "We didn't turn him loose last week and tonight we did and he told me 'thank you' at the end."
Johnson scored the first touchdown of the game on a quarterback counter off the right side from 51 yards out to give Pearl a 7-0 lead with 4:21 left in the first quarter.
After Ridgeland fumbled on the second play of the second quarter Jamari Thompson scored on a 2-yard run to extend the Pirate lead to 14-0 with 10:04 left in the second quarter.
Pearl extended their lead to 22-0 on a 16-yard touchdown pass from Johnson to Javion Alexander with 6:39 left until halftime.
Ridgeland got on the board on a 7-yard touchdown pass from Thomas Dyess to Ayden Williams with 3:23 left in second quarter to cut the Pearl lead to 22-6.
After Ridgeland's second fumble of the game Pearl's Jaquavien Shoto on a 15-yard run to extend the Pearl lead to 29-6.
Ridgeland's last touchdown came with 9:48 left in the third quarter on a 33-yard touchdown pass from Dyess to Tyler Hardin.
The Pirates extended the lead to 36-13 on a Jamarion Turner 16-yard run midway through the third quarter.
Johnson added a 1-yard run and T.J. McKenzie had a 6-yard run in the fourth quarter.
"We told the guys we were going to be physical, and they responded well," Hunter said. "We got to continue to get better. We did a good job tonight of taking advantage of opportunities."
Johnson finished the night with 98 yards rushing with two touchdowns and had 145 yards passing with a touchdown to lead Pearl (1-1).
"Just took what the defense gave us tonight and we were physical tonight up front," Johnson said.
Dyess finished the night with 195 yards passing with two touchdowns to lead Ridgeland. Williams had 129 yards receiving for the Titans (1-1).
"The biggest key is turnovers, and we did it six times and we took a physical butt whooping up front," said Ridgeland coach Teddy Dyess. "We're still a good football team and can make noise, but we gotta get better."