Jackson McCoy leads Booneville past Magee to force Game 3 in MHSAA 3A Baseball Championship series (photos)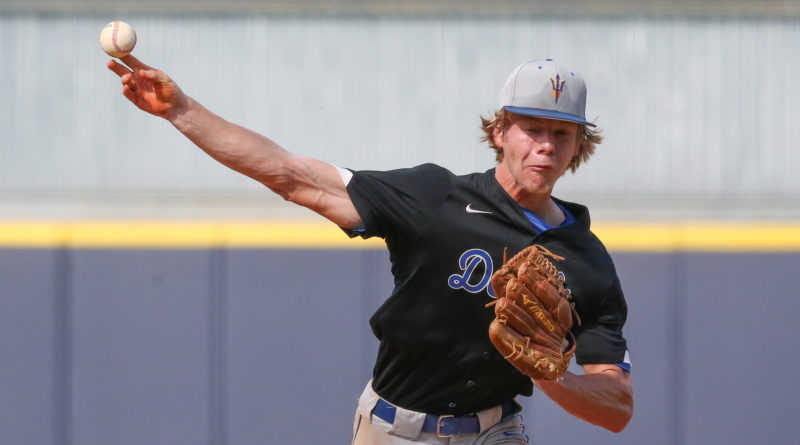 PEARL — Booneville was down, but they weren't out — especially with Jackson McCoy on the hill.
The senior did a little bit of everything Thursday as the Blue Devils held off Magee 4-2 in Game 2 of the MHSAA Class 3A State Championship series at Trustmark Park.
The deciding Game 3 is set for 1 p.m. Saturday.
"We always feel confident when Jackson is on the mound and he did a really good job today," said Booneville coach Kevin Williams. "Give the senior the ball and let him get you to a Game 3, and he did. He's been big-time every time in big-game situations."
McCoy, a Northeast Mississippi Community College signee, helped himself at the plate with a two-run home run into the left field bullpen in the top of the first inning to give Booneville a 2-0 lead.
On the mound, McCoy (9-0) tossed a complete game, allowing two earned runs on five hits with eight strikeouts.
"I was trying to keep the ball low and throw strikes," McCoy said. "Curveball was working most of the time and I did a good locating outside pitches. My mindset was getting us to a Game 3. I was glad I was pitching with a lead, and the home run gave me a lot of confidence."
Magee tied the game at 2-2 in the bottom of the sixth on back-to-back RBI singles by Jordan Magee and Banks Teater.
In the top of the seventh, Booneville took the 4-2 lead on a fielder's choice by Ben Davis and Hayden Donahue scored on a throwing error.
"Now we are in the game we want to be in. The winner takes it all," Williams said. "Magee is one of the best baseball teams we've seen in two years, and they can swing it and are very athletic."
Brennon McNair (6-2) took the loss on the mound for Magee (28-6).
"We never made adjustments at the plate and couldn't get the timely hit," Magee coach Allen Eubanks said. "We made base-running mistakes early and had numerous opportunities. We have to go back and have a good practice tomorrow and be ready for Game 3."
Williams said he was undecided on who Booneville will start on the mound in Game 3. Magee will start Jordan Magee.
PHOTO GALLERY