Ty Keyes, Taylorsville trounce Calhoun City 42-0 to take home 3rd state title in 4 years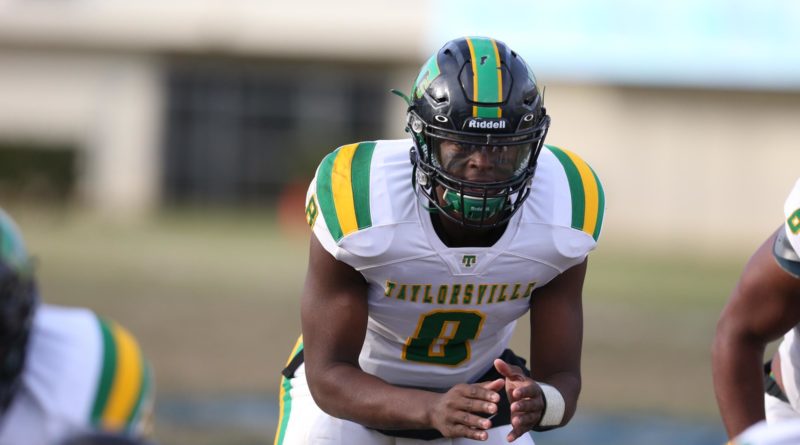 JACKSON — Ty Keyes and the Taylorsville offense lived up to the hype in the MHSAA 2A State Championship Saturday, rolling to 473 yards of total offense and throttling Calhoun City 42-0 to capture their third title in four years.
Keyes was as good as ever in the finale to his near-historic high school career, completing 13 of his 20 passes for 217 yards and three touchdowns and adding another score on the ground.
"We expected to win this championship this year," Keyes said. "We set the standard that we were going to win state, so to actually accomplish it feels great."
BOX SCORE | LIVE SCORING RECAP | 2A BRACKET
He was far from the only star for Taylorsville, which captured back-to-back championships for the second time in school history. Tailback Jeffery Pittman earned MVP honors after racking up more than 200 yards of total offense and scoring twice — once on the ground and once through the air.
Travis Keyes chipped in 73 yards on nine carries with another touchdown.
The Taylorsville offense cashed in all four of its first-half possessions for touchdowns, including Keyes' lone score on the ground and two touchdown passes to receiver Tyrese Keyes.
But the score that meant the most came with 7:34 left in the second quarter, when the game was still close.
Calhoun City looked primed to respond to Taylorsville's second touchdown after they drove the field and set up a first-and-goal situation at the Tartar 6-yard line.
The Taylorsville defense bowed its collective neck, stood up two rush attempts inside the five, then batted away a pass on fourth down.
Pittman took the handoff on the very next play, burst through the line and out-raced everyone to the end zone for a 97-yard touchdown run that put Taylorsville ahead 21-0.
"That right there took the life out of the team," first-year Calhoun City coach M.D. Jennings said. "You'd like to be able to recover from that, but we just didn't make the plays. You have to give credit to Taylorsville, but I feel like we didn't tackle well and we didn't cover as well as we had all season."
Calhoun City (10-3) never sniffed the end zone again. The Wildcats finished the afternoon with just 100 yards of total offense and turned the ball over three times on interceptions.
Tyrese Keyes accounted for one of those interceptions when he picked off Calhoun City quarterback Jackson Lee to end the first half. The last one came with 2:52 left in the game courtesy of Karson Evans, who led Taylorsville with 10 tackles.
"Since week 5 or 6 — whenever we played Enterprise-Clarke — we found a few things on defense," Taylorsville coach Mitch Evans said. "Seems like ever since then, we've been lights out."
The victory cemented the legacy for Ty Keyes and the other 14 Taylorsville seniors. The class was a part of 54 wins in four seasons, making them the most successful class to ever come through the Taylorsville program.
They scored 209 points in four games during this 2020 post-season alone.
"It's a group of seniors that will be missed greatly," Evans said. "You can't replace a group like that."
(Photos by Keith Warren — full photo gallery here)