Oxford rallies to beat Clinton 31-27 in thrilling 6A North State Final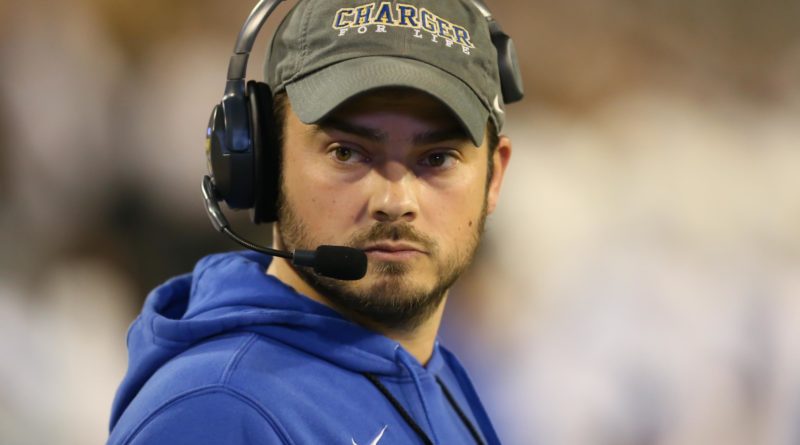 CLINTON — Oxford's Chris Cutcliffe continues to make his case for best high school football coach in the state of Mississippi, along with his coaching staff. It showed, again, in the second half of Friday's thrilling 31-27 win over Clinton.
The Chargers overcame a 10-point second half deficit and outlasted the Arrows at Arrow Stadium in the 6A North State Final. Oxford has now won 25 games in a row and has a chance to repeat as MHSAA 6A state champions against a familiar foe next Friday night.
STATEWIDE SCOREBOARD | MHSAA PLAYOFF BRACKETS
"That was one heck of a ball game," Cutcliffe said. "Clinton is a real good football team. It was just back-and-forth all night and we made enough plays at the end to get it done."
It was an instant classic from the opening kickoff.
The Chargers moved the ball with ease on their opening drive via the run game. The one time Oxford threw the ball — in the red zone — Clinton's Jeremy Mack put a stop to the drive by intercepting the pass.
After a three-and-out by Clinton, more turnovers followed. Oxford kicker Jack Tannehill scored the first points of the game on a 38-yard field goal with 35 seconds left in the first quarter. 
Clinton quarterback Caleb Miller threw three interceptions on the next three drives, including a 19-yard pick-six by Tristan Shorter with 11:51 left in the second quarter that gave Oxford a 10-0 lead.
Midway through the second quarter, Miller finally got going. He found Carsson DeYoung for a big gain, then a few plays later he threw a 16-yard fade pattern that was caught one-handed by Jordyn Battee for a touchdown.
After stuffing Oxford's Alex Sanford on 4th-and-1 from midfield, Miller led Clinton on another scoring drive, eventually scoring on a short run to give the Arrows a 14-10 lead going into the locker room at halftime.
That momentum carried over early in the third quarter.
Miller connected with DeYoung on a 45-yard beauty of a touchdown grab. The PAT failed, but the Arrows had opened up a two-score, 20-10 lead with 8:02 left in the third quarter.
Oxford proceeded to convert numerous third downs on its next drive, and Michael Harvey eventually found Jay Wortham on a gutsy 13-yard touchdown catch in traffic to cut Clinton's lead to 20-17.
It would only get better.
On the first play of the ensuing drive, Jamarri Sims got into the Clinton backfield for a sack and Sanford picked up the loose ball for a 15-yard scoop and score. Just like that, the Chargers retook the lead 24-20 with 4:19 left in the third quarter.
Early in the fourth quarter, the Chargers forced a turnover-on-downs and looked to put the game further out of reach. After continuing to run the football, Omar Howell was stuffed on fourth down at midfield, giving Clinton a golden opportunity with 7:58 left in the game. On 4th-and-5 inside Oxford's 10 yard line, Miller bought time and found Jordyn Battee in the end zone for a touchdown grab that gave Clinton a 27-24 lead with 4:55 left to play.
Oxford stayed on the ground as Howell and his offensive line gashed Clinton on the line of scrimmage. Howell eventually punched it in on a five-yard score that gave Oxford a 31-27 lead with 3:03 left.
"Omar is a physical runner," Cutcliffe said. "He's hard to tackle as the game goes on. I'm really proud of how he played. I thought our offensive front did a great job … We knew we had to be patient when running the football."
Howell finished with over 200 yards rushing on the night.
Miller led the Arrows down the field on their final drive, reaching the Oxford red zone. But on 4th down, Shorter made one more big play, deflecting Miller's pass and putting the game on ice.
The Chargers will head to Jackson next Friday for a rematch with Oak Grove for the MHSAA Class 6A State Championship. The game will be played at Mississippi Veterans Memorial Stadium. Kickoff time is set for 7:00 p.m.
"This is the craziest season any of us has been a part of," Cutcliffe said. "Our guys continue to improve as the season goes on. That's what we've been asking them to do. Control what we control, have great practices, great workout sessions, great film work and let's just keep getting better. We know we have a really tough challenge next week."
— Jared Redding
(Feature photo by Keith Warren)