Undefeated Oxford charges into 6A North Finals with 41-26 win over Hernando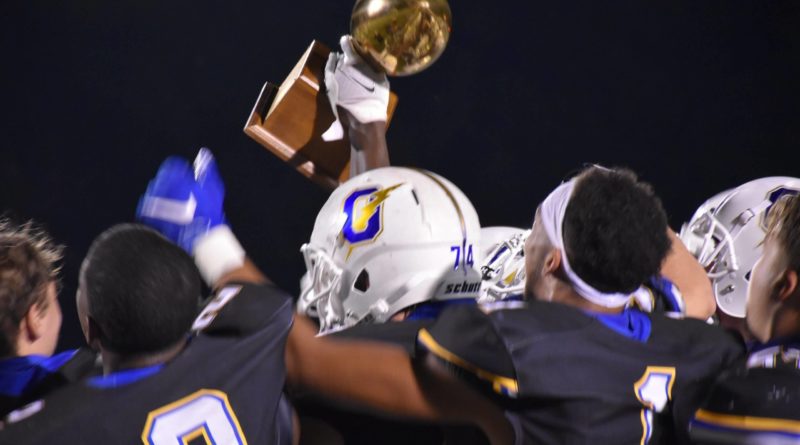 OXFORD — Lightning did indeed strike twice. Again, it occurred in the second half.
The No. 2 ranked Oxford Chargers (11-0) scored 24 consecutive points in the third quarter and held on for a 41-26 win over the Hernando Tigers at Bobby Holcomb Field Friday. The Chargers have now won 24 games in a row and fifth-year head coach Chris Cutcliffe won his 50th game at the helm.
"That's our staff's 50th win," Cutcliffe said. "They're fantastic. They did a great job getting our guys ready to play tonight. None of these 50 would happen without them."
MHSAA PLAYOFF BRACKETS | STATEWIDE FOOTBALL SCOREBOARD
The game resembled Oxford's 37-27 victory over Hernando on October 30 in region play. After a slim halftime margin, the Chargers pitched a third quarter shutout while the offense gave them breathing room late.
"(Hernando) is a really good football team," Cutcliffe said. "They have a lot of playmakers. You saw (Reid Flanagan) make a lot of plays. Shawn Wade is a really talented player. So it was a big challenge for us. We did a good job of keeping them out of the end zone a couple of drives by stepping up in the red zone. Offensively, we moved the ball well the whole night."
After forcing a punt on Hernando's opening offensive possession, the Chargers consumed clock and found the end zone. With 4th-and-goal on the one-yard line, Michael Harvey found a wide open hole via a QB sneak. Following a successful two-point try, the Chargers led 8-0 with 4:13 left in the first quarter. 
Just like last week, Oxford bent but never broke defensively, forcing a missed field goal and a fumble which they recovered on their own one-yard line on Hernando's next two possessions. With 10:02 left in the second quarter, the Tigers finally broke through. Zach Wilcke put air underneath his throw and Reid Flanagan snagged it for a 26-yard touchdown catch. Following a failed two-point attempt, Oxford led 8-6. 
The Tigers proceeded to sell out stopping the run defensively, but big throws to D.K. Johnson and Jalen Webb gave Oxford multiple chances to add to its lead. Jack Tannehill answered the call both times with field goals from 34 and 45 yards out. 
With 4:43 left in the first half. Flanagan again gave Hernando life. A pair of big catches set up Jarickas Williams to find the end zone untouched with 24 seconds left until halftime.
But in miracle fashion, Webb caught a 45-yard bomb from Harvey to set Tannehill up for his third field goal of the first half. Oxford led 17-12 going into the break.
And just like three weeks ago and numerous times this season, the Chargers stormed out of the locker room with a furious third quarter and never looked back.
Oxford found the end zone on each of their first two possessions to begin the period. Harvey threw his first touchdown pass of the game to his tight end Trynten Brannon from 12 yards out on their opening second half possession. Following a three-and-out, Omar Howell found the end zone from 23 yards out while dragging several Tigers defenders with him. Just like that, the Chargers led 31-12 with 5:39 left in the third quarter. 
"I thought Omar (Howell) played incredibly well," Cutcliffe said. "He played really physical. I thought we did a great job up front as well. Our tight ends played really well in the run blocking game as well."
Tannehill continued his excellent kicking night with a 37-yard field goal to conclude the third quarter. Backup running back Cam Mcjunkins put in the final dagger, scoring on a short run to give Oxford a 41-12 lead with 2:04 left in the game following a Tristan Shorter interception.
Hernando continued to fight, scoring two late touchdowns, but the damage had been done.
The Chargers will travel to face the Clinton Arrows for their second consecutive 6A North State championship game. Kickoff time is set for Friday at 7 p.m.