Meet Mississippi's Top 15 boys basketball players headed into 2020-21 season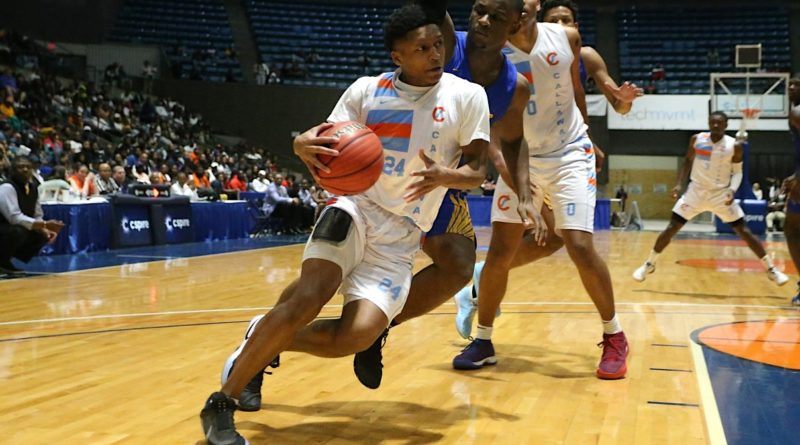 With the 2020-21 Mississippi high school basketball season underway, SBLive is taking a look at the best players, teams and stories across the state.
Here's a look at the Top 15 boys basketball players in Mississippi. The list was compiled by SBLive reporter Tyler Cleveland based on observations and conversations with college and high school coaches.
(The list is in alphabetical order.)
Jay Barnes – Senior Guard – Oak Grove
Twitter: @JayyBucketss
The 5-foot-11 Barnes has flown under the radar, but any coach who has faced the Warriors will tell you how lethal he can be. He averaged 16.3 points and 3.1 assists as a junior last season and helped Oak Grove to a 24-4 overall record and the third round of the 6A playoffs.
Barnes holds offers from Mississippi Valley State and Southern Arkansas, but remains uncommitted as of Nov. 11.
Rashad Bolden – Senior Guard – St. Andrew's
Twitter: @bpcronin11
Bolden may not be huge in stature, but it'd be tough to find a better player pound-for-pound. St. Andrew's 5-foot-11 guard averaged 25.9 points and 3.3 assists in 32 games for St. Andrew's as a junior last year.
He helped the Saints to the 3A Championship, where he was named MVP after dropping 25 points and going 12-for-12 from the free throw line in a 61-40 win over Velma Jackson. The Saints finished the season with a 29-6 overall record.
Devin Carter – Senior Guard – Florence
Instagram: @saydeejayy
Carter might be the best shooter in the state. He started getting a lot of attention after he led Florence to a 25-8 finish last season, averaging 23 points, 5.3 rebounds and 2.1 assists.
Carter waited his turn to play behind guys like Florence great Jaylen Forbes. He holds offers from basically every junior college in the state and Mississippi Valley State University, but has also drawn interest from Southern Miss and Alcorn State. As of Nov. 11, he remained uncommitted.
Tynerious Daniels – Senior Guard – Jeff Davis County
Twitter: @23Famousty
It's hard to imagine where Jeff Davis County would have been last season without Daniels, who led his team to the third round of the playoffs by averaging 25 points, 8 rebounds, 7 assists and 5 steals as a junior.
Daniels was selected to the North vs. South Junior All-Star game for his efforts, and is getting a lot of interest from juco and college coaches.
Joseph Dupree – Senior Guard/Forward – Murrah
Twitter: @dupree_ii
If you're looking for a big man who makes an impact, you can do a lot worse than Murrah's big 6-foot-6 forward who averaged 17 points and four rebounds for the reigning 6A state champs last season.
Dupree signed with Jackson State on Nov. 11. He was the lone recruit JSU brought in during the early signing period, and coach Wayne Brent is hoping he can have an immediate impact as a freshman next year.
Jacob Gazzo – Sophomore Forward – Parklane Academy
Twitter: @JacobGazzo
Parklane Academy's two-sport star Jacob Gazzo has been a force in the MAIS ranks, but is easily one of the best players in the whole state. He averaged 16.9 points and 9.1 rebounds as a freshman last season.
The 6-foot-10 big man already holds an offer from Ole Miss coach Kermit Davis, but recently got his offer from Ole Miss baseball coach Mike Bianco. Some dudes are just athletes, and Gazzo is one of them. He hasn't hit his 17th birthday, and his fastball tops out around 86 miles per hour.
Kimani Hamilton – Junior Forward – Clinton
Twitter: @KimaniHamilton2
Clinton's 6-foot-8 wing is a beast. He averaged 14.5 points and 6.5 rebounds a game as a sophomore last season, helping the Arrows to a 23-9 overall record and the third round of the 6A playoffs.
He was named to the Priority One All-Metro Team for his efforts, and currently holds offers from Missississippi State and Ole Miss, among others.
Josh Hubbard – Sophomore Guard – Madison-Ridgeland Academy
Twitter: @jhubb_3
He's just a sophomore, but Josh Hubbard was already one of those players you can build your whole team around last season, and that's just what MRA did.
The 6-foot guard averaged 18.2 points a game as a freshman, scoring in double digits in 33 out of 38 games. That was after he averaged 15.3 points a game as an eighth grader in the 2018-2019 season, when he was 13 years old.
Hubbard is rated as the No. 1 prospect in the state for the class of 2023, according to 247sports.com. He already holds offers from Ole Miss, Mississippi State and Jackson State.
CJ Keyes, Jr. – Senior Forward – Quitman
Twitter: @keyes_cj
The bigger the game, the better Chris "CJ" Keyes seems to play. He led the Panthers to a 25-7 overall record as a junior, averaging 24 points, 8.5 rebounds and four assists.
Coach Chris Coleman's 6-foot-6 forward was selected to play in the North vs. South Junior All-Star game, and he's earned offers from a slew of juco programs and interest from some smaller in-state schools.
Kaeden Laws – Senior Forward – Center Hill
Twitter: @MrDoItAll_KLaws
Laws may not have the big-time offers some of the other guys on this list have, but you can put his resumé up against anyone. Center Hill's four-year starter has made all-state lists in each of the last two seasons, won one state championship and finished runner-up in another, won All-Region 1-5A honors the past three seasons and was named MVP of the North-South Junior All-Star game.
He averaged 13.9 points and 8.5 rebounds in 33 games as a junior. He verbally committed to Arkansas-Pine Bluff on Oct. 23.
Josh Lee – Senior Guard – Hartfield Academy
Twitter: @JoshNLee15
Lee was one of the best players in the state last season, when he averaged 23.3 points, 5.3 rebounds and 3.7 assists a game and helped Velma Jackson to a 30-6 overall record and a runner-up finish in 3A.
He transferred to Hartfield Academy during the off-season, and immediately makes the Hawks an MAIS overall contender.
Caleb Rawls – Senior Forward – East Marion
Twitter: @calebrawls4
East Marion's 6-foot-7 secret weapon can flat out play. Rawls averaged 17.6 points, 12 rebounds and 2.7 blocks a game as a junior at East Marion last year, and by all accounts he's only improved in the off-season.
Rawls holds offers from a slew of junior colleges and several four-year universities, including Mississippi Valley State.
Devin Ree – Junior Forward – Terry
Twitter: @whois_Dev
Ree may not be a household name just yet, but give it some time. Terry's 6-foot-7 small forward is rated as the No. 14 player at his position in the country by 247sports' composite ranking, and the top player in Mississippi for the class of 2022.
He averaged 17.5 points, nine rebounds and four assists a game as a sophomore and already holds offers from Auburn, Georgia, LSU, Memphis and Jackson State, among others.
Daeshun Ruffin – Senior Guard – Callaway
Twitter: @DaeshunRuffin
Basketball fans in Mississippi should be familiar with the highest-rated senior prospect in the state, and the idea that this top-ranked player would play guard for coach David Sanders at Callaway.
Ruffin signed with Ole Miss on Nov. 11. He was rated as the No. 4 point guard in the country by 247sports after he averaged 32.5 points a game last season as a junior, when he helped the Chargers (25-5) to the 5A state title.
Ruffin has top-notch handles, and isn't afraid to get his teammates involved if you game plan around him.
(Feature photo by Keith Warren)
Carlous Williams – Senior Forward – Harrison Central
What is not to like about a big man who can score like Williams? Harrison Central's 6-foot-6, 230-pound small forward averaged 14 points and eight rebounds a game as a junior, when he helped the Red Rebels to the 6A state semifinals.
Williams, who also goes by CJ, is listed as a 3-star recruit by 247sports and is currently committed to South Carolina. He also holds offers from Baylor, Ole Miss and Houston.