SBLive Power 10 Football Rankings (Nov. 3): Newton County surges to No. 6, Ocean Springs moves in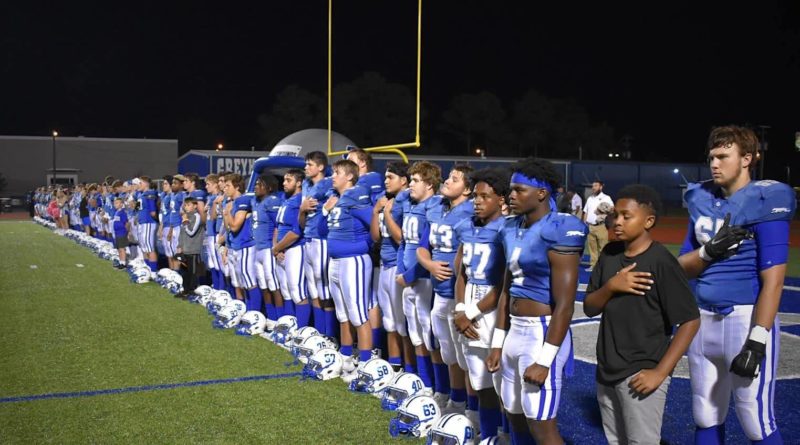 Every week during the 2020 football season, SBLive will rank the Top 10 high school football teams in the state of Mississippi, regardless of classification.
Here are the Week 9 SBLive Power 10 rankings (Nov. 3) as compiled by SBLive Sports reporter Tyler Cleveland. (Feature photo by Keith Warren)
SBLIVE POWER 10 FOOTBALL RANKINGS
Nov. 3, 2020
1. Oak Grove (8-0)
Last week: Defeated Pearl 47-7
This week: at Northwest Rankin (7-2))
Kabe Barnett and the Grovers kept rolling with a 47-7 win over Pearl, and are now one win over Northwest Rankin away from completing the undefeated season and capturing the top playoff seed coming out of Region 3-6A.
2. Oxford (8-0)
Last week: Defeated Olive Branch 37-27
This week: hosts Tupelo (6-3)
The only other undefeated team in 6A looked impressive in a 37-27 win over Hernando. The Chargers have received everyone's best shot in Region 1 and come out on top each week, but have one more major test this week against Tupelo before claiming an undefeated regular season.
3. D'Iberville (8-0)
Last week: Defeated Harrison Central 20-13
This week: hosts St. Martin (4-6)
D'Iberville had to wait until Monday night to wrap up the Region 4 title, but they did it in fashion with a 20-13 win over a very good 6-3 Harrison Central team. The undefeated Warriors have one more game at home against St. Martin (4-6) before they learn who their first-round opponent will be when the 6A playoffs begin on (gulp) Friday the 13th.
4. Starkville (7-2)
Last week: Lost to Warren Central by forfeit
This week: at Clinton (5-2)
One aspect of this season we'll likely look back on and wonder what "could have been" is the last three weeks of October for pre-season No. 1 Starkville. The Yellow Jackets had a chance to win the Region outright with wins over Warren Central last Friday and Clinton this week, but had to forfeit to the Vikings due to COVID. Now Starkville has its back against the wall in its first game back from quarantine, and needs a win over the battle-tested Arrows just to make the playoffs. Playing deep into November without the 'Jackets seemed laughable one month ago.
5. South Panola (8-2)
Last week: Defeated Warren Central 36-35 in double OT
This week: No game scheduled
The Tigers bounced back from a mid-season slump and won their final three games of the regular season after starting 0-2 in region play. Now, all they can do is pull for Clinton to upset Starkville this week. If the Arrows win, South Panola is in the playoffs as the No. 2 seed coming out of Region 2. If Starkville wins, South Panola's season is over, which would be a shame with the Tigers peaking at the right time.
6. Newton County (9-0)
Last week: Defeated Northeast Jones 50-0
This week: host Purvis in 1st round of 4A playoffs
The Cougars have flown under the radar this season because of their strength of schedule — their eight opponents have a combined record of 31-38 — but Newton County is easily among the best 10 teams in the state. We've moved them up from No. 10 to No. 6 this week following another convincing win and losses from Ridgeland, Northwest Rankin and Warren Central.
7. Ridgeland (8-2)
Last week: forfeited to Holmes County Central
This week: No game scheduled
The Titans actually move up this week from No. 8 to No. 7 in our Power 10 Rankings thanks to actual losses by the teams previously ranked above them. Ridgeland has only lost one game on the field all season — the season opener against 6A Northwest Rankin — and has looked good ever since. The still-in-quarantine Titans will get the No. 1 seed coming out of 2-5A that they deserve if Vicksburg beats Holmes County Central this Friday night.
8. Neshoba Central (7-1)
Last week: Defeated Cleveland Central via forfeit
This week: No game scheduled
The Rockets are back up from No. 9 to No. 7 this week after getting their seventh win of the season via the forfeit from Cleveland Central. Neshoba Central has only suffered one loss this season, and will earn either the No. 1 seed or No. 2 seed coming out of Region 2-5A. They need Holmes County Central to beat Vicksburg on Friday.
9. Ocean Springs (8-1)
Last week: Defeated Gulfport 17-10
This week: host Harrison Central (6-3)
The Greyhounds started off hot and have finished strong, with just the 27-24 loss to undefeated D'Iberville back on Oct. 2 standing out as the only blemish on the schedule. The Warriors have since captured the top seed coming out of Region 4, and Biloxi is in at the No. 4 seed, so whichever team wins Friday's game between Ocean Springs and Harrison Central will take the No. 2 seed, with the loser falling to the No. 3 seed.
T10. Northwest Rankin (7-2)
Last week: Lost to Brandon 42-21
This week: hosts Oak Grove (8-0)
Last week was the perfect storm: the Cougars looked less-than-impressive for a second week in a row and ran into a surging Brandon team at the wrong time. That said, everything is still within reach for the Cougars with No. 1 Oak Grove coming to town this week. The Cougars can capture the No. 1 seed coming out of Region 3 with a win, but they'll have to defend much better against the run to do it.
T10. Picayune (8-1)
Last week: Lost to Pascagoula 42-25
This week: host Wayne County (4-6)
The Maroon Tide drops from No. 5 to No. 10 this week after suffering their first loss of the season to Pascagoula (5-4) in a game that was moved to Saturday due to inclement weather. The Panthers exposed some issues on defense for Picayune, which gave up more than a couple of big plays. But if the Maroon Tide can clean up those mistakes and beat Wayne County this week, they'll capture the No. 1 seed coming out of Region 4-5A.