Vancleave captures 4th consecutive MHSAA volleyball state title (photos)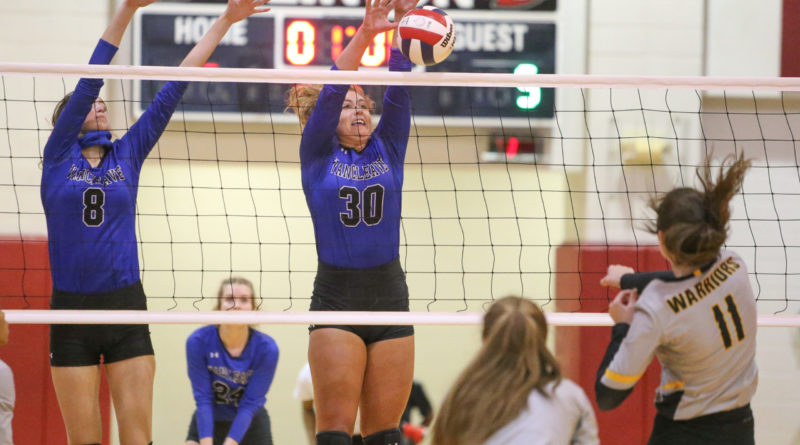 CLINTON — The dynasty continues.
Behind a strong start and the play of setter Julianah Overstreet, Vancleave swept Pontotoc 3-0 in straight sets to win their second consecutive MHSAA Class 4A Volleyball State Championship on Saturday afternoon.
It's also the Lady Bulldogs fourth consecutive volleyball state title. They won the Class II state title in 2017 and 2018.
VOLLEYBALL PLAYOFF BRACKETS | VOLLEYBALL SCOREBOARD
"I was confident about our offense because our offense is more fast paced and the girls played with a ton of energy," said Vancleave coach Christina Daigle. "The name of the game for us is first to five, first to ten and first to fifteen. We were focused on those small goals."
Vancleave jumped out to a 10-3 lead in the first set and then came away with a 25-12 win to start the match.
In the second set the Lady Bulldogs raced out to a 10-4 lead and eventually won the second set 25-11.
The third set was back and forth with Vancleave holding a 17-11 lead. Pontotoc cut the lead down to 17-14, but the Lady Bulldogs ended the third set on an 8-2 run to win the set 25-16 and win the match.
"The girls played with a lot of momentum and it played in our advantage. I was shaking the whole time," Daigle said. "I coached these seniors when they were in seventh grade and we've set a high standard and the girls live up to it."
Julianah Overstreet had three kills, 31 assists and nine digs to lead Vancleave.
Eve Mixon had six aces, 18 kills, five digs and an assist for the Lady Bulldogs (29-6).
"We all had some energy and we played for each other as a team," Overstreet said. "We set our goals and we saw a bunch of opportunities to get points at the net and we did."
Sadie Stegall had four kills and two digs for Pontotoc, while Audrey Hamill had three kills and seven digs for the Lady Warriors (18-5).
"I'm proud of the girls for the way they fought, but I think there were good rallies but those went the other way for us tonight," said Pontotoc coach Annie McGregor. "Vancleave is really good and they run a fast offense that's something we haven't seen much of. We met a lot of goals this year and hopefully we can make run next year."
4A VOLLEYBALL CHAMPIONSHIP PHOTO GALLERY
(All photos by Keith Warren)