Eli Anderson leads Neshoba Central to 27-16 win over Scott Central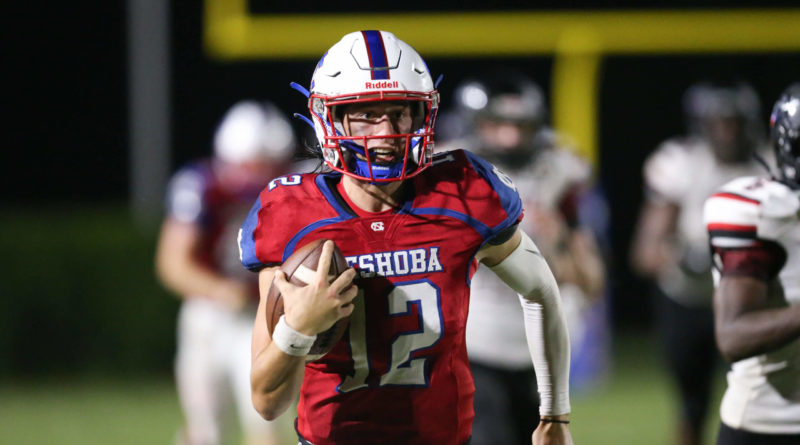 The Neshoba Central Rockets battled with Class 2A powerhouse Scott Central for four tough quarters as they pounded out a 27-16 victory Friday night in Week 3 Mississippi high school football action.
The Rockets improve to 3-0 and will host Holmes County Center in their first Region 2-5A game of the season next week. The Rebels stand at 2-1 and will host Raleigh.
The Rockets kicked off, held Scott Central to four downs, and took over on the Rebels 41-yard line. Three plays later, Rockets quarterback Eli Anderson threw a 24-yard TD pass to Jarquez Hunter on a ball that was deflected but somehow found its way into the hands of Hunter.
Anderson went back to the air in the second quarter and connected with Dagan Martin on a 9-yard pass play. Hunter Bavetta's kick was good and the Rockets led 14-0 with 9:37 left in the second quarter.
The Rebels battled back, putting together a 55-yard touchdown drive that was capped off by a Trevor Wash to Devin Burks 18-yard TD pass. The Rebels ran in the two-point conversion and the Rockets led 14-8 with 6:04 left in the half.
The Rebels picked off a pass on the Neshoba Central 29-yard line to set up their next score. Jalen Wells eventually punched it in on a 15-yard TD run. The two-point conversion was good and the Rebels led 16-14 with 1:41 left in the second quarter.
The Rockets quickly retook the lead. Following a good kickoff return, Anderson connected with Martin on a 46-yard pass play. The try for two failed and the Rockets carried a 20-16 lead into the locker room at the half.
Hunter scored the only touchdown of the second half on a short run in the third quarter. Bavetta kicked the extra point and the Rockets held on for the win.
— Steve Swogetinsky
(Feature photo by Keith Warren)
STATEWIDE SCOREBOARD | HOW THE TOP 10 FARED