Oxford scores 27 unanswered points to beat Lafayette 33-22 in Crosstown Classic (photos)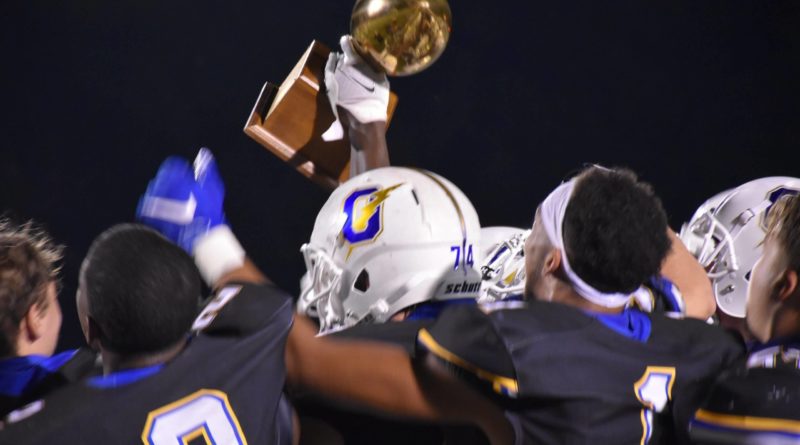 OXFORD — Down 22-6, Oxford refused to panic.
The Chargers scored 27 unanswered points to knock off the Lafayette Commodores 33-22 in the annual Crosstown Classic Friday night. Oxford has now won eight of the last 10 games against their crosstown rival, including four in a row.
"Our whole thing this time of year is to just keep getting better," Oxford head coach Chris Cutcliffe said. "We've been doing that, taking these weeks early in the season to improve our football team."
After the Chargers scored on their first possession, the Commodores controlled the football for most of the first half, but failed to finish drives on their first two possessions in the red zone. With 2:37 left in the first half, Lafayette finally broke through with an 11-yard TD scamper from quarterback Tyrus Williams.
The Commodores proceeded to score twice in less than two minutes thanks to a pair of kickoff return miscues for Oxford. Brendan Toles' 55-yard touchdown run and Jay Reed's goal line score gave Lafayette a 22-6 lead with 20 seconds left in the first half.
Cutcliffe put in sophomore quarterback Trip Maxwell on Oxford's final drive of the half and he connected twice with Jalen Webb, including a red zone touchdown grab with a second to spare before the half.
"We didn't panic," Cutcliffe said. "I know the wheels fell off for a little bit, but we regrouped and played good football in the second half."
The game snowballed from that point on, especially with Williams out of the game due to a personal foul penalty. Taylor Tarver stepped in for Williams under center in the second half.
"[Williams] is a fantastic football player," Cutcliffe said. "He's so talented and a big piece of their offense. It changed our game plan, but I felt like we adjusted accordingly."
Both Michael Harvey and Maxwell rotated for the second week in a row for Oxford with Harvey getting the start. Maxwell threw three touchdown passes, including an 85-yard TD pass to Jay Wortham to open the third quarter. He also threw a 32-yard TD pass to Trynten Brannon to give Oxford a double digit lead.
"The quarterbacks played well," Cutcliffe said. "They threw well with some big time plays from our receivers as well.
Defensively, the Chargers came up with two key turnovers in the second half. Tristan Shorter's 20-yard pick six allowed Oxford to regain the lead in the third quarter. The Chargers also forced and recovered a fumble in the shadow of their own goal post.
Lafayette will travel to Mooreville next week to take on the Troopers. Oxford will have a bye week before opening up Region 1-6A play at Southaven on Sept. 25.
— Jared Redding