Marcus Boyles believes Petal has a chance in 'wide open' Region 3-6A: 2020 high school football preview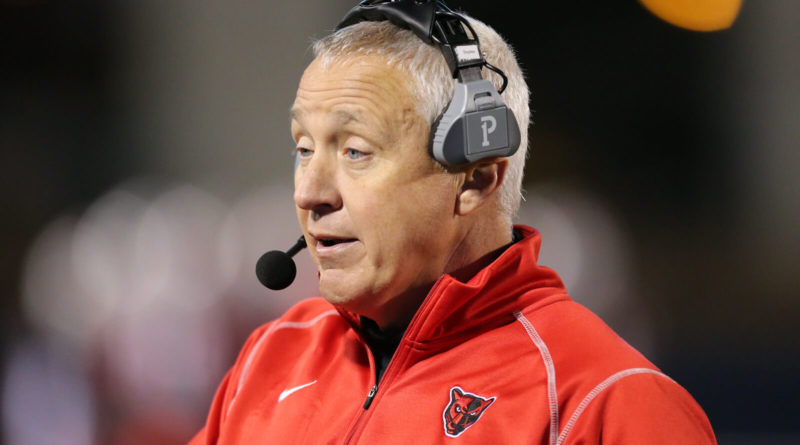 Here is an inside look at the 2020 Petal Panthers football team.
PETAL TEAM PAGE | 2020 FOOTBALL SCHEDULE
Head coach:
Marcus Boyles (9th year, 74-34 overall at Petal)
(Photo by Keith Warren)
Key players:
RB Caleb Martin
WR/DB Jonathan Harris
OL Caleb Taylor
Last year:
12-2 (7-0 in Region 3), lost to Oak Grove in the South State Finals
2020 Outlook:
When Petal coach Marcus Boyles talks, folks in Mississippi football circles tend to listen. That's what happens when you've won 288 games.
So when Boyles says his Petal Panthers are primed to defend their Region 3 crown, you better believe it.
The Panthers went right to the cusp of reaching the state championship game last season before rival Oak Grove rained on their parade in the South State finals, and there's a good bit of talent coming back from that team.
"We haven't been back together very long, but we've been working hard all summer," Boyles said. "We have some guys coming back, but we also have a lot of new faces on both sides of the ball. We are somewhat inexperienced, but I've been pleased with how hard everyone seems to have worked this summer."
Like many other teams in the region, Petal lost several key pieces off of last year's team. Most notably, quarterback Decarlos Nicholson graduated after racking up nearly 2,400 yards of total offense and scoring 23 touchdowns.
The race to replace him as the Panthers' starting quarterback is down to two guys – transfer Jackson Allen and converted receiver Jeremiah Robinson.
"Both those guys have worked hard and they bring different skill-sets to the position," Boyles said. "I can see both of them playing, but we really like what we have there at that position."
Allen has bounced around to several different schools in his career. He spent his sophomore season at Jackson Prep, where he served in a backup role and completed 12 of 25 pass attempts for 233 yards and one touchdown.
Robinson led the Panthers in receptions a year ago with 33 catches for 397 yards with five touchdowns. Jonathan Harris also returns at wideout after a stellar junior season in which he caught 31 passes for 579 yards and five touchdowns. Another senior, Micah Cherry, returns this season having caught 25 passes for 477 yards and four touchdowns a year ago.
The Panthers graduated their three leading rushers from last season, but Boyles said senior Cam'ron Martin is ready to be his bell-cow back after missing his junior season due to injury. Junior Zac Dean, the team's leading returning rusher, should provide some depth at the position.
Another guy who missed last season who will likely play a big role in the offense is tight end Garrett Barger. Barger, who is 6-foot-3, 215 pounds and a splendid pitcher on the baseball team, had arm surgery last year and missed his junior season.
On the line, Petal returns two starters – senior Caleb Taylor and junior Reed McKay – and is looking for three more.
"Caleb Taylor is a big boy at 6-4 and 340 pounds," Boyles said. "He's a real leader for us up front, and Reed is another solid returning player. Right now, we just don't have a lot of depth up front, but we really feel good about that group despite losing three starters."
On defense, the Panthers return a couple of guys up front who didn't start but played a ton of snaps. Junior Simon Lee will likely step into a starting role after recording 17 stops in a backup role last year. The other is sophomore Kelton Mickell, who recorded nine tackles as a freshman a year ago.
Boyles said the Panthers are set at linebacker with junior Logan Redman and seniors Darian Washington and Zion Edwards.
The two receivers – Harris and Cherry – are likely to start at the cornerback positions, but the starting spots at safety are still up grabs with a little less than two weeks to go until the Sept. 4 season opener against Brookhaven.
Kicker Nate Jones is back to handle all the kicking duties.
How well the Panthers gel with so many new faces in the lineup, Boyles said, will go a long way in determining how the season goes.
"I think probably when you look at the region, it's kind of wide open," he said. "You can't look at one team as the favorite right now, but I think we'll be right in the mix. It all depends on how much these guys have grown up and how hard they play when the lights come on."
—
MORE: 2020 MISSISSIPPI HIGH SCHOOL FOOTBALL PREVIEW