Vallivue boys basketball PG Jacob Martinez voted the WaFd Bank Idaho High School Athlete of the Week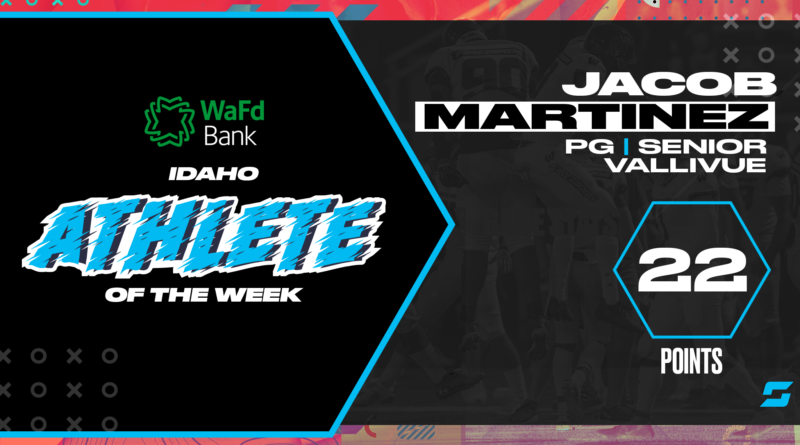 Congratulations to Vallivue boys basketball point guard Jacob Martinez for being voted SBLive's WaFd Bank Idaho High School Athlete of the Week for Dec. 27-Jan. 2!
The senior scored 22 points in the Falcons' 59-47 win over Sugar-Salem.
Martinez received 54.52% of the vote, beating out Lewiston's Katy Wessels who finished second with 30.07%. Skyline's Shay Shippen finished third with 6.44% and Burley's Amari Whiting finished fourth with 5.01%.
We are currently accepting WaFd Bank Player of the Week nominations. If you would like to nominate an athlete, please email athleteoftheweek@scorebooklive.com or message us on Twitter or Instagram at @sbliveid.
—
Here are the other athletes who were nominated for the week of Dec. 27-Jan. 2:
Blake Buchanan, Lake City Boys Basketball: Buchanan tallied 13 points, nine rebounds and five blocked shots in a 49-42 win over Bishop Kelly.
Aspen Caldwell, Thunder Ridge Girls Basketball: Caldwell had quite the week with a combined 60 points in wins over Idaho Falls, Coeur d'Alene and Mountain View.
Liam Campbell, Owyhee Boys Basketball: Campbell averaged 26.7 points at California's The Classic at Damien to lead the Storm to a third-place finish in the Platinum Division and make multiple all-tournament teams there.
Jenna Chase, Timberlake Girls Basketball: Chase scored 23 points, including nine in the first quarter, in a 68-47 win over Ephrate (WA).
Aly Cox, Timberline Girls Basketball: Cox recorded a double-double of 14 points and 12 rebounds in a 70-31 shellacking of Hillcrest.
Isaiah Harwell, Century Boys Basketball: Harwell chalked up 24 points, including four dunks, to pace the Diamondbacks to taking the East Idaho Holiday Shootout Tournament in a 77-61 win against Skyline.
Kobe Jones, Rigby Boys Basketball: Jones put up 16 points as the Trojans cruised by multiple-time state champion Rocky Mountain 67-37.
Addie Kiefer, Lakeland Girls Basketball: Kiefer had a double-double of 18 points and 12 rebounds to go with four steals in a 45-39 win over Ridgeline (WA).
Carlie Latta, Minico Girls Basketball: Latta totaled 56 points in losses to 5A perennial powers Centennial and Timberline.
Mylie Mills, Columbia Girls Basketball: Mills notched a double-double of 14 points and 10 rebounds in a 55-25 rout of 5A Centennial.
Kolton Mitchell, Lake City Boys Basketball: Mitchell got a measure of revenge with 34 points, including 23 in the second half in a 77-71 double overtime win over Meridian in a rematch of last year's 5A state final.
Erin Morgan, Kendrick Girls Basketball: Morgan netted consecutive double-doubles in wins over Texas' Covenant Christian (18 points, 12 rebounds) and Ohio's Ravenna (17 points, 11 rebounds) at KSA Events Basketball Tournament in Florida.
Breyer Newman, Ririe Girls Basketball: Newman nearly outscored American Falls herself with 25 points in a 47-29 win.
Carsn Perkes, Carey Boys Basketball: Perkes bagged 26 points in a 61-35 shellacking of Liberty Charter.
Shay Shippen, Skyline Girls Basketball: Scored 72 points in three games to help Skyline win the championship of the East Idaho Holiday Shootout, including 31 points on 11-13 shooting vs. Real Salt Lake Academy and 21 points in Skyline's win vs. Lehi (UT).
Capri Sims, Post Falls Girls Basketball: Sims was named the tournament MVP and led the Trojans in winning the Avista Winter Classic with several impressive performances, including a double-double of 25 points and 20 rebounds against Lapwai.
Madi Symons, Coeur d'Alene Girls Basketball: Symons racked up 48 points, 17 rebounds and eight steals in games against Timberline and Thunder Ridge at the Timber-Lion Tournament.
Katy Wessels, Lewiston Girls Basketball: Wessels combined for 60 points in games against Grangeville, Richland (WA) and Post Falls at the Avista Holiday Tournament.
Amari Whiting, Burley Girls Basketball: Whiting combined for 60 points in games against Borah and last year's 5A state champion Mountain View.