Top 7 plays from Week 9 of the Idaho high school football season: Gerrit Cox brings Sandpoint snowy league title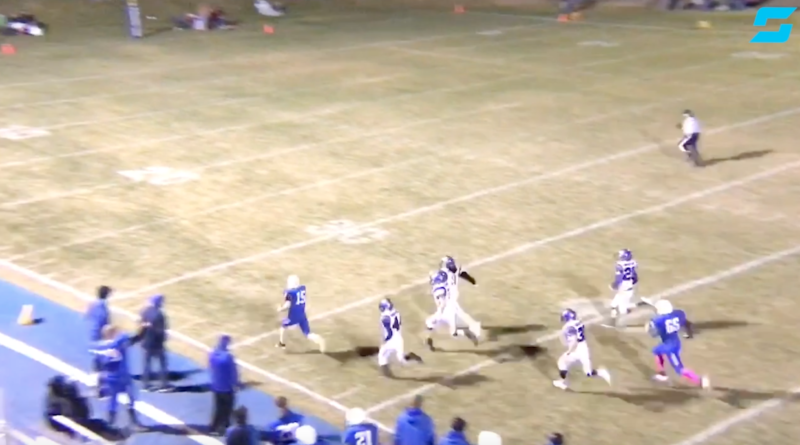 Week 9 of the Idaho high school football season brought lots of great highlights. We've scoured all classifications across the state of Idaho to compile five plays that caught our attention.
If we missed a great play please tag us on Twitter or Instagram @sbliveid, and don't forget to send us or tag us on your highlights on game night!
TOP 7 PLAYS OF WEEK 9
7. Rigby lineman Ricky Soliai scores big-man touchdown
Nose guard Ricky Soliai capped a special senior night with a one-yard touchdown run in a 28-20 win over Madison.
6. Kimberly QB Heath Owens throws game-tying dime to Brett Bronson
With a league title on the line, No. 2 Kimberly (3A) quarterback Heath Owens' 65-yard touchdown pass to Brett Bronson tied it up at 28-28 midway through the fourth quarter. (READ MORE)
5. Gooding QB Kurtis Adkinson barrels in for 2-point conversion in thrilling OT win
Sam game as the previous play. Here's how the No. 2 versus No. 3 matchup finished: Coach Cameron Andersen's overtime decision to go for the two-point conversion – and victory – paid off Friday as quarterback Kurtis Adkinson rumbled in with the game-winning run for the No. 3 Senators, who won their eighth 3A Sawtooth Central Idaho title in the past 10 years. (READ MORE)
4. American Falls CB Tanner Hansen makes game-winning 2-point conversion stop
American Falls beat Marsh Valley on a 2-point conversion stand to clinch a league title. Tanner Hansen made the tackle on a corner blitz.
3. Emmett's Jeff Lockett catches 25-yard game-winning TD from Caden Young
(Editor's note: The tweet below, which says Jack Maxwell caught the TD pass, is incorrect. Jeff Lockett caught the TD pass).
Young's pass to Lockett was a big part of Saturday's 21-17 win over Vallivue. Emmett's triumphant, emotional game on Saturday was a culmination of a season that has proved many wrong. (READ MORE)
2. Charles Iverson breaks off 75-yard touchdown run
Preston's running back provided the big highlight in a 21-7 win over Snake River.
1. Gerrit Cox makes magic happen in a snowstorm
Cox's 61-yard punt return was the only score of the league title-clinching win over Lakeland. "He's a game-breaker," Sandpoint's Ryan Knowles said. (READ MORE)
Past top plays of the week: