Defense combines with running back Antonio Martin Jr. to carry Langston Hughes into its first-ever Final Four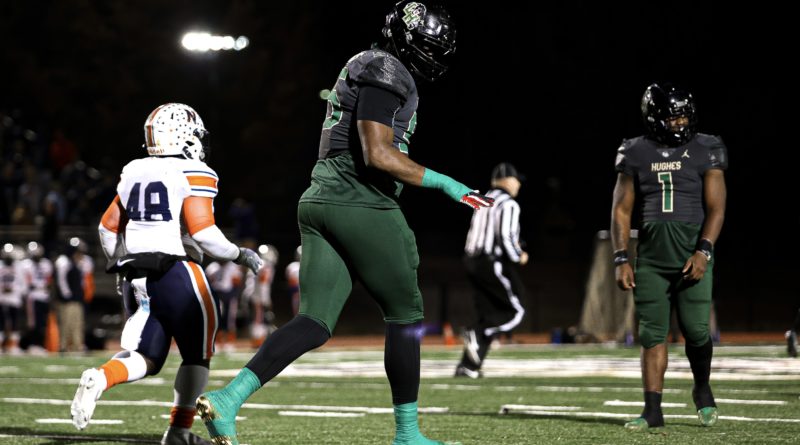 Story by Darren Nichols | Photos by Macen Howells
FAIRBURN, Ga. — Langston Hughes entered the quarterfinals having won 11 straight, boasting a defense giving up just seven points a game.
Northside, on the other hand, had won three in a row while averaging 38 points in that span. 
One of the teams fell well short of its usual mark, and it wasn't the host Panthers, who came away with an impressive 48-7 victory.
Their defense was as sharp as ever, but their offense was clicking at the same speed Friday night. 
Langston Hughes' Rodney Shelley and Antonio Martin Jr. both had games of a lifetime. 
Martin, a Georgia Tech commit, ran for four touchdowns and was virtually unstoppable in the first half, when he scored three of his touchdowns, while Shelley had a receiving touchdown and two interceptions from his free-safety spot. 
"Rodney put on a show," Langston Hughes head coach Daniel Williams said. "He does stuff like that every day in practice. When the ball comes to him, he makes plays. Antonio Martin? That's the engine. He has been our quarter horse, the guy we've rallied around since his sophomore year. He is our glue."
Williams also gave a nod to his defense, which forced four turnovers and held a red-hot offense to single digits. 
Northside quarterback Cameran Brown and receiver Centavious Lowe did their best to try to keep the offense afloat, but despite some long-range connections they struggled to find the end zone.
The run game also fell short of expectations, and exchanges between Brown and his running backs were a problem, as two resulted in fumbles. 
Despite the loss, the Eagles eclipsed their win total from the last two seasons.
While Northside licks its wounds and looks forward to next year, Langston Hughes has next week to look forward to. Before the Panthers look ahead, though, they were living in the moment in the aftermath of the win. 
"The feeling is ecstatic," Williams said. "We are doing something that has never been done before. First time in history that Langston Hughes is going to the semifinals. That is always a big deal."
The Langston Hughes football program started in 2009, and in the Panthers' first season they went 2-8.
Since then, they've had six losing seasons, but they will face Dacula in the state semifinals with a chance to make more history.