Grayson has no answer for Brookwood running back Alexander Diggs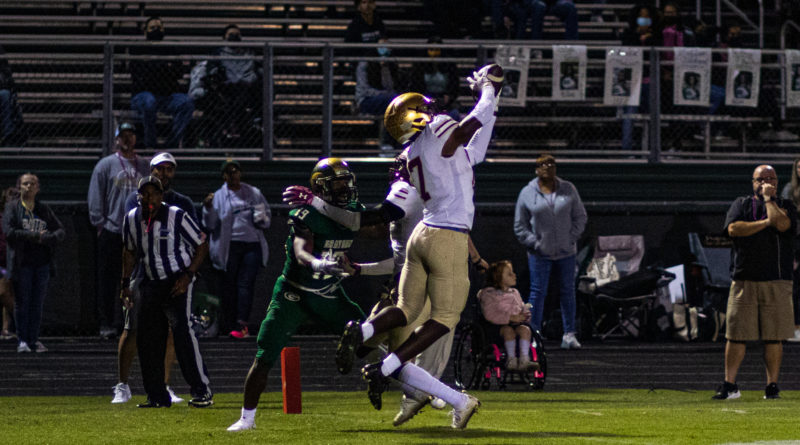 Story and photos by Zach Edmondson
Grayson had its senior night Friday, but Brookwood spoiled that party in Loganville with an impressive 35-14 win. 
The Brookwood offense was led by senior running back Alexander Diggs, who finished with 234 total yards and three rushing touchdowns.
"I'm just so proud of this team as a whole," Brookwood head coach Philip Jones said in the postgame TV interview. "Grayson's had our number — I think six years in a row — so it's definitely exciting to come here with (GPB Sports) here so that everybody can see that we have a pretty good football team."
Brookwood put the first points of the game on the board as Diggs broke free and cruised into the end zone on a 35-yard rushing touchdown in the first quarter.
Brookwood made it 14-0 before the second quarter expired as quarterback Dylan Lonergan connected with running back Jumal Prothro on a 15-yard touchdown pass.
Lonergan finished with 23-for-31 passing with 216 yards and a touchdown, plus 65 yards rushing on 12 carries.
Diggs opened up the second half with a 51-yard rushing touchdown to make it 21-0.
On the ensuing drive, Brookwood recovered a Grayson fumble.
The offense hit the field and capped the drive with Diggs' third and final rushing score of the night as he scored from five yards out.
Trailing 28-0, Grayson got its first score near the end of the third quarter as wide receiver Joseph Stone rushed for a 21-yard touchdown.
Diggs was injured in the fourth quarter, but it wasn't serious.
With Diggs sidelined for a few drives, Lonergan ran in a 1-yard score on a quarterback keeper to seal the win, making it 35-7.
"We really just came in this game with the mindset that if we do our game, we'll be all right," Diggs said in a postgame TV interview.
Grayson's Mumu Bin-Wahad, a West Virginia commit, returned a kick 84 yards for a touchdown with around four minutes left in the game, but that was the last score Grayson managed.
Defensively, Grayson sophomore defensive back Myles Woods had a standout performance, recording two interceptions and one fumble recovery.
Brookwood advanced to 6-2 overall and 2-0 in region play, while Grayson is now 6-3 overall and 3-2 in region play.