Top stars, best performances in Week 9 of Georgia high school football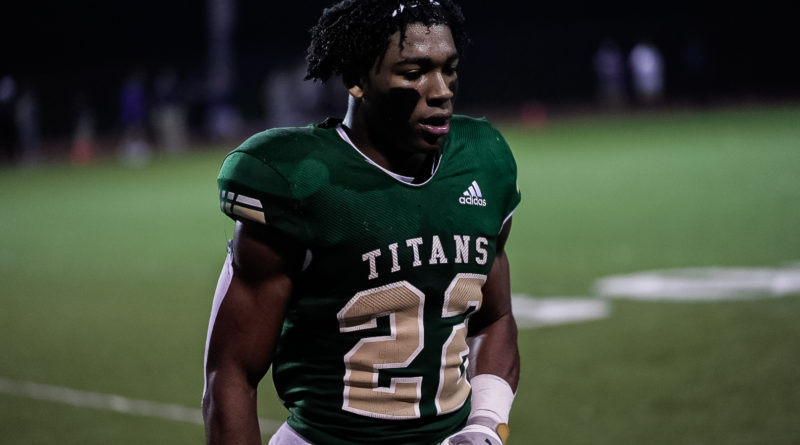 By Zach Edmondson | Photo by Josh Major
Here are some stars from Friday night's games across Georgia.
If you know of a top performance we should include, please let us know in the comments.
Pictured above is Blessed Trinity running back Justice Haynes, who rushed for 154 yards and two touchdowns Friday night in a loss to Cartersville.
—
Justice Haynes, Blessed Trinity RB
Haynes rushed for 154 yards and two scores even after sitting out the first few offensive drives. His absence wasn't due to injury, but head coach Thomas Hall would not disclose with reporters why his star running back sat out early in the game, according to the Atlanta Journal-Constitution.
Cayman Prangley, Kennesaw Mountain QB
Trailing 17-7 at the half, Kennesaw Mountain took the lead in the second half thanks to a 5-yard rushing score and a 40-yard touchdown pass, both coming off the arm and legs of Prangley in a 21-17 win over Pope.
Billy Johnson, Southwest DeKalb RB
Johnson scored two touchdowns on defense and rushed for another in a 48-0 shutout of Stone Mountain.
Eli Warrington, Clarke Central WR
Warrington caught seven passes for 153 yards and three touchdowns in a 76-34 win over Greenbrier.
Darius Sanders, Lithonia RB
Sanders rushed for four touchdowns in a 70-13 win over Northview as first-year head coach Kevin Hill gained his first win.
Fabian Walker, Chamblee QB
Walker threw for five touchdowns and rushed for another as Chamblee beat East Forsyth 55-7.
Devin Henderson, Cass QB
Henderson threw for one score and rushed for three in a 34-24 win over Hiram, securing Cass' first trip to postseason play since 2006.
Dylan Lonergan, Brookwood QB
Lonergan was 13-of-23 for 214 yards and one touchdown while rushing for another score in a 28-6 win over Newton.
Lucian Anderson, Clarke Central QB
Anderson was 11-of-15 for 225 yards and two touchdowns while rushing for two scores in a 76-34 win over Greenbrier. Anderson led Clarke Central's offense to its highest-scoring game in program history.
Tahjae Mullix, Newton DE
Mullix scored the only points for Newton after recovering a fumble at the 2-yard line and diving into the end zone in a 28-6 loss to Brookwood.
Sutton Smith, Walton RB
Smith rushed for three touchdowns and a successful two-point conversion in a 51-29 loss to North Cobb.
Javon Graham, Fayette County RB
Graham, a sophomore, opened up the game with a 60-yard rushing score. His touchdown was the only one Fayette County scored all night in a 24-7 loss to Riverdale.
Brooks Morley, Cambridge LB
As Johns Creek was set to tie the game up at 48-48, Morley blocked the extra-point attempt to secure Cambridge's 48-47 overtime win and keep its undefeated season alive.
Malachi Singleton, North Cobb QB
Singleton secured the win over Walton with two rushing touchdowns in the fourth quarter to extend North Cobb's lead. Singleton had five total touchdowns in the 51-29 win.
John Cineas, Grayson WR
The sophomore recorded the only touchdown reception for Grayson vs. Parkview in a 28-21 win.
Jake Walling, Harrison QB
Walling passed for 254 yards and two touchdowns in a 45-28 win over North Paulding.
Keegan Stover, West Forsyth QB
Stover threw five touchdown passes in a 42-10 win over Forsyth Central.
Tommy Morris, Lambert FS
Morris took an interception back for a touchdown with less than five minutes remaining in the game to secure Lambert's 26-7 win over North Forsyth.
AJ Swann, Cherokee QB
Swann connected with wide receiver Joel Stahl twice in the fourth quarter to overcome a 13-0 deficit as Cherokee won 14-13 over Etowah.
Donovan Journey, Mill Creek RB
Journey rushed for three touchdowns, leading the offense to a 56-0 shutout victory over Mountain View. 
Gunner Stockton, Rabun County QB
Stockton was 32 for 39 passing with 454 yards and 6 touchdown passes in a 63-0 win over Banks County.