San Antonio Madison outlasts Brandeis in overtime to bolster playoff odds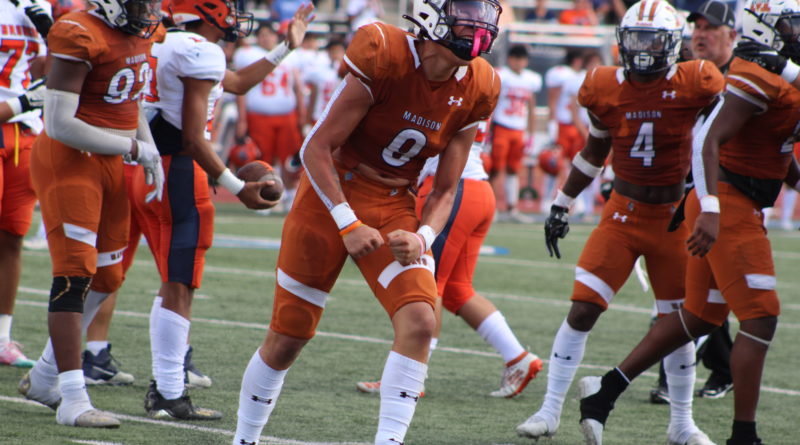 SAN ANTONIO, Texas — With 3 ticks remaining on the game clock and a backup quarterback in the game, San Antonio Brandeis set up for its final shot to tie the game.
Improbably, Broncos' junior tight end Rafe Clendenin hauled in a tipped pass in stride at the goal line on a 34-yard touchdown from senior Clark Ullrich as time expired against San Antonio Madison in a District 28-6A showdown with massive postseason implications.
After a second-half surge, however, Madison dominated in overtime.
Senior quarterback Caden Mata tossed two long second-half touchdown passes to help send the game to OT.
Once there, the Mavericks pitched a shutout defensively and junior kicker Caden Esquivel drilled a 26-yard game-winning field goal, as San Antonio Madison earned a critical 24-21 overtime victory over Brandeis to dramatically increase its odds in 28-6A's tight playoff race Saturday afternoon at Heroes Stadium.
"We always pick it up in the fourth and come together as a team," Mata said. "Our leaders and playmakers made plays when needed."
Brandeis snatched the momentum on the first play of the game by recovering an onside kick that quickly led to a one-yard touchdown run by senior Nico Garcia 2 minutes and 53 seconds into the opening quarter.
The Broncos moved ahead 14-0 when Clendenin scored on a 3-yard run set up by a fumble recovery before the end of the first quarter and held onto the lead deep into a mostly defensive duel.
Mata and Madison's offense came roaring back after halftime though to lead a spirited comeback for the Mavericks.
"I think going into halftime and Coach (Blaine Pederson) having faith in us to go out there and show them why we're the better team," he said. "Coach really talked us up at halftime in the locker room. He said, 'Y'all need to go out there and be better,' so we came out here and we were great and played hard."
The Mavs' signal caller connected on a deep bomb to wide receiver Nevon Cooper for a 66-yard touchdown throw, the longest play of the game, to knot it up at 14 with 3 minutes left in the third quarter.
Mata then marched his team 80 yards downfield after Madison blocked its second of three blocked Brandeis field-goal attempts with 3 minutes left to play.
His second touchdown pass of the night was hauled in by junior receiver Trey Brown, who dove toward the back pylon in heavy man-to-man coverage for a 17-yard catch to give the Mavericks a 21-14 edge with 44 seconds remaining.
"He really stepped up," Mata said. "I knew it was either a touchdown or a first down. Honestly, I probably could have gotten the first down (on the ground), but I just knew to trust him as one of my teammates and my brothers to make a play. He made a big play."
"We always make sure to stay after practice and work on our routes," he added. "And I always make sure to take care of my guys, especially my linemen. Those guys take care of me so I always make sure to feed them because they block so well."
Madison's defense was also instrumental in its comeback.
Senior outside linebacker Isaiah Edwards and senior defensive end Donovan Erdrich wreaked havoc upfront as edge rushers, routinely forcing Garcia to throw on the run and racking up sacks between them.
Edwards forced two enormous fumbles in the backfield, but importantly only one stood.
His first, which counted, was on a sack recovered by Brandeis near midfield that ruined a promising second-half drive.
Edwards struck again in the waning moments by jarring the bar loose from the quarterback on a screen play, but was ruled an incomplete pass with 9 seconds left in the contest that allowed Brandeis to tie the game two plays later and send it to overtime.
Erdrich was also disruptive at the line of scrimmage all night, but helped secure the win with an enormous sack on third and long during the opening possession of overtime. Madison blocked its third Broncos' field-goal attempt of the afternoon on the next play.
The Mavericks' defense helped spark the team's second-half comeback with a goal-line stand during the late stages of the fourth quarter and, except for Brandeis' Hail Mary pass, pitched a shutout after halftime.
"That was major because this is a team game," Mata said. "Offense can't only play and defense can't only play, so when we're playing well together it just feels great and makes everybody happy."
PHOTOS: San Antonio Madison outlasts Brandeis in overtime to bolster playoff odds
The costly loss dropped San Antonio Brandeis (6-2, 4-2) out of District 28-6A's championship race and marked the team's second one-score loss so far this season.
The Broncos will return to action with a chance to clinch a postseason berth at home against San Antonio Churchill (2-6, 2-4) at 7 p.m. Friday at Farris Stadium before their season finale at first-place San Antonio Reagan.
San Antonio Madison (4-4, 3-3), meanwhile, vaults into a tie with San Antonio Clark for fourth place in 28-6A and snaps a three-game losing streak in district play with a season-saving victory that drastically boosted its chances of clinching a playoff spot.
Clark (4-4, 3-3) holds a head-to-head tiebreaker over the Mavs, but faces winless San Antonio MacArthur and undefeated San Antonio Johnson during the final two weeks of the regular season.
The Mavericks will be favorites in each of their last two games beginning at home against San Antonio Lee (1-8, 1-6) at the same time Friday night at Comalander Stadium followed by a Week 11 matchup with MacArthur.
"This win was very important, especially for (my fellow) seniors and I. We started off slow, but we know deep down that we're the best team in the district and that we can really go far," Mata said. "Our goal now is to make an impact in the playoffs and show everybody who we are because we are a great team."