Jesuit football team has questions, but 'The Franchise' keeps Crusaders forever in contention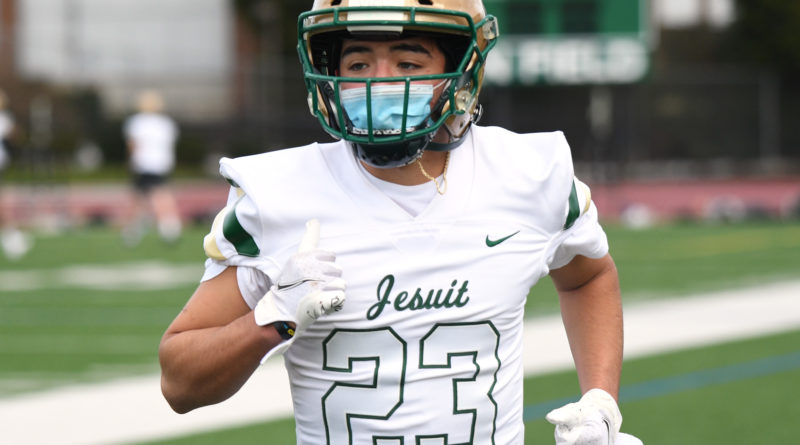 By René Ferrán
Over the next few weeks, SBLive Oregon will break down every 6A, 5A and 4A football team in the state in anticipation of a six-week season in March and April. Even if the season is postponed or canceled, we will continue to highlight more than a hundred teams and more than a thousand players in Oregon. Here's our look at the Jesuit Crusaders of the Class 6A Metro League.
HEAD COACH
Ken Potter, 34th season (323-75; No. 3 on all-time state wins list)
2019 AT A GLANCE
Overall record: 10-3
League record: 5-1, tied for first in Metro
Playoffs: Beat Oregon City 56-9 in first round; beat Liberty 70-24 in second round; beat Tualatin 42-28 in quarterfinals; lost 28-21 to Lake Oswego in semifinals
ALL-LEAGUE PLAYERS DEPARTED
RB Kade Wisher, first team
FB/LB Logan Horton, first team
TE/LB Lucas Christen, first team
OL Shea Brooks, first team
DB Seth Welsh, first team
DB Campbell Brandt, first team
RB Ted Atkinson, second team
WR Joey Gatto, second team
C/DL Jimmy Ray, second team
OL Nick Noonan, third team
PLAYERS TO WATCH
OL/DL Charlie Pickard, 6-4, 285, Sr.
Pickard eschewed several scholarship offers, including one from Mountain West Conference champion San Jose State, to accept a preferred walk-on offer from Oregon, where the two-way all-state selection (second team on offense, honorable mention on defense) hopes to become the next walk-on to earn a scholarship in Eugene. Don't bet against him. "He is a leader on our team," Potter said. "Very strong and talented."
OL/DL Declan Quillin, 6-2, 290, Sr.
Quillin battled injuries during his junior season and was hoping to make an impact during summer camps and put up strong senior film to bolster his college chances. Potter calls him "a very good defensive lineman" who should still play on Saturdays somewhere next fall.
WR/DB Darius Mims, 5-11, 165, Sr.
Mims is the top returning offensive weapon for the Crusaders after the graduation of Wisher (2,485 rushing yards) and Atkinson (1,336 yards), catching 13 passes for 136 yards and two touchdowns as a junior. He also was a nickelback and figures to claim one of the starting cornerback jobs this season.
QB Tatum Lewis, 6-0, 170, Jr.
Lewis steps into the shoes of graduated senior Jack Heyden. (Heyden's backup, Cooper Wrenn, moved to California last winter.) He's better known as a top lacrosse midfielder who committed to the University of Vermont, but his athleticism makes him a good fit for the quarterback job. He was 8 of 11 for 90 yards and a touchdown in limited action last season. "He has a very good arm and is a good athlete," Potter said.
FS Mason Masterson, 6-0, 180, Sr.
Masterson is a three-year starter in the secondary who will provide experience after the graduation of Welsh and Brandt, who led Class 6A with 11 interceptions last season (tied for 10th in state history).
C/DE Brody Marler, 6-2, 225, Sr.
Marler is the latest player to join "The Franchise," the Crusaders' nickname for the offensive line that has been the foundation of the program's extended run of excellence under Potter. He'll take over for Ray in the middle of the line.
LB/K Stanley Schoppe, 5-10, 190, Sr.
This is the season for Schoppe, who backed up all-state linebackers Horton and Christen and Cal signee Andy Alfieri, to make his mark on defense after becoming a trusted kicker (80 of 81 on PATs, made both field goal attempts).
WR/SS Kade Hildreth, 6-0, 180, Sr.
Hildreth played primarily on special teams last season. He's slotted into a starting receiver spot opposite Mims. "He has great hands and football knowledge," Potter said.
TE/LB Spencer McKelligon, 6-3, 215, Jr.
McKelligon can play tight along the line or split out as a wide receiver, and he'll get plenty of reps on defense. He caught two passes as a sophomore in limited varsity action. "An amazing athlete who will play at the next level," Potter said.
TE/P Kean Khouri, 6-3, 200, Sr.
Khouri stepped in as punter for last season's state semifinal against Lake Oswego and will get the job full-time this season. He'll also take over for Christen, who received all-state honorable mention at tight end.
LB Tyree Blake, 6-2, 210, Jr.
Blake played mostly JV ball as a sophomore, but with the linebacking corps completely wide-open, he'll have his chance to win a starting role.
OUTLOOK
The Crusaders finally saw their Metro League win streak end at 43 games last season but still earned a share of the league title, making it seven years in a row they took home hardware.
They suffered a second consecutive semifinal loss to Lake Oswego (the third year in a row the Lakers ended their season) before graduating 10 all-league players.
With The Franchise still in very good hands anchored by Pickard and Quillin, Jesuit again would have been on the short list of state championship contenders in a normal season, and Potter would have had a shot at passing legendary Roseburg coach Thurman Bell (332-154-1 in 45 seasons) for second place on the state's all-time wins list.
"We have a number of junior skill players that I think will be very good, but we have not seen them at the varsity level yet," Potter said. "Our offensive line would be a strength with mainly seniors."
The biggest question mark is who will take over for Wisher, who moved into fourth on the school's single-season rushing list, and Atkinson, who combined with Wisher for more than 3,800 yards and 54 touchdowns. Junior Michael Rincon, who had 21 carries last season, likely will get first crack.
COACH SAID
"As we move into the unknown, our goals would be to stay healthy, get a chance for our seniors to play some games, and work at improvement from Day 1 until the end of the season — be competitive and get experience for our juniors and sophomores." — Ken Potter
—
More from SBLive Oregon:
Could the Oregon high school football season switch to a 7-on-7 format? 'If this is our only option for a season, then we will play our hearts out'
What might OSAA's 'culminating events' look like in Oregon high school sports? Football coaches intrigued by possibility of 'bowl week'
Could an Open Division playoff work in Oregon high school football?
Oregon all-state football 2020-21: The state's top returning high school football players
Photos from preseason practice:
Photos by Taylor Balkom, for SBLive Oregon