QB Jordan Love drafted by Green Bay Packers in 1st round of 2020 NFL Draft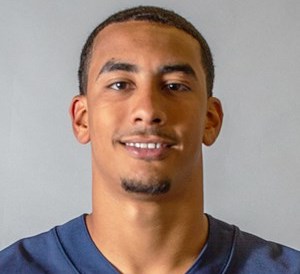 Former Liberty High School (Bakersfield) star quarterback Jordan Love was drafted by the Green Bay Packers Thursday in the first round of the 2020 NFL Draft.
Love, who played three seasons at Utah State, was selected with the No. 26 overall pick. He was widely considered one of the top five quarterbacks coming into the draft and several mock drafts had him going as high as No. 17.
Green Bay traded with the Miami Dolphins to move up from pick No. 30 to draft Love. The Packers are clearly looking for an eventual successor for future Hall of Famer Aaron Rodgers, who turned 36 in December.
Love was an under-recruited prospect out of Liberty in 2016, and Utah State was the only Division I school to offer him a scholarship. Rodgers has a similar story as an unheralded high school recruit out of Pleasant Valley High School in Chico.
Love, 21, passed for 2,148 yards and 24 TDS and ran for 806 yards and eight TDs during his senior season, leading the Patriots to their first-ever Central Section Division I championship.
Here's more on Love:
JORDAN LOVE
2020 NFL Draft: First round, No. 26 overall
College: Utah State
High school: Liberty High School (Bakersfield, Calif.)
The skinny: A 6-4, 225-pound quarterback, Love threw for more than 7,000 yards and 52 touchdowns over the last two seasons at Utah State. He holds three Utah State career records: 9,003 yards of total offense, 12 career 300-yard passing games and four completions of at least 80 yards. After redshirting his freshman season, he started 32 games over the last three seasons, compiling a record of 21-11. After a breakout 2018 season — 3,567 yards, 32 TDs, 6 interceptions — he struggled in 2019, throwing for 3.402 yards with 20 TDs and 17 interceptions.
What they're saying: "Challenging evaluation for quarterback-needy teams balancing traits and potential against disappointing 2019 tape. Staff turnover and new starters across the offense are partly to blame for his regression, but self-made flaws in process were also concerns. Love's accuracy took a step back, and his delayed reaction from "see it" to "throw it" when making reads is troubling. He has the arm to stick throws into tight windows but needs better eye discipline and anticipation to keep windows open. His size, mobility and arm talent combined with his 2018 flashes could be a winning hand that leads a team into the future or a siren's song of erratic play and unfulfilled potential." — NFL.com analyst Lance Zierlein
Highlights: