CIF Southern Section softball dynasties: Which programs have won the most section championships?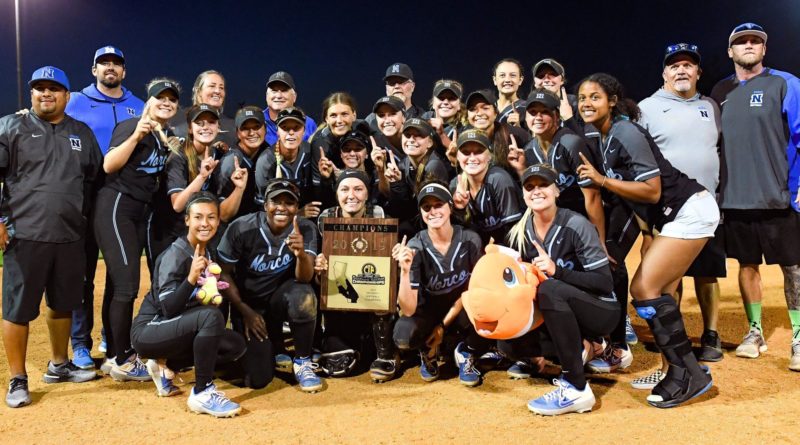 We took a look back through the archives to see which CIF Southern Section softball teams have won the most section titles since 1974.
We found 25 teams that had won at least three championships over that span. Here's a look at those 25 teams.
Submit photos or corrections to lance@wpsblivest.wpengine.com.
SOUTHERN SECTION SOFTBALL DYNASTIES
14 (tie). Templeton – 3 titles
The Eagles reeled off three titles in five seasons a couple of decades ago, winning in 1989, 1990, and 1993 under Jerry Reynolds. Templeton joined a contingent of San Luis Obispo County and Santa Barbara County schools in the summer of 2018 that realigned to the Central Section to cut down on travel.
Under current head coach Peter Ackermann, the Lions went back-to-back in 2003-04 and also won it all in 2011. They were off to a fearsome start to 2020 before the season was canceled.
14 (tie). Crossroads – 3 titles
The Roadrunners had one of the top small-school dynasties of the 1990s. They won it all in 1992, 1993, and 1996 under Jim Gray.
14 (tie). Mater Dei – 3 titles
All three of Mater Dei's softball titles have come at the Division 1 level. They won titles in 1996 and 1998 under Doug Myers, and another in 2016 under Tia Meza. Meza also won the Gatorade National Softball Player of the Year as a player at Mater Dei in 2000, and was Mater Dei's athletic director from 2016 through February of 2020 before accepting a front office position with the Arizona Coyotes of the NHL.
The Jesters won three titles in the 1980s. They came in 1980 under Pete Manarino, and 1986 and 1989 under Debbie Taylor.
14 (tie). La Cañada – 3 titles
The Spartans won their first title in 1995 under Tom Parker, and also went back-to-back in 2011-12 under K.C. Matthews.
14 (tie). Upland – 3 titles
Upland won titles in 1995 and 1997 under Ed Ulloa, and another in 2010 under Bob DeJournett.
The Heralds won their first championship in 2005 under Aaron Morrow. Then they went back-to-back in 2009-10 under current head coach Dale Van Duyn.
In 2008-09, the Saxons went back-to-back under Howard Miller, and they came up one game short of a three-peat in 2010. North won one more title under Miller in 2016 before he stopped coaching in 2019.
Charter Oak won championships in 1979, 1990, and 1993 with three different head coaches. In order, they came under Emilie Redmon, Joey Davis, and Jill Matyuch.
14 (tie). Camarillo – 3 titles
The Scorpions first got over the hump in 1991 under Darwin Tozin in Division 5-A, which was the highest division at the time. They've also won chips in 2011 under Jack Willard and 2017 under current head coach Nichole Pinedo.
14 (tie). El Segundo – 3 titles
The Eagles decisively claimed the first softball dynasty in Southern Section history. They won the first ever CIFSS softball championship in 1974, the only season in which there was only one division. Then they won it all in 1976 and 1978, both at the 4-A (highest) division. When they won their third title in 1978, no other team had yet won two.
All three championships came under different head coaches, with Sandi Behrmann (1974), Barbara Berlohr (1976), and Debi Cocks (1978) all earning one.
11 (tie). Chaminade – 4 titles
Chaminade first got on the board in 1999 under Steve Harrington. They most recently won a championship in 2018 under current head coach Gina Hairapetian. In between, the Eagles also won back-to-back titles in 2006 and 2007 under Jon Ellinghouse.
Yes that Jon Ellinghouse, the multi-time championship coach of one of the better football programs in the country at Sierra Canyon. When he was an assistant football coach at Calabasas in the early 2000s, Ellinghouse was talked into coaching the JV girls softball program in a pinch despite lacking any experience in softball. The transition proved successful, and when he was hired as an assistant football coach at Chaminade a few years later, he also spent four seasons as the head softball coach.
11 (tie). Cypress – 4 titles
After losing title games in 1980 and 1981, the Centurions got their first ring in 1983 under Gordon Mullens at the highest division. They went on to win again in 1987 under Tom Farr and 1992 under Janelle Theone Frese. All of Cypress's title appearances have come at the top division, 4-A in the 80s and 5-A in 1992.
11 (tie). La Serna – 4 titles
After getting knocked off in the 1995 championship by Upland, the Lancers got revenge the next year in a 12-inning classic they won 1-0. La Serna also won it all in 2001 and 2008. All three championships came under Ginger Larsin, after whom La Serna named their new softball field in 2019 upon her retirement.
6 (tie). La Reina – 5 titles
The Regents went back-to-back in 1980-81 under three different head coaches – Simeon Dyke and Joann Cook were co-head coaches the first year, and Stan Hirsch was at the helm the second year. La Reina also went back-to-back in 1991-92 and won it all in 2000 under Don Hyatt.
6 (tie). Righetti – 5 titles
Righetti claimed the second softball dynasty in CIFSS history after the El Segundo title teams of the 70s. The Warriors four-peated from 1979-82 in 4-A (highest division) before Cypress avenged their 1981 and 1982 finals losses to knock them out in the 1983 title game. Don Profitt was the head coach for Righetti's first title, and Bob Bush was the coach for the last three.
The Warriors also won a title in 2013 under Scott Nickason. They realigned to the Central Section in 2018, but will long remain one of the winningest programs in Southern Section history. They also still own the only four-peat in CIFSS softball history.
The Knights went back-to-back in 1982-83 under head coaches Odas Mills and Chuck Brannon, respectively. They also went back-to-back in 1987-1988 under Ernie Baldiviez, and won again in 1994 under Russ Zierman before realigning to the Central Section in 2018.
Under John Perez, Santiago won titles in 1998, 2004, 2006, 2011, and 2013, with the last three coming in Division 1. Before Perez and Santiago parted ways after the 2016 season, Perez became one of the winningest coaches in CIFSS history, winning five titles and 490 games. Perez crossed the 500-win mark a year later as the head coach at Carnegie. Santiago hasn't won a championship yet under Jackie Sweet, but they remain one of the top softball programs in SoCal to this day.
6 (tie). Marina – 5 titles
Marina was the second ever program to win multiple CIFSS titles, winning championships in 1977 and 1979 under Betsy Ward. The Mariners also won it all in 1990 under Susie Calderon and went back-to-back in 1994 and 1995 under Shelly Luth. All five of their titles have come in the top division.
One of the two winningest small school programs in CIFSS history, the Pacers have won titles in 1999, 2002, 2005, 2006, 2011, and 2012. All six titles came under Roger Wallace, who is still their head coach.
The other all-time winningest small school program in Southern Section history is Linfield. They went back-to-back in 1985-86 under Sharon Lehman and won it all in 1994, 1995, 1997, and 2001 under Scott Raftery.
The Warriors first got on the board in 1987 under head coach Susan Hall. After 14 scoreless innings against league rival Laguna Hills in the longest CIFSS softball title game of all time, the two teams were declared 2-A co-champions – which came after splitting their league matchups and being named league co-champions as well. Woodbridge repeated in 1988 under Kodee Murray, and then won it all in 1992, 1995, 1997, and 2003 under Alan Dugard.
2 (tie). Norco – 6 titles
Perhaps the most well-known softball program in the country right now, Norco is part of the four-way tie for second all-time in the Southern Section championship standings. All six of their rings have come under head coach Rick Robinson — in 2003, 2009, 2012, 2015, 2018, and 2019. The Cougars were – as usual – ranked among the top teams in the country in 2020 before the season was cut short. Don't be surprised if Norco softball is atop this list within two years.
For now, it's lonely at the top, where the Mariners have been for six years. Under Rob Weil, Pacifica three-peated from 1997-99 and then went back-to-back again in 2003-04. They made it six in 2007 under Kevin Cody, and record-breaking number seven came in 2014 under Mark Campbell in a 12-inning, 1-0 thriller.
The 2020 season was supposed to be the first complete season under new head coach Anthony Arduino, but was of course cut short. Arduino and the Mariners will resume the hunt to stay on top in 2021.
—–
Other CIFSS schools that have won softball section championships:
Academy Career Exploration
Agoura (2)
Alverno (2)
Apple Valley
Aquinas
Arroyo
Atascadero
Ayala
Azusa
Beckman
Bel-Air Prep
Bellflower
Big Bear
Boron
Buena (2)
Burbank
Cabrillo (2)
Cajon
Calabasas
Calvary Chapel (Downey)
Calvary Chapel (Murrieta)
Calvary Chapel (Santa Ana) (2)
Cantwell-Sacred Heart (2)
Central
Cerritos (2)
Chino (2)
Chino Hills (2)
Citrus Valley
Cornerstone Christian (2)
Corona (2)
Corona Centennial
Covina
Crescenta Valley (2)
Diamond Bar
Dos Pueblos (2)
El Dorado (2)
El Modena
El Monte
El Toro
Etiwanda (2)
Faith Baptist (2)
Foothill (2)
Fullerton (2)
Garden Grove
Gardena Serra
Godinez Fundamental
Grand Terrace
Hemet
Hesperia
Highland
Inland Christian
Irvine
Jurupa Hills
Kaiser
Kennedy (2)
Kern Valley (2)
L.A. Baptist
La Habra
La Mirada
La Quinta
La Salle (2)
Laguna Hills (2)
Lompoc
Los Alamitos
Louisville
M.L. King
Maricopa
Marymount
Mayfair
Mesa Grande
Millikan (2)
Miraleste
Mission Viejo (2)
Moreno Valley
Murrieta Mesa
Newbury Park
Nordhoff
Notre Dame (Riverside)
Ocean View (2)
Ontario Christian (2)
Orange Lutheran (2)
Paraclete (2)
Quartz Hill
Rancho Cucamonga (2)
Riverside Christian (2)
Riverside Poly
Rolling Hills Prep (2)
Rosamond
Rosary Academy
Royal
San Dimas
San Jacinto
Santa Fe (2)
Santa Margarita
Santa Monica (2)
Saugus
Simi Valley
South Hills (2)
South Pasadena
South (Torrance)
St. Anthony
St. Bonaventure (2)
St. John Paul II STEM Academy (Bellarmine-Jefferson)
St. Lucy's Priory
St. Paul (2)
Sunny Hills
Tesoro
Thousand Oaks
Torrance
Valencia (Valencia) (2)
Valley Christian (Cerritos) (2)
Valley View
Viewpoint
Village Christian (2)
Warren
West (Torrance)
Western Christian (2)
Wilson (Hacienda Heights)
Woodcrest Christian
Workman
Yucaipa