Day 2 Classic at Damien recap and live updates from Platinum and Gold Division winner's brackets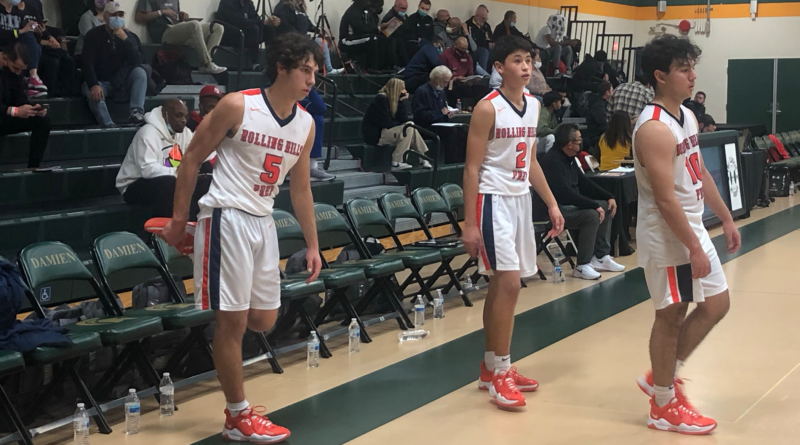 The Classic at Damien, known as the premier post-Christmas boys high school basketball tournament in the west, continued on Tuesday from the Damien High School campus with quarterfinal action in the Platinum and Gold Divisions.
Follow along all day below for live updates from Day 2 winner's bracket action in the Platinum and Gold Divisions of the Classic.
Game 6: Damien 56 Owyhee (Idaho) 53 (Platinum Division)
Owhyee senior and Colorado State commit Jack Payne missed a three at the buzzer and Damien hung on to win 56-53 in a tight Platinum Division quarterfinal showdown. Damien senior Spivy Ward banked in a straightaway midrange shot to put the Spartans up 56-53 before Payne's miss. In the sequence before the Ward shot, Damien senior Kaleb Smith hit a left baseline jumper and then Payne raced down the floor, crossed over a defender, and drained a three. The two teams battled all game, but in the end Damien came out on top.
Smith finished the game with a team high 15 points. Damien junior Jimmy Oladokun scored 13 points. Owyhee sophomore Liam Campbell led all scorers with 19 points. Payne finished with five.
Damien will take on Riverside Poly in the Platinum Division semifinals on Wednesday. Damien (15-0) beat Poly (15-1) 55-52 earlier this season.
Game 5: Corona Centennial 62 St. John Bosco 56 (Platinum Division)
With a minute to play, Corona Centennial and St. John Bosco were knotted at 56 points each in their Platinum Division quarterfinal matchup. The Braves went blow for with the Huskies, last season's Southern Section Open Division champions, all game long and even though they ultimately fell short, St. John Bosco showed that they should be a Southern Section Open Division team once again come playoff time.
Corona Centennial ended Tuesday's game on a 6-0 run to win 62-56 after a Devin Williams dunk broke the tie and then junior Jared McCain hit four consecutive free throws.
But the star for the Huskies in the game was senior Donovan Dent. The New Mexico signee finished with a game high 27 points and had the game-winning assist to Williams.
"Donovan is phenomenal at what he does," Huskies head coach Josh Giles said. "I've had four guards play in the Pac-12 since I've been at Centennial, he may be the best one I've ever had."
Even with Dent's impressive night, the Huskies still struggled at times. A night after leading Clovis North 51-16 at halftime in their Classic opener, Corona Centennial had a hard time breaking down the St. John Bosco zone defense in round two.
"Matt Dunn teams are always so well coached," Giles said. "I think very highly of Coach Dunn and the rest of his staff…That was the first time we'd seen a zone all year and it showed. We've had ten games and nobody's played a zone yet. We struggled with it and it had a lot to do with what they were doing."
Christian Estrada led St. John Bosco with 13 points in defeat. Freshman Elzie Harrington added 11 points.
Corona Centennial will play Etiwanda in the Platinum Division semifinals on Wednesday.
Game 4: San Joaquin Memorial 86 Los Altos 74 (Gold Division)
After Joseph Hunter set the tone with 19 first half points, San Joaquin Memorial rode a double-digit lead most of the game to defeat Los Altos 86-74. Hunter led all scorers with 28 points, Mike Davis scored 21 while dealing with 4-star C Jazz Gardner defensively, and Armari Carraway scored 19 (10 in the fourth quarter) for SJM.
Gardner scored 27 points for the Conquerors and hit five threes, while also racking up a number of assists as a result of immense defensive attention from SJM. Despite playing from behind, Los Altos was able to chip away at the lead, and with offensive momentum on their side, they began intentionally fouling with about two minutes left. The Conquerors cut the deficit to 76-67 with 1:44 and 78-70 with 1:33 left, but the Panthers just kept making free throws down the stretch to ice the game, led by Carraway's 8-8 performance from the line in the fourth.
Game 3: Etiwanda 52 American Fork (Utah) 37 (Platinum Division)
Etiwanda took down American Fork (Utah) 52-37 to advance to the Platinum Division semifinals Tuesday night. New Mexico signee Quenton Webb led the Eagles with 17 points, which included a rim-rocking alley-oop slam in the fourth quarter. Defensively, the Eagles dominated holding American Fork to only 17 points at halftime.
Last night, Etiwanda beat Sheldon 53-50 in a game Eagles head coach Dave Kleckner thought his team played poorly. He was happy with tonight's win after the sloppy opener.
"We had a long break there," Kleckner said. "I think we were just a little bit rusty. I thought we played with more confidence [tonight]. We had a little bit more intensity. We haven't been playing as well as we want to. The players know that. We've talked about it. We're not happy as coaches. They're not happy as players. We've got to find what it is that's going to get us going. Last night was a struggle, getting that win. [Our players] were happy, but as coaches we're never satisfied. We won the game, but we were disappointed about all sorts of things. I think the kids hopefully are coming along, coming together."
Etiwanda will face the winner of Corona Centennial vs. St. John Bosco in tomorrow night's Platinum Division semifinal.
Game 2: Crean Lutheran 63 Jesuit 49 (Gold Division)
Koat Keat (25) and Vyctorius Miller (22) combined for 47 of Crean's 63 points to defeat Jesuit 63-49. While the Saints led the whole game, Jesuit kept it to single digits until the waning minutes of the third quarter pushed the lead from 40-32 to 56-34 with 5:06 left in the game.
The Marauders were led by Andrej Stojakovic' 21 points, 12 of which came in the first half. Stojakovic and C Kai Wallin led the charge in keeping the enormous Saints from dominating the paint on offense until Wallin got into foul trouble and the Saints started hitting from the perimeter. Stojakovic missed Monday's game, an 80-57 loss against Damien of the Platinum Division.
Game 1: Rolling Hills Prep 50 Colony 43 (Gold Division)
In a clash of two teams that were previously a combined 23-0, the Huskies nursed a single-digit lead essentially the entire game to defeat Colony 50-43. Their only double-digit lead came shortly before the end of the game on a pair of made free throws to extend it to 50-40. RHP PG Benny Gealer led all scorers with 17 points despite being face-guarded off the ball the entire game, and F Kenny Manzi finished with 16. Seydi Thiombane added 13 for the Huskies.
Colony cut the lead to 40-38 with five minutes left in the fourth quarter and missed multiple shots that would've tied the game or given it the lead. The Titans were led by Jaden Henley's 14 points and Denzel Hines' 10.