CIF State football playoff brackets: Previews, predictions, top players of the lower divisions (5-AA, 5-A, 6-AA, 6-A, 7-AA, 7-A)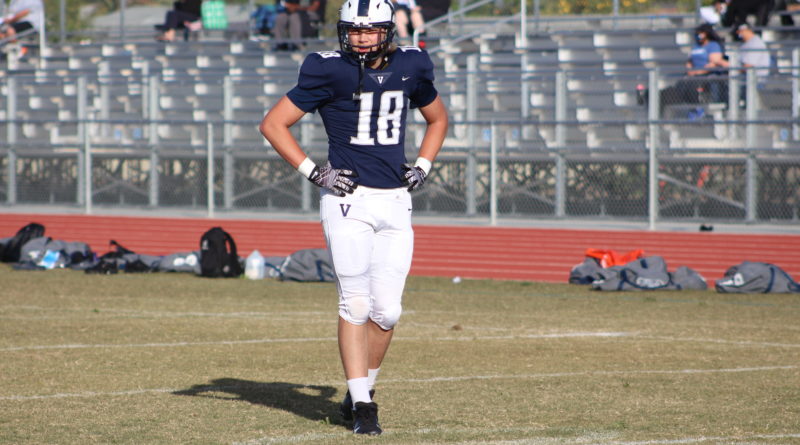 With section championships wrapped up all around the state, the CIF State football playoffs are finally here. 28 bowl games are being played throughout California this weekend, and SBLive is previewing every single one.
Here's a quick run-through of every bracket from 5-AA down through 7-A, which includes CIF Regional Bowl Games from all across the state. Each bracket breakdown includes links to the brackets, bowl game overviews, players to watch, and a predicted champion.
—
North: Sutter (10-1) vs. San Marin (12-1) at River Valley H.S. – Friday, Dec. 3 at 7:30 p.m.
If you've heard it once or twice, you've heard it a million times – a Northern Section squad is a moderate underdog heading into a heavyweight battle against an NCS team. Sutter's only loss this season came 21-0 before league play against Foothill (Palo Cedro), but every other game it's played this season has been a win, almost every one coming in blowout fashion. That said, the Huskies defeated a strong, battle-tested Paradise squad in overtime in the Division 3 championship to make it here, so they should be ready to operate under pressure if this is a close game. Their well-balanced offense prefers to run but passes well, and is led by RB Nic Fisher and QB Trevor Eck. LB Joseph Martinez and SS Leighton Tarke are both above 100 tackles, and Sutter has racked up 78 tackles for loss and 31 sacks as a team in an egalitarian manner.
San Marin is fresh off a 36-0 championship rout of Del Norte in North Coast Section Division 5, and has the most dominant individual playmaker in this game: RB Justin Guin, who has run for 2,072 yards and 32 touchdowns on nearly 10 yards per carry. He's also a standout LB/DB. QB Joey Cook is having a particularly consistent, efficient season, throwing for 1,929 yards and 28 touchdowns to just two interceptions with Frankie Quinci and Anthony Garcia as his top receivers. The Mustangs' only loss was a near-upset of Marin Catholic, and they've been a well-oiled machine week in and week out. Their list of quality wins over strong opponents, and even proving they can hang with MC, makes them the clear favorite. Sutter has the makings of a good underdog though.
South: Venice (8-3) vs. Independence Bakersfield (8-6) – Friday, Dec. 3 at 7:30 p.m.
The Gondoliers started the season 1-3, with the last of those games being a league loss against Palisades, and since then they haven't lost a game. The Division 1 champions of the L.A. City Section started getting better every week around midseason, and their last win against Canoga Park, which came by a score of 36-9, was their best yet with room to spare. Venice has a rush-oriented offense, but QB Paul Kessler broke out as a Power-5 prospect this season, with SB Rashawn Jackson as his key target, and RBs Robert Lamar and Romeo Signore have had room to work. Lamar (OLB) and Signore (SS) have both been big factors on defense this season as well, and DB Jamier Flowers (six interceptions) and Thomas Kensinger (88 tackles, 18 tackles for loss, 7.5 sacks, 11 pass break-ups, two forced fumbles) have been Venice's top stars on that end.
Like Venice, the Falcons got their toughest matches out of the way early in the season, and never looked back after turning over a new page. They started the season 0-6 and are now on an eight-game winning streak. The Central Section Division 4 champions particularly love running the ball, and rely very heavily on dual-threat QB Ladon Denmark (861 passing yards, 1,051 rushing yards, 15 rushing touchdowns) and RB Evan Peaker (1,788 rushing touchdowns, 15 rushing touchdowns) game in and game out. Anthony Rico gives them some balance as the team's leading receiver and has also run for 621 yards and 12 touchdowns, so they can do just enough damage in the air to avoid being one-dimensional. Independence has a balanced defensive attack led by Peaker, who is also a lynchpin at LB, DB Jonathan Rico, and LBs Demian Garcia and Jaye Blackett. Both of these teams are well-rounded and battle-tested, so it's hard to call this anything less than a tossup.
PREDICTED 5-AA STATE CHAMPION: San Marin Mustangs
—
North: Sacred Heart Prep (6-7) vs. University Prep (13-0) – Saturday, Dec. 4 at 1:00 p.m.
How can you not love the state playoffs when we have a regional bowl game between a sub-.500 team and one of the only five unbeatens all of California? Not only that, but despite their differences in record, this game projects to be as close as any this weekend.
SHP started the regular season 1-4, ended it 3-7, and dominated its way to a CIFCCS Division 4 title by a combined score of 135-32 in three playoff wins. It's probably safe to say that the Gators have seen more powerhouse opponents this season than any other team featured in this whole post, and of their losses against St. Ignatius, Mountain View, Hillsdale, Burlingame, Menlo-Atherton, Half Moon Bay, and Menlo School, every one came down to one score except for a thorough beating by M-A. We bring up a lot in this post whether or not a team is sufficiently "battle-tested" coming into the state playoffs, and while every single one of them ultimately is for having won a section championship, SHP is the most battle-tested of all of them. Their well-balanced offensive attack includes both Jack Herrell and Mitchell Taylor seeing big minutes under center, WR Zach Freire above 1,000 yards of offense split evenly between receiving and rushing, and RBs Andrew Latu and Luis Mendoza holding it down on the ground. A handful of other Gators are threats to catch the ball on offense with an egalitarian targeting spread, and TE Mat Bucher as another important component. The Gators' defense doesn't make a lot of traditionally huge plays per se, but it is absolutely swarming, with Bucher (116 tackles, seven TFLs) and Shay O'Kelly (165 tackles, three forced fumbles) starring at LB.
All that said, University Prep has been in some very close games for an undefeated team with a lot of blowout wins to its name. It's had a handful of one-score and two-score wins this season, including in the playoffs, and is also without any major imbalances. RB Carter Abel is not only a star on offense with 1,283 yards and 20 touchdowns rushing on 8.8 YPC, but is also one of the most prolific return specialists in the state. QB Payton Henderson is also a rushing threat, and keeps defenses honest with over 100 passing yards per game, with Scotty Jones and Riley Hays as his first and second-leading targets. Jones (LB), Hays (S), and Abel (LB) are all crucial on defense as well, and LB/RB Caleb Friebel and DB/WR Chris Jimenez are also big two-way impacters. 2-star DE/TE Connor Gilbreath is another one of the best players in the Northern Section, and forms a strong tandem with DT/OL Cedric Clark up front.
South: Northwood (9-5) vs. Righetti (5-8) at Irvine H.S. – Saturday, Dec. 4 at 6:00 p.m.
The Warriors are underdogs here as their record suggests, but they proved they belong with a CIFCS D5 championship run following a 1-8 regular season. Defense has been their calling card through both the good and bad times, and LB Brian Monighetti leads the charge. RB Ryan Boivin and WR Elias Martinez have been their top players during their offensive resurgence this postseason. Northwood has been on a tear on both ends in its seven-game winning streak, and on offense, RB Adam Harper is the name to know. The Timberwolves also have their best offensive line in years, and a solid quarterback in Eugene Miyata. Northwood's CIFSS Division 11 championship run was so impressive that they have to be considered the favorite here, but this isn't the same Righetti squad that struggled so much during the regular season.
PREDICTED 5-A STATE CHAMPION: Sacred Heart Prep Gators
—
North: St. Vincent de Paul (11-1) at Argonaut (10-3) – Friday, Dec. 3 at 7:30 p.m.
With two of its three losses coming against good teams to start the season, Argonaut has won 10 of its last 11. And its wins against Livingston and Rosemont to seal a CIFSJS Division 6 title were its most impressive yet. Argonaut's explosive offense revolves around WR Colby Eckhart, who leads the team with not only 604 yards and five touchdowns receiving but 975 yards and 12 touchdowns rushing as well, plus 451 PR/KR yards on special teams. Eckhart is also one of the best defenders on the team at CB. Dual-threat QB Beau Davis, RB Mateo Flores, and pass-catching RB Josiah Sanders are another three of the top offensive players on the squad, and all of them are also defensive lynchpins – including the signal caller, who leads the team with a whopping 139 tackles at LB. RB/SS Caleb McElfish and CB/WR Randy Fage round out the two-way core.
St. Vincent is a tall order for any team in this bracket though, possessing more nationally-ranked prospects (four) than any other team in this post. Do-it-all ATH Dante Antonini is a 3-star S/LB hybrid with team-highs of 103 tackles and 24 TFLs, accounts for well over half of the team's receiving yardage (649 yards, 11 touchdowns), is its second-leading rusher (614 yards, six TDs), and has even completed four of seven passes this season for 80 yards and two TDs. Naturally, he's a standout punter and kick returner as well. But it's not just the Antonini show. 2-star RB Kai Hall has run for 1,446 yards and 20 touchdowns, 2-star IOL Cameron Vaughn is one of the best offensive linemen in Sonoma County, and LB/TE Jake DeCarli, 2-star LB Nathan Rooks, and QB/DB Jaret Bosarge are all impact players on a defense with a ton of playmakers. Their only loss came against Montgomery (Santa Rosa), and they have close wins over St. Bernard's, St. Helena, Ukiah, and Clear Lake.
For this game, we're going to go out on a limb and make one of our only two guarantees of this whole article. The Mustangs will win – bet the house on it.
South: Quartz Hill (8-4) at Palo Verde Valley (11-2) – Friday, Dec. 3 at 7:30 p.m.
The Yellow Jackets looked like the team to beat all season long in the San Diego Section's Division 5, and they proved it with a convincing championship run. They took close losses before league play against underrated Inland Empire teams Coachella Valley and Shadow Hills, and their defense looked good even in those games. Palo Verde Valley runs it just about every time, and is one of the only teams in the state with two players (RBs Xzavier Bejarano and Markus Macon) over 1,500 rushing yards. Those two are also the team's leading tacklers playing DB on defense, which the exception of Xavier Gonzalez-Pinon, another DB, who's up to 113 tackles. DE Ian Maciel is another Yellow Jacket at 80 or more tackles, and is an absolute menace of an edge rusher with 21 TFLs, 16 sacks, and a jaw-dropping 54 QB-hurries, plus three forced fumbles and two fumble recoveries.
Like Palo Verde Valley, Quartz Hill racks up a ton of tackles for loss on defense, and LB Aiden Agnor is having a dominant season with team-highs of 119 tackles and 23 TFLs. DL Drake Stanton is another name to know in the front seven. The Royals have a more balanced offense with QB Chalin Crawford at 1,671 passing yards in addition to 466 yards and 15 touchdowns rushing, RB Ashtin Dupleasis at 1,167 yards and 16 touchdowns rushing, and WR Nicholas Williams leading the team with 844 yards and six touchdowns receiving. TE/S Tevaughn Graham is a critical two-way contributor for the CIFSS D12 champion. Quartz Hill and PVV look to be an even matchup, but the Royals' propensity for run-stuffing against an offense that struggles to pass might present a tactical issue for the Yellow Jackets.
PREDICTED 6-AA STATE CHAMPION: St. Vincent de Paul Mustangs
—
North: Aragon (9-4) at Salesian College Prep (9-2) – Saturday, Dec. 4 at 1:00 p.m.
Both of these teams have found themselves thoroughly outmatched a couple times this season, but have taken care of business and then some against any reasonable ask. The Pride lost decisively against El Cerrito and De Anza in league play, and lacked statement wins heading into the playoffs, but that didn't stop them from going all the way in Division 6 of the North Coast Section. Aragon got routed by Homestead and Leland to open the season and by Menlo School in league play, and the Dons also lost narrowly against Hillsdale in league play too. But they stepped it up against some other solid teams such as Capuchino, and by the time they cruised past St. Francis (Watsonville) in the CIFCCS Division 5 finals, they were playing their best ball of the season. Led by RB Ivan Nisa and some serious size in the trenches, Aragon has a case to make as the favorite in this whole bracket. Still, this game projects to come down to the wire.
South: El Camino Real (6-7) vs. Arlington (6-8) at Ramona H.S. – Saturday, Dec. 4 at 6:00 p.m.
While both of these teams check in with losing records, their state bowl game appearances aren't for lack of playing solid teams in the playoffs. Both squads have simply stepped up. Division 2 champion Elco's QB Ryan Feinberg is one of the most prolific passers in the L.A. City Section and in this whole article, and he's thrown for 2,756 yards and 34 touchdowns on over 70% completion while also running for over 400 yards. Kameron Dover is his top receiver at an even 1,000 yards to go with 13 touchdown catches, and Troy Spellman, a WR by trade, is the Royals' top rushing threat while also catching for nearly 500 yards. Defense has been the main story for Arlington this season, and even in some of the Lions' losses, they've played good defense. In fact, their CIFSS Division 13 championship win against Montclair was a shutout. If they can slow down Elco's passing game, they'll have a solid shot at a state championship.
PREDICTED 6-A STATE CHAMPION: El Camino Real Highlanders
—
North: Le Grand (8-5) at Fall River (11-0) – Saturday, Dec. 4 at 6:00 p.m.
This is one of the only divisions in the entire state playoffs outside of the Open Division and 1-AA that has a very clear favorite to go all the way. And that would be unbeaten Fall River, led by absolutely dominant dual-threat QB/LB Ryan Osborne. How many teams can say that their quarterback has thrown for 1,494 yards and 15 touchdowns, rushed for 1,330 yards and 26 touchdowns on nine YPC, and has a team-high 98 tackles? Any takers? There might not be one in the entire country. Fall River is a complete team though. It's had strong O-line play this season, and three more stars who both run and catch the ball every night while also shining on defense in Cannon Oilar, Evan Dobson, and Evan Bidwell. LB/WR Andrew Parker and WR/DB Carter Kroschel are another two important two-way cogs, and Isaiah Wortman has somehow been an outstanding two-way lineman as an undersized freshman. It's hard to make any case against Fall River.
That said, Le Grand might be their biggest test in this bracket, and maybe all season. At 8-5, Le Grand wasn't the pinnacle of consistency during the regular season, but it captured the potential it did show and figured out how to unleash it in the playoffs. Its playoff wins against Big Valley Christian, Mariposa County, and previously-unbeaten Woodland Christian all came by three scores, so it's safe to say the CIFSJS Division 7 champion is playing another level of ball from the regular season. One advantage Le Grand has over Fall River is a particularly well-balanced offense, with QB Julian Bucio, RB Louie Aguallo, and WR Carlos Castaneda all as focal points, and a handful more of significant contributors at the skill positions. As for those secondary offensive threats, the main ones go two ways, namely RB/DB Isaac Davison, WR/CB Jeremiah Lopez, and WR/LB Reyes Diaz. Diaz is second on the team in both tackles (100) and receiving yards (668), and only star LB Raul Sanchez has more tackles (131, to go with five forced fumbles). 350 miles in the bus and clear underdog status isn't nearly enough to rule out Le Grand.
One thing is for absolute certain: no matter what happens, we're riding the Bulldogs in this one.
South: Loara (8-6) at Morro Bay (7-6) – Friday, Dec. 3 at 7:30 p.m.
Loara's defense has been lights-out almost every week of the season, even in losses. And during the Saxons' current six-game winning streak, just a couple of scores has been enough to win almost every single time. Morro Bay's best games have just about all been in high-scoring games, and all three of its playoff games came down to the wire. So expect this to be a battle for tempo in a game where both sides are comfortable in close games, but a two-score lead will likely be insurmountable for either team due to their contrasting strengths.
PREDICTED 7-AA STATE CHAMPION: Fall River Bulldogs
—
DIVISION 7–A Championship: Taft (7-7) at Balboa (8-4) – Saturday, Dec. 11 at 1:00 p.m.
There's no bracket breakdown per se for 7-A, just a bye-week and a title game. Dual-threat QB Wellington Bristow, RB Robert Padilla, and WR/DB Amir Dutt have been stars for the Toreadors this season, especially in the postseason. The team struggled through one of the tougher schedules in the L.A. City Section, but was ready to parlay its experience and grit into a Division 3 title. Now they head all the way up to California's other "The City" to take on Balboa, which just won its first San Francisco Section title (AAA) since 1984.
The Buccaneers avenged a shutout loss against Lincoln (San Francisco) in league play with a 21-0 win of their own. Ben Norori has emerged as a star for Balboa playing both QB and RB, and he's also a big factor in the secondary, along with WR/S Antonio Artola. Dontae Allen-Wilson and Davonte Black are also versatile offensive weapons who can play DB at a high level. Like Taft, the Buccaneers also took their knocks against some strong teams, but they've been on a strong roll for longer than their upcoming opponent. That makes them a slight favorite here, but this game is essentially a tossup.
PREDICTED 7-A STATE CHAMPION: Balboa Buccaneers