SBLive's California Top 25: No. 7 Rocklin makes statement in 40-7 win over No. 11 Folsom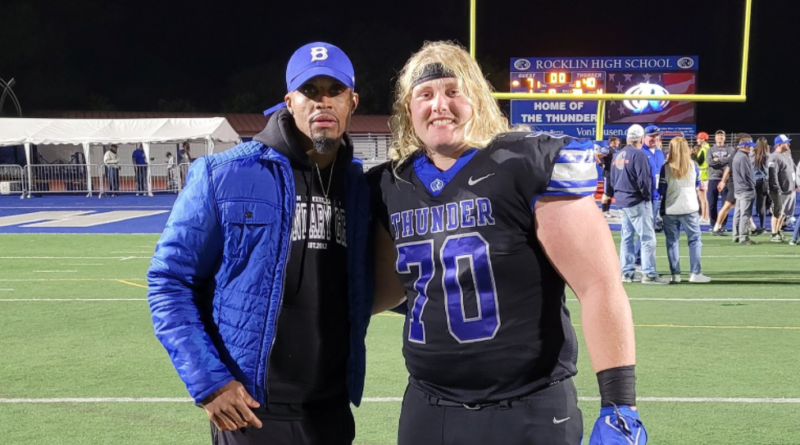 The fall 2021 California high school football season continued last week with several big games, including No. 4 Corona Centennial beating No. 12 Norco 48-24 and No. 7 Rocklin beating No. 11 Folsom 40-7.
After the ninth week of action across California, here are SBLive's Top 25 California high school football rankings. The statewide rankings span all 10 sections and are compiled by reporter Connor Morrissette. They will be released every Monday throughout the fall 2021 season.
MORE: PRESEASON CALIFORNIA ALL-STATE TEAM | TOP 50 TEAM PREVIEWS COUNTDOWN
SBLIVE'S CALIFORNIA TOP 25 FOOTBALL RANKINGS
Oct. 18, 2021
Last week: 1
Sophomore QB Elijah Brown won his eleventh straight start in a 56-3 win over No. 14 Santa Margarita. The Monarchs look unbeatable at the moment.
Last week: 2
Prior to losing to No. 1 Mater Dei on Oct. 1, St. John Bosco had rolled through their non-league schedule which included three of the top teams in the country in Central (Fla.), East (Ill.) and Oscar Smith (Va.). The Braves beat Orange Lutheran 49-25 last week. Senior running back Rayshon Luke scored four touchdowns.
Last week: 3
Servite plays No. 1 Mater Dei and then No. 2 St. John Bosco to close out their regular season after dominating the first eight teams on their schedule. Buckle up!
Last week: 4
No. 12 Norco kept things close with Corona Centennial in the first half, but the Huskies outscored the Cougars 27-7 in the second half to improve to 8-0 with a 48-24 win. Senior Notre Dame commit Jaden Mickey returned a kickoff 85 yards for a touchdown in the victory.
5. St. Francis (Mountain View, Calif.) (6-0)
Last week: 6
St. Francis shutout Archbishop Riordan 33-0. The Lancers are playing like the Northern California Open Division state championship representative six games into their season, but No. 6 De La Salle and No. 7 Rocklin will certainly challenge for that spot in the future.
Last week: 7
De La Salle won their second straight game 52-14 over California High. Their best win is over No. 11 Folsom, 31-10.
Last week: 10
Rocklin dominated in all phases of the game in their 40-7 win over No. 11 Folsom, the Bulldogs first league defeat in a decade. Both teams used backup QB's after injuries to starters and Rocklin's Joey Roberts took full advantage of his chance completing 11 of 19 passes for 211 yards and two touchdowns in the win.
8. Serra (San Mateo, Calif.) (6-0)
Last week: 7
After leading 28-0, Serra survived an upset/comeback bid from Valley Christian to win 28-21 last week. Serra plays No. 5 St. Francis on Nov. 6 in a game that will show exactly where the Padres stack up against the state's elites this year.
Last week: 9
Mission Viejo just keeps on winning. Last week, the Diablos took down Tesoro 45-3.
Last week: 11
Sierra Canyon traveled to Arizona and lost to a very talented Saguaro team 24-7. The Trailblazers move up a spot despite the loss due to Folsom losing big to Rocklin.
Last week: 8
Folsom has lost two straight. They're reeling without star senior quarterback Tyler Tremain who hasn't played since getting hurt two weeks ago against De La Salle.
Last week: 12
Norco stuck with No. 4 Corona Centennial for a half, but lost 48-24. The Cougars' wins over No. 14 Santa Margarita and No. 22 Vista Murrieta keep them at No. 12.
Last week: 14
The Dons are the No. 1 team in San Diego, but have struggled against top out of Section opponents. Cathedral Catholic lost to No. 4 Corona Centennial 57-14 and No. 6 De La Salle 49-21 this season. They're undefeated against teams from San Diego and will stay at No. 1 in the Section until a San Diego team knocks them off. Last week, the Dons beat St. Augustine 49-7.
Last week: 14
Santa Margarita lost big to No. 1 Mater Dei 56-3, but a 42-21 September win over No. 15 Los Alamitos keeps the Eagles at No. 14.
Last week: 15
Los Alamitos blew out Fountain Valley 56-7. The Griffins lone loss this season came to No. 14 Santa Margarita.
16. Lincoln (San Diego, Calif.) (6-1)
Last week: 16
Lincoln beat La Jolla 41-6 two weeks ago. Jalen Daniels threw two touchdown passes.
Last week: 17
Carlsbad took down Oceanside 49-6 to stay undefeated.
Last week: 18
Buchanan beat a good Clovis team 33-24 last week. The Bears best win came against No. 23 Central earlier this year, 24-17.
Last week: 19
Pittsburg beat Brentwood Liberty 49-28 last week. Junior QB Jaden Rashada tossed three TDs and threw for 335 yards on 21 of 28 passing. He also rushed for a fourth touchdown.
Last week: 20
Inglewood shutout Hawthorne 59-0 two weeks ago. The Sentinels have a lot of talent, but have played a weak schedule.
21. Warren (Downey, Calif.) (7-0)
Last week: 21
Warren took down Paramount 40-6 to stay undefeated on the season. Their best win is over Gardena Serra, 14-0.
Last week: 22
Vista Murrieta is quietly putting together one of the best seasons of any team in California high school football. Last week, the Broncos beat Great Oak 38-6. Senior QB Brady Jones tossed four TD's in the game. Vista is clicking at the right time.
23. Central (Fresno, Calif.) (5-1)
Last week: 23
Central lost to No. 18 Buchanan 24-17 two weeks ago, but stays in the Top 25 thanks to wins over Stockton Edison and Clovis.
Last week: 24
The Lancers started the year 5-0 under new head coach Rod Sherman, but have since lost three games in a row to No. 3 Servite, No. 1 Mater Dei and No. 2 St. John Bosco. The Lancers' best win came against No. 25 Edison, 23-21, in early September.
Last week: 25
Edison picked up a key Sunset League win over Corona del Mar 28-20 last week. The Chargers will be a very tough out in the Division 2 Southern Section playoffs in a couple of weeks.