Isaiah Buxton's big play, strong defense lead Mater Dei Catholic to 28-14 win over Eastlake: 4 takeaways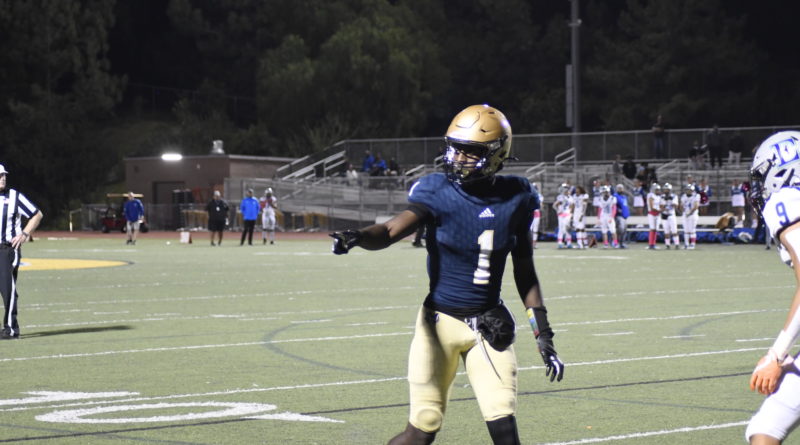 CHULA VISTA, Calif. — It took a quarter for Mater Dei Catholic's offense to iron out the details on Friday night, but the Crusaders recovered quickly and held off a charge from Eastlake for a 28-14 victory over their league rivals on Friday night.
Below are four takeaways from the game.
ISAIAH BUXTON SEALS IT
Trailing by seven points as the clock neared five minutes to play, Eastlake looked to be in position to tie up the game. The Titans had a third down from Mater Dei's seven-yard line before calling timeout.
When the Titans attempted to pass right, the throw was immediately snatched by Mater Dei Catholic sophomore Isaiah Buxton on the five-yard line. Buxton turned on the jets as he began his 95-yard sprint across the field, giving the Crusaders a two-touchdown lead.
He's a future star, he's only a sophomore, he's an absolute star," Mater Dei Catholic Head Coach John Joyner said. "The kid made a great play, great read and did the rest."
EASTLAKE WASTES VALUABLE CHANCES
Eastlake will want several of their opportunities back on Friday night. On their second drive of the game, the Titans failed to convert on a fourth and one from the Mater Dei Catholic 15-yard line.
Eastlake missed three field goal attempts in the second quarter, the first one coming from 47 yards out and falling way short. The second attempt was closer, this time from 38 yards, but once again fell short. The Titans' final field goal attempt came with 28 seconds left to play and was blocked, picked up by the kicker who was immediately drilled by Mater Dei Catholic for a turnover on downs.
Eastlake scored on their first possession of the second half but turned it over on downs and threw an interception on each of their next two possessions in the quarter. The Titans looked as if they might be able to overcome their mistakes until Isaiah Buxton jumped in front and ripped the win away.
MATER DEI CATHOLIC DEFENSE CONTINUES TO SHINE
Now sitting at 7-0 with two league games left to play, Mater Dei Catholic has been as stingy as anyone in the county on defense. The Crusaders allowed 21 points to Brawley in their season opener and have stiffened up since.
"Our offense gets a lot of the publicity, but our defense has been playing lights out," John Joyner said.
They'd allowed 13 total points over a five-game span entering Friday's game with three shutouts sandwiched in the middle of that streak.
"I think the key is our connection during practice and all of us are so close, not just football," Junior Jerry McClure said. "We have that drive to make each other better and play as hard as we can for each other."
CRUSADERS SNAP THE STREAK
Mater Dei Catholic entered Friday night on a four-game losing streak against Eastlake dating back to the 2017 season. Eastlake took last year's contest 13-12 and had scored 36, 56, and 49 during each of their previous three wins against the Crusaders.
"You try and take every year the same but it's funny, every time we play them there's something that goes on and last year's game was a nail biter," John Joyner said. "I just thought tonight once we got momentum, we never gave it back, last year we gave momentum back."
The Crusaders have a wide-ranging roster that varies in experience of playing against Eastlake at the varsity level, but it's no wonder that this game had a different feel to it for both the players and staff.
"It was a message that it's a whole different year and we're coming different this year," Jerry McClure said. "We might have lost to them the past four years but it's different now."