Top 10 Northern California high school football games to watch this week (Oct. 14-16): Folsom and Rocklin finally clash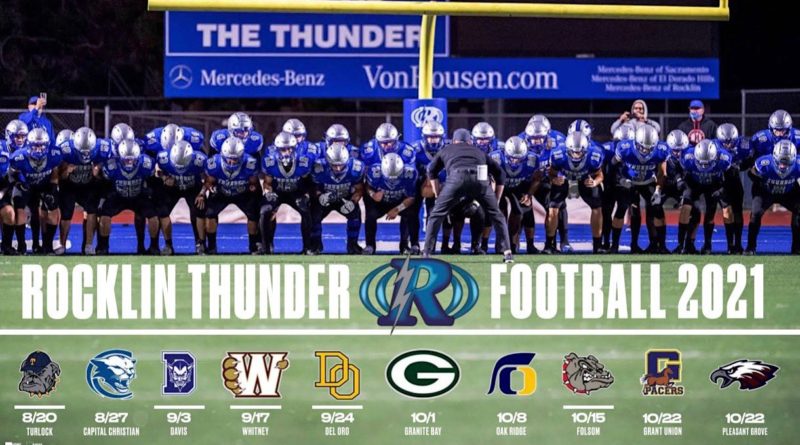 Last week, we said that Week Seven (Oct. 7-9) was the top week of the entire regular season in NorCal football. But with the way some of the teams/leagues featured on this week's countdown have taken shape down the stretch, this week has a legitimate chance to give last week a run for its money. Within the Sac-Joaquin Section, Week Eight is unquestionably as good as it gets in 2021.
The first week of the season is known as "Week Zero", which means last week was Week Seven. Here's a look at the Top 10 Northern California high school football games to watch this week (Oct. 14-16), Week Eight of the California season.
STATEWIDE CALIFORNIA FOOTBALL SCOREBOARD
FULL SECTION SCHEDULES: NORTH COAST | CENTRAL COAST | SAC-JOAQUIN | CENTRAL | NORTHERN
TOP 10 NORCAL FOOTBALL GAMES TO WATCH
(All games are Friday at 7 p.m. unless noted otherwise.)
10. San Ramon Valley @ Clayton Valley Charter
Unlike every other game on the list this week, this matchup probably doesn't have a league title on the line. Clayton Valley Charter already lost a thriller by one point against Cal High, and both of these teams happen to share a league with De La Salle. That said, with such good league foes battling it out in such a competitive league, the game had to make the top 10. San Ramon Valley got off to a great start in league play last week by beating Amador Valley convincingly, and has the opportunity to pick up a major statement win this week in what should be one of the most exciting games of the week.
9. Vanden @ Vacaville
Now back to the main theme of true title matches. The Bulldogs come into the Monticello Empire League championship as minor, well, underdogs, but they have more than just a puncher's chance on Friday. Despite an overtime loss to Rancho Cotate, Vanden is off to a nice 5-1 start, and bounced back from that loss to pick up a very nice three-score win over Wood. Vacaville has beaten Oak Ridge and played both Cardinal Newman and Granite Bay down to one score, but hasn't been substantially more dominant. The gold medal in the MEL and bragging rights across Vacaville are entirely on the line.
8. Sacramento @ Capital Christian
After pulling a minor upset against Christian Brothers a few weeks ago, still-unbeaten Sac High has emerged as a true contender in the Capital Athletic League. But the Dragons barely survived El Camino last week in what would've been a huge upset and taken them out of the race for an undisputed title. That said, if they bring close to their A-game this week, there won't be any favorite or underdog in the probable CAL championship. Sacramento still has to deal with Vista del Lago on Oct. 29 win or lose, but if Capital Christian wins this week, the Cougars will be within tasting distance of the conference title.
7. Antelope @ Inderkum
With both of these teams now having narrowly survived Woodcreek, the Capital Valley Conference championship is officially upon us. They've been ranked right on top of each other essentially the whole season, especially with unbeaten Antelope having come on strong lately, and Inderkum's sole loss against Jesuit becoming less concerning as Jesuit emerges as a real CIFSJS contender. Now, it's time for them to duke it out in a true 50-50 game. The only caveat is, if the Tigers win, they can't no-show against Roseville two weeks down the road.
6. Serra @ Valley Christian
We're only two years removed from these two teams being head-and-shoulders above the rest of the Central Coast Section. In 2019, Serra won this matchup twice in defensive battles for championships – first with the WCAL on the line, and then a Division 1 title. The Padres won again in a 33-26 duel when these teams played in the spring. After losing to Saint Francis (Mountain View), the Warriors can put themselves in great position for a tie atop the league if they flip the script on Serra this season. A Serra win would set up an incredibly exciting league title match against Saint Francis in the last week of the season.
5. Elk Grove @ Jesuit – Saturday at 1 p.m.
Elk Grove has really hit its stride after a tough start to the season, and has now won four straight to move to 3-0 in league play. The Thundering Herd are a force as usual, but the way Jesuit has annihilated everyone in its path aside from Folsom in its league-opener, Elk Grove is actually something of an underdog coming into this one. In fact, Jesuit beat Inderkum by a whopping 45-0 about a month after Inderkum upset Elk Grove in the first week of the season. But nobody would make the mistake of counting Elk Grove out of this one before it actually takes place. Certainly Jesuit won't, right?
4. Buchanan @ Clovis – Friday at 6:30 p.m.
While this isn't the most exciting week in the Central Section, one of the CIFCS' top games all year is upon us on Friday. For one, this game is the Cougars last chance outside of the playoffs to prove that in this era, they officially made the TRAC a three-team party. On the other hand, Buchanan is just days away from potentially sealing back-to-back Tri-Rivers Athletic League titles. Are the Bears up for beating Central and Clovis in the span of eight days? Or can Clovis force a three-way tie atop the league? Either way, this one will also have massive playoff implications.
3. Manteca @ Central Catholic
You've heard the spiel about the outstanding, unheralded Valley Oak League by now. In fact, you've heard the spiel about the spiel about the Valley Oak League by now. But people who've been following the Sac-Joaquin Section closely already know that this might just be NorCal's top under-the-radar game of the year.
Central Catholic put out a massive statement win last week in beating previously unbeaten Kimball 55-16. One more win against a VOL contender – perhaps the league favorite, if there is one – and the Raiders are practically guaranteed at least a tie for first. Unbeaten Manteca would've been the minor but clear favorite coming into this match two weeks ago, but after they nearly lost to East Union and Central Catholic shellacked Kimball, it's a tossup. Get your popcorn.
2. Foothill (Palo Cedro) @ Chico – Friday at 7:30 p.m.
No. 2 on our countdown looks to be the top Northern Section regular season game of the year, with a major twist – these two teams have already played each other(!). Due to COVID-19, these Eastern Athletic League and CIFNS Division 2 rivals both needed a game on Sep. 10, so why not meet in a non-league game? Chico won that one 24-14 at home, and will be at home again on Friday.
Through eight weeks, these two teams appear to be the strongest in the section by a decent margin, and that probably won't change regardless of who wins this matchup. And if they see each other again in the playoffs, they'll enjoy a nearly unprecedented three-game series in the span of just one fall. But what's not speculative is the fact that one of these teams will see it's EAL championship aspirations get tanked this week.
1. Folsom @ Rocklin
This game is not only the obvious top game of the regular season for the Sac-Joaquin Section – it's one of the CIFSJS' most highly-anticipated regular season games in recent memory.
The reason the headline says "Folsom and Rocklin finally clash" is because both of these SFL titans went unbeaten in the spring, playing everyone in the league except each other. Folsom was certainly a small notch ahead of the Thunder in terms of margin of victory in those games, but the gap was small, just as the perceived gap between the two now is small. Folsom has lived up to the hype of having one of its best teams in years, but Rocklin has been unstoppable in all of 2021.
In a lot of cases where league foes are also the two top teams in a whole section, the regular season game sometimes loses its relative importance a bit. For instance, it's common to see a team avenge a league title match in the playoffs against a team it lost to in the regular season. But with Rocklin being in Division 2, and Folsom in Division 1, whoever wins the Sierra Foothill League this year will have unquestionable bragging rights in the matchup for a whole year. And, if that team goes onto win the division, clear bragging rights as the best in the whole section.
—
MORE GAMES TO WATCH:
FULL SECTION SCHEDULES: NORTH COAST | CENTRAL COAST | SAC-JOAQUIN | CENTRAL | NORTHERN
In any given week of California high school football, there are dozens of great games to watch between top programs. Here are some other exciting NorCal matchups happening this week:
California @ De La Salle
University Prep @ Orland
Granite Bay @ Whitney
Hanford @ Redwood (Visalia)
Lincoln (Lincoln) @ Ponderosa
Salesian College Prep @ El Cerrito
Enterprise @ Red Bluff
Sanger @ Bullard
Pittsburg @ Liberty (Brentwood)
Sheldon @ Vista del Lago
Paradise @ Colusa
Burlingame @ Terra Nova
Dinuba @ Kingsburg
Monte Vista @ Amador Valley
Tracy @ Lodi
Archbishop Mitty @ St. Ignatius
Madera @ Edison (Fresno)
Freedom @ Heritage
Sacred Heart Prep @ Menlo-Atherton
Pleasant Valley (Chico) @ Shasta
Campolindo @ Acalanes
King's Academy @ Half Moon Bay
Mountain View @ Homestead
Grant @ Oak Ridge
Palma @ San Benito
Tulare Western @ Mission Oak
Franklin @ Cosumnes Oaks
Casa Roble @ Woodland
Hughson @ Hilmar