SBLive's San Diego Section Top 10 Football Rankings: No. 2 Carlsbad set to host No. 5 Torrey Pines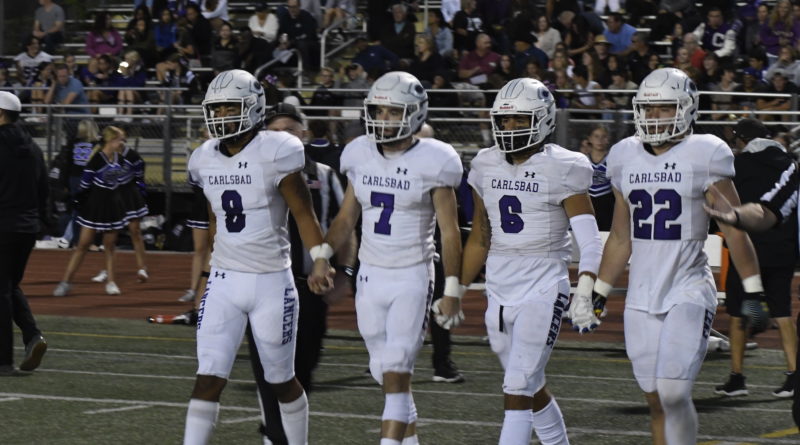 The sixth week of football games in the San Diego Section was a popular week for teams to have their bye week. El Camino moved into the top 10, replacing Eastlake who they took down 15-9 in a defensive battle on Friday.
Cathedral Catholic remains at No. 1 in the latest SBLive Top 10 San Diego Section high school football rankings (Sep. 27), after handling Steele Canyon to continue their dominance against San Diego Section opponents. The rankings are compiled by reporter Bodie De Silva and will be released every Monday throughout the fall 2021 season.
SBLIVE'S SAN DIEGO SECTION TOP 10
Sep. 27, 2021
1. Cathedral Catholic (4-2)
The Dons traveled to Steele Canyon and rebounded with a 48-21 win. They'll begin Western League play at Madison this week.
Last week: 1
2. Carlsbad (5-0)
The Lancers had a bye on Friday. They'll host No. 5 Torrey Pines on Friday.
Last week: 2
3. Lincoln (4-1)
The Hornets dominated throughout during Friday's 52-0 win over Otay Ranch. They'll host St. Augustine this Friday.
Last week: 3
4. Mater Dei Catholic (4-0)
The Crusaders were clicking on offense and defense during Friday's shutout of St. Augustine. They'll make the short trip to Bonita Vista this Friday.
Last week: 4
5. Torrey Pines (3-1)
The Falcons were off on Friday and will battle for first place in the Avocado League when they travel to No. 2 Carlsbad this week.
Last week: 5
Mission Hills had their bye week. They'll travel to Oceanside on Friday.
Last week: 6
Scripps Ranch was off for the second consecutive week. They'll take on Point Loma on Friday.
Last week: 7
The Warhawks beat Morse 46-8. They'll host No. 1 Cathedral Catholic this week.
Last week: 8
The Sun Devils continued their defensive dominance in Friday's 42-0 shutout of Rancho Buena Vista. They'll start Palomar League play against Vista this week.
Last week: 9
The Wildcats took down Eastlake 15-9 on Friday. They'll go to La Costa Canyon this week.
Last week: NR
5 others to watch: Eastlake, Poway, Oceanside, Helix, Granite Hills