Carlsbad hangs on for 13-7 win over Mission Hills: 3 takeaways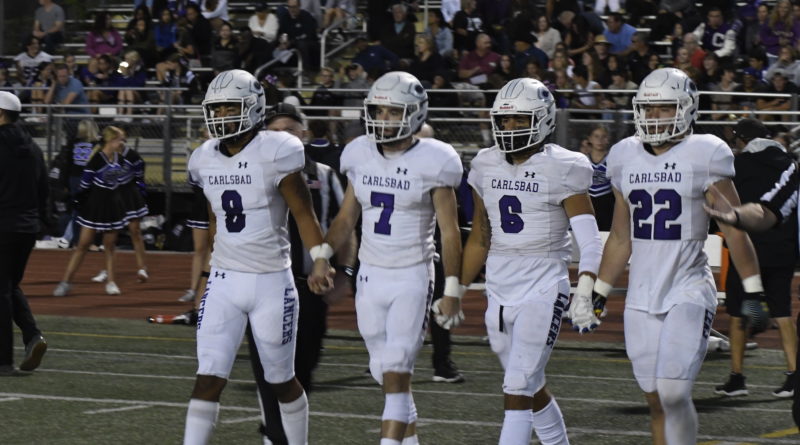 SAN MARCOS, Calif. — It wasn't always pretty for Carlsbad on Friday night, but it all counts the same. The Lancers led Mission Hills 13-0 at halftime and had to get a fourth down stop as time expired to hold off the Grizzlies, 13-7, in one of the Avocado League's most anticipated matchups of the season.
Here are three takeaways from the game:
TALE OF TWO HALVES FOR CARLSBAD
Carlsbad started off strong offensively, taking all four of their first half possessions into Mission Hills territory but only had two touchdowns to show for it.
On their first series, senior receiver Josh Davis caught a pass across the middle at the 15-yard line and attempted to push his way into the end zone before stepping out of bounds at the two-yard line, but the referee ruled that Davis fumbled the ball through the end zone for a touchback, giving possession to Mission Hills.
On the second drive, sophomore quarterback Julian Sayin dropped in a perfect pass to Davis from 37 yards out right as he crossed the goal line for the first score of the game.
"Our receiver coach, Coach Swain, he's always getting these guys ready," Sayin said. "He's hard on them and it shows on game day."
The Lancers added their second and final score of the game when Sayin looked deep again and found Matt Moore who barely kept his footing and tumbled into the end zone for a 56-yard touchdown completion.
In the second half Carlsbad ended all three of their drives with punts, unable to establish much consistency on the ground or through the air.
"I feel like they were able to stop the run on us and played coverage a little bit and got us," Sayin said.
INJURY SWITCHES THE GAMEPLAN
Facing a third down and 21 to go on the second play of the second quarter, Mission Hills quarterback Gunnar Hensley tried to evade pressure and was sacked. Hensley, who played his first two seasons at Carlsbad before transferring to Mission Hills, stayed on the ground and was in obvious pain as trainers from both teams rushed out to attend to his left leg. He was carted off the field and loaded into an ambulance that took him to a local hospital.
"He's got a lot of buddies on this team," Carlsbad head coach Thadd MacNeal said. "I had kids on our side crying, they were upset for him. Our heart goes out to him, Gunnar's a really good player and he's a great kid. It was a matter of trying to refocus and get ready to play a big second half. You saw (Mission Hills) is a really good program, they're not just gonna go away."
Without the quarterback that has led a successful passing game for the Grizzlies over the past two seasons, Mission Hills was forced to switch to a run heavy approach.
The Grizzlies had limited success on the ground with Carlsbad locked in on stopping the run without much threat of a passing game.
Mission Hills broke through with their first score of the game on an eight-yard run by Jaiden Letua with just over four minutes remaining to cut the lead to 13-7 and were able to get the ball back but turned it over on downs at midfield as the clock expired.
"I think we were misaligned in some areas and obviously we missed tackles and that's a lot on (Mission Hills running back Jaiden Letua) because he's such a good, big, strong dude," MacNeal said.
UNBEATEN LANCERS
Carlsbad equaled their record from the spring with Friday night's win over Mission Hills, giving the Lancers ten straight wins overall since their loss to Helix in the 2019 CIF Open Division Championship game.
Despite the hot start to the season on both sides of the ball, Carlsbad still has room for improvement in order to make a return trip to the site of their last loss in 2019.
"Well, it's early in the year and we're trying to figure out how good we are and we're trying to improve every week," Thadd MacNeal said. "We've got a long ways to go without a doubt."
The Lancers allowed 14 points or less for the fifth consecutive time this season and have held three of their opponents to single digits during their 5-0 start.
"We're just taking it one game at a time, watching film, watching our mistakes and trying to correct them," Julian Sayin said.