Yorba Linda outlasts Orange 50-43 in battle of offensive fireworks: 5 takeaways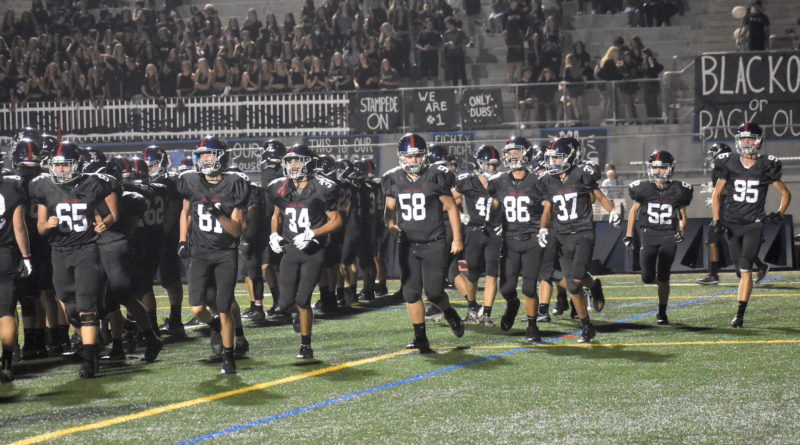 YORBA LINDA– In a game where both teams put on offensive clinics, Yorba Linda had just enough juice to hold off Orange in a 50-43 win on Thursday.
The Mustangs moved to 3-0 with the win in front of an energized home crowd. Here are five takeaways from the game:
KOVALCIN, SAUCEDO, GONZALEZ HAVE CAREER NIGHTS
Numerous Mustangs had big games – including a few breakout performances – in order to pull this one out.
Senior RB Tyler Kovalcin has been in Yorba Linda's rotation for a while now, but is one of the clear stars of the team after Thursday. He ran for 140 yards and two touchdowns, and also went essentially the whole field for a long KR touchdown.
"I played my heart out… it feels good," said Kovalcin. "O-line did good, perfect line. They blocked fantastically. We've got a lot of heart, a lot of discipline."
William Saucedo also had an excellent night running the ball for Yorba Linda, and finished with two touchdowns. WR Garrett Gonzalez didn't find the end zone but had a career-high 98 receiving yards to help get the Mustangs over the hump.
With players breaking out at every skill position against quality teams for Yorba Linda, the Mustangs have their most complete offense in a while. One that will be a challenge to contain for even some of the better defenses around come playoff time.
BOYKIN ALSO GOES OFF
Had Orange pulled this win out, sophomore Kobe Boykin would be the clear top star of the night. He ran for three touchdowns and well over 200 yards for the Panthers, and often found his way out of large crowds of YL defenders. Boykin is an electric runner who can also catch the ball and play significant minutes on defense. Get used to hearing his name.
MORE TOP PERFORMERS
The win over Orange wasn't exactly a breakout game for junior QB Reyn Beal, who's been tearing it up every game so far for YL for three games now. But he was outstanding once again with 276 passing yards and a touchdown pass to JJ Conrad on 17-23 completion.
The Mustangs' entire offensive line is also in the "player of the game" talk for their outstanding, consistent performance both holding off Orange's pass-rush and also helping extend plays with their run-blocking.
Dylan Gardner had a key interception for Yorba Linda in the fourth quarter.
Orange dual-threat QB Zachary Siskowic hurt his knee in the second quarter but still had a very strong night, completing 16 of 24 passes for 233 yards and two touchdowns to Jonathan Smith. Smith led the Panthers with 121 yards receiving. Christopher Quiroga had a rushing touchdown early in the game.
MUSTANGS DEFENSE NOT IN PEAK FORM, BUT COMES UP CLUTCH
Yorba Linda did not have its best night defensively, but the Mustangs improved on that end throughout the night, and did their best work in the fourth quarter. In addition to Gardner's pick, YL's front seven was able to disrupt Siskowic and suppress Orange's running game when the game was on the line. Ali Elfiky was one of a few Mustangs who helped put the game away with big sacks/tackles for loss late in the fourth, and he also had a short rushing touchdown.
ORANGE BUILDING SOMETHING
The Panthers lack of size was a deciding factor in this loss, but they're still a strong team with talent across the board. That includes 2022 talent such as Siskowic, a 3-star prospect, and Orange is well-positioned to potentially go on a playoff run this year in the vicinity of Division 3 or Division 4.
But with most of the team's core being non-seniors, the Panthers are poised to continue and build on the success they've had for multiple years in a row. Orange is fast and skilled, and has numerous high-prospect underclassmen including Boykin, Smith, and freshman DB Arron "Jett" White. Despite the 0-2 start, the Panthers are likely to pull out wins nearly every week for the rest of the regular season, and are in great shape from a long-term standpoint.