SBLive's California Top 25: Norco and Inglewood debut in statewide football rankings after impressive wins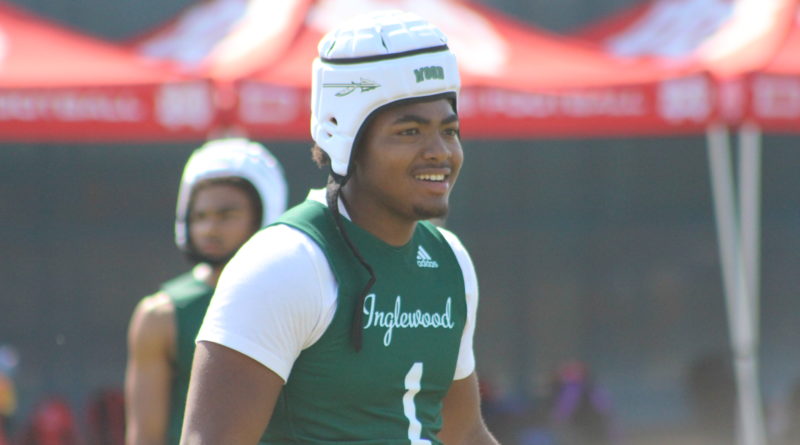 The fall 2021 California high school football season kicked off last week with several big games, including No. 1 St. John Bosco taking down Florida powerhouse Miami Central 35-12.
After the first week of action, here are SBLive's Top 25 California high school football rankings. The statewide rankings span all 10 sections and are compiled by reporter Connor Morrissette. They will be released every Monday throughout the fall 2021 season.
MORE: PRESEASON CALIFORNIA ALL-STATE TEAM | TOP 50 TEAM PREVIEWS COUNTDOWN
SBLIVE'S CALIFORNIA TOP 25 FOOTBALL RANKINGS
Aug. 23, 2021
Last week: 1
The Braves beat Miami Central 35-12 on Friday night
FULL GAME STORY | PHOTO GALLERY
2. Mater Dei (Santa Ana, Calif.) (0-0)
Last week: 2
Mater Dei will be loaded once again this fall. The Monarchs have a California-best six players on SBLive's Preseason All-State team. St. John Bosco got the edge over Mater Dei for our No. 1 spot due to having better depth, but both teams are stacked. The Monarchs top recruit is 2022 five star cornerback Domani Jackson, a USC commit. Mater Dei meets St. John Bosco in the regular season on October 1st. The two teams have met in the CIF Southern Section championship game every year the game has taken place since 2016.
Last week: 3
De La Salle's win streak against Northern California opponents is now up to 316 games. The top player for the Spartans this season is 2022 defensive back Zeke Berry, an Arizona commit.
Last week: 5
The Friars have one of the best offenses in the country and that was on full display in their win against Edison on Friday. Senior Arizona commit Noah Fifita threw three TDs. He tossed two to Oregon commit Tetairoa McMillan and one to Arizona commit Keyan Burnett. Senior running back Houston Thomas also rushed for four TDs.
Last week: 4
The Dons started their season a little slow in a 28-14 win over Torrey Pines, a team they were expected to beat by a larger margin. This season, Cathedral Catholic brings back virtually everyone from a team that outscored opponents 223-14 during California's spring season. The Dons' top player is 2022 defensive lineman Jaxson Moi, a Cal commit. They'll look for an improved performance on the road against a very good Corona Centennial (Calif.) team this week.
Last week: 7
Folsom dominated a talented Monterey Trail team 56-14 showing they are the top team in the Sac-Joaquin Section. Senior QB Tyler Tremain tossed five TDs in the win.
Last week: 6
The Trailblazers started a little slow, but rallied to beat JSerra 40-14. Terrell Cooks had nine carries for 103 yards and two TD's.
Last week: 8
The Griffins dominated Bakersfield winning 65-18.
Last week: 9
Head coach Matt Logan is high on his team. The Huskies have a strong defense led by star cornerback Jaden Mickey, a Notre Dame commit.
Last week: 10
This year's Long Beach Poly team should be head coach Stephen Barbee's best so far. Senior Shea Kuykendall and sophomore Darius Curry, a transfer from St. Bernard, will both play at QB.
11. Serra (San Mateo, Calif.) (0-0)
Last week: 11
The sky is the limit for a Serra offense that brings back QB Dominique Lampkin and do-it-all playmaker Hassan Mahasin.
Last week: 12
Pittsburg has a very challenging schedule, but they have a blue chip QB in 2023 gunslinger Jaden Rashada.
Last week: 13
Sophomore QB Julian Sayin threw three TDs in a 35-14 win over Great Oak. He did throw two interceptions though.
Last week: 16
The Eagles beat San Juan Hills 38-14. Jaxon Potter threw three TDs in the win.
Last week: 15
Apple Valley hung tough with Mission Viejo, but eventually the Diablos went on to win 44-21. Kadin Semonza connected with KJ Reed for a 49-yard passing touchdown in the game.
Last week: 17
Rocklin beat up Turlock 41-0. Star D-lineman Bobby Piland had four tackles for loss, one sack, one forced fumble and one fumble recovery in the game.
Last week: 18
Buchanan beat Kingsburg 33-7. The Bears led 20-0 at halftime.
Last week: 20
San Clemente beat Oceanside 38-0. Blake Allen rushed for three touchdowns in the game.
Last week: 14
Alemany traveled to Utah to take on Lone Peak and lost 31-24.
Last week: 22
Clovis beat Sanger 35-12. Quarterback Nate Johnson and running back Tristan Risley combined for five touchdowns in the win.
21. Central (Fresno, Calif.) (0-0)
Last week: 23
Central beat Bullard 51-32. Dayton Tafoya threw five touchdowns in the game but was intercepted three times.
22. Mission Hills (San Marcos, Calif.) (0-0)
Last week: 24
Mission Hills took down Chaparral 24-13.
23. Lincoln (San Diego, Calif.) (0-0)
Last week: 25
Lincoln beat Monte Vista 49-0. Oregon commit Jalil Tucker caught a TD in the game.
24. Norco (Calif.) (1-0)
Last week: NR
Norco beat Vista Murrieta 42-26.
Last week: NR
Inglewood beat Loyola 29-26 to enter this week's rankings. Louis Brown caught a TD in the win.