California's Top 50 high school football teams: Oklahoma commit Malachi Nelson returns for No. 8 Los Alamitos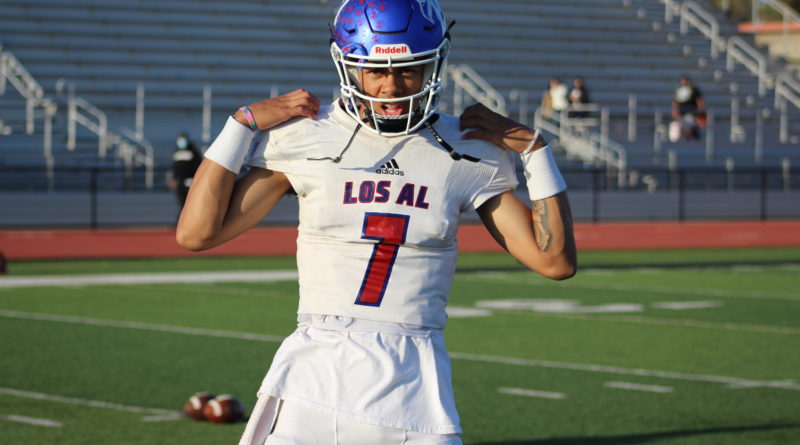 SBLive is previewing the Top 50 high school football teams in California ahead of the fall 2021 season. Here's an inside look at the Los Alamitos Griffins of the CIF Southern Section, the No. 8 team in our countdown.
MORE: PRESEASON ALL-STATE TEAM | TOP 50 COUNTDOWN
—
LOS ALAMITOS HEAD COACH
Ray Fenton – 6th season – (35-17-1)
Coached previously at Fountain Valley and Cypress
2021 SPRING AT A GLANCE
6-0 overall
5-0 in Sunset League (1st)
IMPACT DEPARTURES
Tyler Deleon – DE (Army, West Point)
Darrien Wingfield – DB (Graduated)
Shain Allen – WR (Graduated)
Jojo Nuez – LB (Graduated)
Aidan Chiles – 2023 QB (Transferred to Downey)
Aug. 20 vs. Bakersfield – 7:00PM
Aug. 27 vs. Lincoln San Diego – 7:00PM
Sept. 3 @ Paramount – 7:00PM
Sept.. 10 @ Buchanan – 7:00PM
Sept. 17 @ Santa Margarita – 7:00PM
Oct. 1 vs. Corona Del Mar – 7:00PM
Oct. 8 vs. Edison -7:00PM
Oct. 15 @ Aquinas – 7:00PM
Oct. 22 @ Huntington Beach – 7:00PM
Oct. 29 vs. Newport Harbor – 7:00PM
RETURNING STARTERS
PLAYERS TO WATCH
Malachi Nelson (Junior-QB) (6-3, 180) (Oklahoma commit)
Nelson committed to Oklahoma in July over Alabama, Ohio State, LSU, Florida State and USC.
Coach Fenton: "Malachi is a five star talent."
2021 spring stats: Completed 73% of his passes for 1,513 yards and 23 TDs. Named the Gatorade State Player of the Year
Makai Lemon (Junior-WR/DB/ST) (6-0, 180) (Oklahoma commit)
Coach Fenton: "Makai is a five star too."
2021 spring stats: 43 catches for 756 yards and nine TDs, 15 tackles and intercepted four passes on defense, returned a punt for a TD
David Main (Senior-RT) (6-4, 270)
Coach Fenton: "David is a three year starter for us. He has scholarship offers from Army and Navy."
2021 spring stats: Five tackles on defense.
Adam Tomczyk (Senior-DE) (6-4, 265)
Coach Fenton: "Adam has an offer from Utah State."
2021 spring stats: 31 tackles and four sacks
Ethan O'Connor (Junior-WR/CB) (6-1, 160)
Offer sheet: Alabama, Georgia, USC, Penn State, LSU, Texas A&M, Arizona
Coach Fenton: "Ethan didn't play in the spring, but he's a national recruit.
Cash Koepke (Senior-G) (6-5, 300)
Coach Fenton: "Cash is a three year starter for us who's somehow being overlooked. He's an outstanding football player. I think he's a legit big time offensive lineman."
Gavin Porch (Junior-WR/RB) (5-10, 170)
Coach Fenton: "Gavin is a three year starter for us. He was Athlete of the Year in the Sunset League in the spring."
2021 spring stats: 28 carries for 199 yards and three TDs, 10 catches for 160 yards and three TDs
Brian Jurado (Junior-LB) (5-10, 170)
Coach Fenton: "We moved Brian to linebacker and he's probably been our most productive defensive player in camp. He played running back and safety last season."
2021 spring stats: 47 carries for 245 yards and four TDs, 11 tackles and three interceptions on defense
—
IMPACT TRANSFERS IN
DeAndre Moore Jr. — 2023 WR/DB (Desert Pines) (National Recruit)
Nygel Osborne — 2023 RB (St. John Bosco) (Four Division 1 offers)
WHAT'S THE QUARTERBACK SITUATION?
Junior Oklahoma commit Malachi Nelson will start under center.
ORLANDO SCANDRICK NEW ASSISTANT COACH
Los Alamitos grad and former Dallas Cowboys defensive back Orlando Scandrick was hired as an Associate head coach this offseason.
"He brings a lot," head coach Ray Fenton said. "What he really brings is identification to guys who want to play in the NFL. He's a former Griffin who then had an amazing career in the NFL. He brings relatability to the elite football players on our team. He can get them to understand what it really takes … We have some kids on our team who we think could be playing on Sundays and Orlando can help mentor those kids to show them the good, the bad and the ugly that comes with all of it."
BEST-CASE SCENARIO FOR LOS ALAMITOS
The best case scenario for Los Alamitos is an undefeated regular season and Division 1 playoff appearance. The Griffins certainly have a chance to make that happen with their talented roster.
MOST REALISTIC SCENARIO
8-2 to 10-0 in the regular season is possible for this group and 8-2 may even be a little disappointing. Los Alamitos has a generational QB and a generational WR group. They should win the Sunset League and then most likely qualify for the Division 1 playoffs. Competing with St. John Bosco and Mater Dei will be a stretch, but the Griffins are in a better position to do so than 99% of other teams in the Southern Section.
COACH SAID
"A few years ago we started six freshmen and a lot of sophomores and then last year those guys were juniors and sophomores and now this year they're upperclassmen. This is our team right here. They've grown up with us, they've been in the system a long time and they're a mature group. We have the highest expectations of any team I've coached in 36 years. We're extremely talented at the skill positions and we're as big and physical of a team as I've been around up front. We're really blessed. I don't deserve all of these guys being on my team, but I'm going to enjoy it."
"The great football teams, the ones that win it all, have great chemistry and our guys are so specialized with their position groups that we haven't blended together as a team yet. We have to do a better job of blending these guys together on both sides of the ball. We're taking a trip up to Fresno to play Buchanan in a couple weeks and we think that trip up there will help solidify our team unity and then we'll come back and play Santa Margarita. From there, we'll buckle up and get ready for the Sunset League."
"Our goal is to play 14 games. If you combine talent with hard work, you get 14 games. We think that's where we'll be."
— Head Coach Ray Fenton
—
MORE: PRESEASON ALL-STATE TEAM | TOP 50 COUNTDOWN