California's Top 50 high school football teams: Sam Pulino takes the reins for No. 17 Rocklin Thunder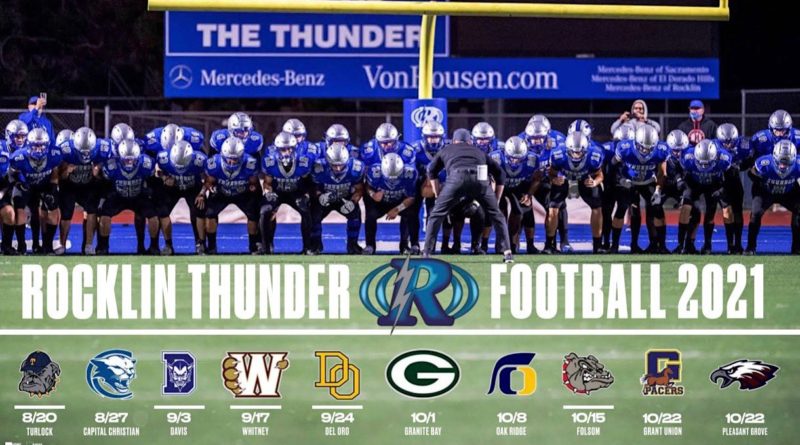 SBLive is previewing the Top 50 high school football teams in California ahead of the fall 2021 season. Here's an inside look at the Rocklin Thunder of the CIF Sac-Joaquin Section, the No. 17 team in our statewide countdown.
MORE: PRESEASON ALL-STATE TEAM | TOP 50 COUNTDOWN
—
HEAD COACH
Sam Pulino, 1st year as Rocklin head coach; Pulino spent 10 years as the head JV football coach
2020-21 AT A GLANCE
Overall record: 4-0
League record: 4-0 (tied for 1st in Sierra Foothill League)
All games are at 7 p.m.
Aug. 20 vs. Turlock
Aug. 27 @ Capital Christian
Sep. 3 vs. Davis
Sep. 17 vs. Whitney
Sep. 24 vs. Del Oro
Oct. 1 @ Granite Bay
Oct. 8 @ Oak Ridge
Oct. 15 vs. Folsom
Oct. 22 @ Grant
Oct. 28 @ Pleasant Grove
PLAYERS TO WATCH
DT/OG Bobby Piland – SR.
A DL by trade, Piland doubles as a high-caliber OL, and was named Lineman of the Year in the spring by the Sacramento Bee. The 3-star prospect picked Air Force over more than a dozen D-1 schools to offer him.
QB Kenny Lueth – SR.
A nationally-ranked dual-threat QB, Lueth threw for 243 yards and touchdown in the spring splitting snaps with a senior, and also ran for two touchdowns.
WR Nathan Kent – SR.
Kent led Rocklin with 188 yards and two touchdowns receiving in just three games in the spring. He's a 3-star prospect with five mid-major offers.
OT Brad Baur – SR.
Baur, a 2-star prospect with multiple D-1 offers, will be another anchor of Rocklin's O-line.
RB Anthony Johnston – SR.
Johnston led Rocklin with 249 rushing yards in the spring at halfback to go with three touchdowns.
WR/RB/DB Elias Mullican – SR.
Mullican was already one of the Thunder's top two-way contributors in the spring, and is a major candidate to break out at a higher level this fall. He ran for 175 yards and a touchdown on only 12 carries, was third on the team in receiving yardage, made 10 tackles (one for loss), and led the team with seven pass break-ups.
WR/DB Toran O'Harran – SR.
A Stanford baseball commit, O'Harran was second on the team in receiving yardage in the spring, and is also a factor in the secondary.
DB Teeg Slone – SR.
A nationally-ranked ATH prospect, Slone mostly played safety in the spring, and finished with 15 tackles and a pick.
TE Peyton Smith – SR.
Smith is a returning starter and nationally-ranked TE with a good chance to break out as a major D-1 prospect as a senior.
LB Derek Houston – JR.
Houston was second on the Thunder with 25 tackles last season as just a sophomore. He's one of the top prospects on the team to watch as a potential D-1 breakout guy.
BEST-CASE SCENARIO
With a talented, experienced senior core, Rocklin is one of a few clear frontrunners to win it all in the Sac-Joaquin Section, whether it's in Division 1 or 2. As it currently stands, the Thunder are still in Division 2, making them a major threat to not only win a section title but also potentially go on a state championship run.
Their outstanding spring showing in the toughest league in the CIFSJS included a 25-point win over reigning Division 1 champion Oak Ridge and a narrow win over a Granite Bay team that played Folsom to within 10 points. Rocklin didn't get to play Folsom, which many consider the top favorite to win the Sierra Foothill League and Division 1 this season, but the Thunder will get their chance this year with a league title likely riding on it.
MOST REALISTIC SCENARIO
With talent returning all across the field, there's no question that Rocklin will be one of the best teams in the section if healthy. If the Thunder are moved up to Division 1, they will be an underdog to win a section title with the likes of Folsom, Oak Ridge, and Monterey Trail looming, but it's not a stretch to say they'd still have a serious chance. And assuming they remain in Division 2, calling them any less than a heavy favorite to go all the way would be nonsensical. Either way, this team should be preparing to play well past Week 10.
QUOTABLE
"This year's Rocklin team is full of great characters who are respectful and helping to others off the field. And on it, they are animals who play tough every single rep and who are very passionate about the game. Coach Pulino is a great coach, and has helped the team so much already. He coaches with passion and a determination to win. It's been great having coach Pulino with us… I think we have something special brewing with this team. A lot of great players who are determined to win, as well as the coaches. We are confident in ourselves and can't wait to show everybody what we can do collectively as a team."
–OG/DT Bobby Piland
—
MORE: PRESEASON ALL-STATE TEAM | TOP 50 COUNTDOWN