Southern Section 2021 high school football preview: Top 25 teams, players to watch, top new coaches, top games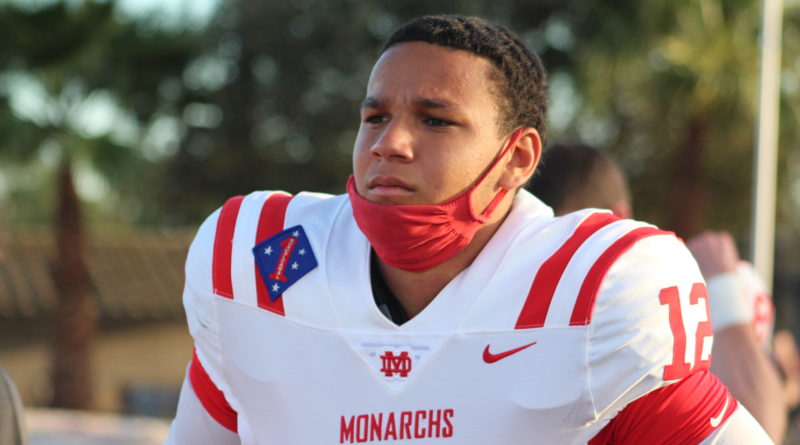 The fall 2021 CIF Southern Section high school football season kicks off on Thursday, and there are multiple storylines to follow. From a new playoff format to new coaches to top players, here's everything you need to know about Southern Section football heading into the season.
MORE: PRESEASON ALL-SECTION TEAM | TOP 50 TEAM PREVIEWS | TOP 25 CIFSS RANKINGS
NEW PLAYOFF FORMAT
In past years, teams in the Southern Section knew their playoff division before the season started. This year, teams won't find out what division they're in until the end of the season.
Here's a refresher on how the Southern Section playoff divisions in football will work from Section Commissioner Rob Wigod. The following is an excerpt from a December 2019 "Commissioners Message." The process detailed below was supposed to be used in 2020, but the football playoffs were canceled due to COVID-19. The automatic qualifier number mentioned below may change this year due to league realignments, but the process of placing teams in playoff divisions described will be the same. There will still be 14 playoff divisions.
REIGNING CHAMPIONS
Here are the 14 reigning CIF Southern Section football champions from 2019.
2019 Division 1 champion: St. John Bosco
2019 Division 2 champion: Sierra Canyon
2019 Division 3 champion: Corona del Mar
2019 Division 4 champion: San Juan Hills
2019 Division 5 champion: Aquinas
2019 Division 6 champion: Pacifica Oxnard
2019 Division 7 champion: Temecula Valley
2019 Division 8 champion: Sunny Hills
2019 Division 9 champion: Highland
2019 Division 10 champion: Crescenta Valley
2019 Division 11 champion: Marina
2019 Division 12 champion: El Monte
2019 Division 13 champion: Esperanza
2019 Division 14 champion: South Torrance
TOP 25 TEAMS
SBLive's preseason Southern Section Top 25 was released on Monday. St. John Bosco enters the year at No. 1 in every meaningful SBLive ranking (Section, State and National Power 25).
Other teams to watch: Corona Del Mar, Pacifica Oxnard, Simi Valley, Valencia, Saugus, Warren, Leuzinger, St. Pius X-St. Matthias, San Juan Hills, Orange, Santa Ana, La Habra, Bishop Diego, Rancho Cucamonga, Jurupa Hills, Glendora, Charter Oak, La Serna, Pasadena, Notre Dame Sherman Oaks, Lawndale and Sunny Hills
PLAYERS TO WATCH
We released our SBLive preseason All-Southern Section team on Wednesday. Mater Dei has the most players on the team with seven.
NEW COACHES TO WATCH
Rod Sherman is the new head coach at Orange Lutheran and he's assembled a strong staff of assistant coaches.
Lawrence Duncan replaces Pete Duffy at Rancho Verde.
Scott McKnight is the new head coach at JSerra after coaching special teams at the school.
Former Paraclete head coach Dean Herrington is now the coach at St. Francis.
John Perez, the old Paraclete JV coach, is the new varsity coach at Paraclete.
The new head coach at Rancho Cucamonga is Brian Hildebrand.
Tony Henney went from head coach at St. Bonaventure to head coach at Dana Hills.
Joe Goyeneche is the new head coach at St. Bonaventure.
Longtime Sierra Canyon assistant coach Mark Serve is the new head coach at Westlake.
Ex-NFL running back Steve Broussard replaced Manny Douglas as coach at St. Bernard. The Vikings won't field a team this fall, but plan to be back next fall.
Devah Thomas is now the head coach at St. Pius X- St. Matthias Academy.
In addition to those high profile head coaching changes, there have been some interesting assistant coaching moves as well this offseason.
Bishop Amat hired ex-Sierra Vista co-head coach and Premium Sports Recruiting Director Matt Villasenor to coach receivers. Villasenor instantly gave Amat some buzz because of his ties to college coaches, social media presence and track record as a high school coach that turns programs around. In the past four years, Villasenor has worked at LA Wilson and Sierra Vista producing winning seasons at both schools. Winning in the Mission League will obviously be a bigger challenge, but Bishop Amat head coach Steve Hagerty says through the first few weeks of having him on board, Villasenor has made a solid impact.
"Matt is a good receiver coach," Hagerty said. "He's doing a good job. The kids like him. He's definitely somebody that fits well with our staff. He's made a nice transition."
Michael Klyce is Notre Dame Sherman Oaks' new offensive coordinator. He led Locke, a LA City Section school, to a Division 2 City Section championship in 2018.
Los Alamitos brought in alum and former Dallas Cowboys cornerback Orlando Scandrick as an Associate Head Coach.
TOP REGULAR SEASON GAMES
FULL 2021 SOUTHERN SECTION FOOTBALL SCHEDULE
Aug. 20: Miami Central vs. St. John Bosco
Aug. 26: Mission Viejo vs. Servite
Aug. 27: Mater Dei vs. Duncanville (Texas)
Aug. 27: Alemany vs. St. John Bosco
Aug. 27: Cathedral Catholic vs. Corona Centennial
Aug. 27: Long Beach Poly vs. Serra Gardena
Sept. 3: Mission Viejo vs. Long Beach Poly
Sep. 4: Corona Centennial vs. Sierra Canyon
Sept. 17: Los Alamitos vs. Santa Margarita
Sept. 17: Mission Viejo vs. Alemany
Sept. 17: Servite vs. Sierra Canyon
Sept. 24: Damien vs. Bishop Amat
Oct. 1: Sierra Canyon vs. Mission Viejo
Oct. 1: Mater Dei vs. St. John Bosco
Oct. 1 Serra Gardena vs. Alemany
Oct. 8: Chaminade vs. Serra Gardena
Oct. 15: Sierra Canyon vs. Saguaro (Arizona)
Oct. 15: Centennial vs. Norco
Oct. 23: Servite vs. Mater Dei
Oct. 29: Servite vs. St. John Bosco
Oct. 29: San Clemente vs. Mission Viejo
Oct. 29: Alemany vs. Chaminade
Oct. 29: Warren vs. Downey