SBLive's preseason 2021 All-Southern Section high school football team: Los Alamitos' Malachi Nelson is QB1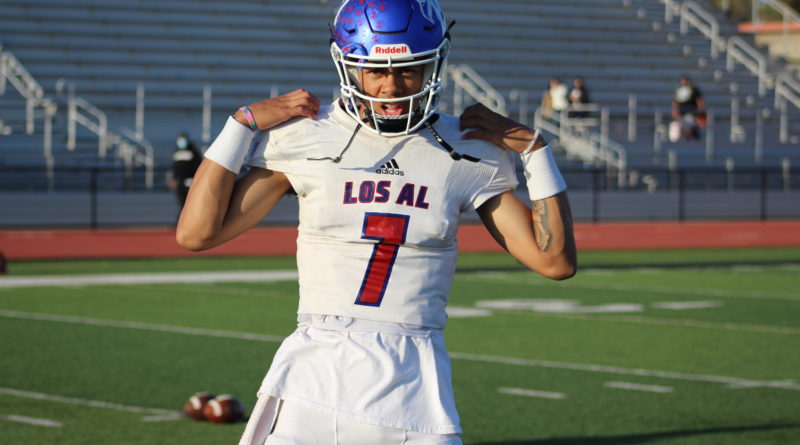 Many CIF Southern Section high school football teams kick off their fall 2021 seasons this week, which means it is time to take a closer look at the best players in the section.
We spoke with coaches and evaluated players in every part of the Section to compile our preseason All-Southern Section Team — 11 on offense, 11 on defense and four on special teams. SBLive's preseason All-Southern Section Team was compiled by reporter Connor Morrissette.
MORE: PRESEASON ALL-STATE TEAM | TOP 50 TEAM PREVIEWS | TOP 25 STATEWIDE RANKINGS
SBLIVE'S PRESEASON 2021 ALL-SOUTHERN SECTION FOOTBALL TEAM
ALL-SOUTHERN SECTION OFFENSE
QB: Malachi Nelson – Los Alamitos – Junior
Nelson had about as dominant a spring season as possible. He completed 73% of his passes for 1,513 yards and 23 TDs. Los Alamitos went 6-0 and Nelson was named the Gatorade state player of the year.
RB: Raleek Brown – Mater Dei – Senior
Brown is committed to Oklahoma. In the spring, he rushed 53 times for 367 yards and five TDs.
RB: Rayshon Luke – St. John Bosco – Senior
Luke is one of the most electrifying running backs in the country. In five games last spring, he had 21 carries for 332 yards (which was good for a whopping 15.8 yards per carry) and five TDs. Luke also made nine catches for 109 yards and a score.
WR: Tetairoa McMillan – Servite – Senior
McMillan hauled in 26 passes for 487 yards and four touchdowns in the spring. Mater Dei committed seven pass interference penalties covering him.
WR: CJ Williams – Mater Dei – Senior
Williams was a red zone weapon in the spring. In five games he made 16 catches, with five coming for touchdowns. He's committed to Notre Dame.
TE: Matayo Uiagalelei – St. John Bosco – Junior
Uiagalelei was dominant at both tight end and defensive end in the spring, but he gets the nod at TE thanks to catching touchdowns against Servite and Mater Dei.
OL: Earnest Greene – St. John Bosco – Senior
Greene is a rare blue chip West Coast offensive line prospect. The 6-foot-5, 330-pound senior has Alabama, Ohio State, Georgia and Oklahoma in his top 10.
OL: Kenji Swanson – Sierra Canyon – Senior
Swanson, a 6-foot-6, 310-pound senior, is committed to Stanford. The Trailblazers will have one of the top o-lines in the state this fall.
OL: Michael Wooten – Sierra Canyon – Senior
Wooten, who plays left tackle for Sierra Canyon, is committed to Oregon. The Trailblazers have one of the best offensive lines in the country.
OL: Sam Yoon – Loyola – Senior
No offensive lineman in the state has had a bigger offseason than Yoon. In the span of a few months, he's received scholarship offers from USC, UCLA, Cal and Colorado.
OL: BJ Tolo – Mater Dei – Junior
Tolo has been a starter on Mater Dei's offensive line since his freshman season. In the spring, he was named to the All-Trinity League second team.
—
ALL-SOUTHERN SECTION DEFENSE
DL: Ezekiel Larry – Sierra Canyon – Senior
Larry had seven sacks in six games in the spring. He's received five scholarship offers, per 247Sports.com.
DL: Hero Kanu – Santa Margarita – Senior
No one knew Kanu's name before the spring season started and now he's on the radar of nearly every college team in the country after making 28 tackles for an Eagles team that impressed.
DL: Dejon Roney – Etiwanda – Senior
As a sophomore in 2019, Roney recorded 89 tackles, six tackles for loss, and three sacks.
DL: Nate Burrell – St. John Bosco – Senior
Burrell is committed to Cal. As a sophomore, Burrell made one of the game clinching plays in the Braves' Southern Section championship win when he intercepted then-Mater Dei QB Bryce Young.
LB: David Bailey – Mater Dei – Senior
Bailey is one of the best linebacker prospects in the nation. When he plays, he's a game changer, but he's struggled to stay on the field at times due to injuries. In the spring, he played in only two games but made the most out of them recording 13 tackles, four sacks and a forced fumble.
LB: Niuafe "Junior" Tuihalamaka – Alemany – Senior
Tuihalamaka is a four-year starter for Alemany. He's committed to Notre Dame.
DB: Josh Hunter – Mater Dei – Senior
Hunter had two interceptions in the spring and was named the Trinity League Defensive Player of the Year. He's a key piece for the best defensive backfield in the state.
DB: Domani Jackson – Mater Dei – Senior
Jackson is committed to USC. His interception against St. John Bosco in the spring clinched a victory for the Monarchs. Jackson is also a great sprinter. He tied the state record in the 100 meters this spring with a time of 10.25 seconds.
DB: Kamari Ramsey – Sierra Canyon – Senior
Ramsey has been a three-year contributor for Sierra Canyon. He's committed to Stanford.
DB: Jaden Mickey – Corona Centennial – Senior
Mickey is committed to Notre Dame. He made one interception in the spring.
DB: Larry Turner-Gooden – Alemany – Senior
Turner-Gooden is committed to Arizona State. He's played at Calabasas, St. Bernard and now Alemany making varsity contributions since his freshman season.
—
ALL-SOUTHERN SECTION SPECIAL TEAMS
Punt/Kickoff returner: Makai Lemon – Los Alamitos – Junior
Lemon is a dominant receiver and defensive back and also a stud in the return game. In the spring, he returned a punt for a score. He has incredible speed.
K: Chase Meyer – Mater Dei – Senior
Meyer made four field goals in the spring. His long came from 42 yards yards out. He also was a perfect 27/27 on PATS and had 23 touchbacks on kickoffs.
P: Chase Barry – JSerra – Senior
Barry is one of the top punters in the nation.
LS: Kurt Chesney – Aliso Niguel – Senior
Chesney is committed to Air Force. He's one of the top long snappers in the country. Chesney also plays linebacker for Aliso Niguel and he will be playing in the All-American Bowl on NBC.