Led by 4-star QB Jayden Denegal, Apple Valley football poised for breakthrough season in fall 2021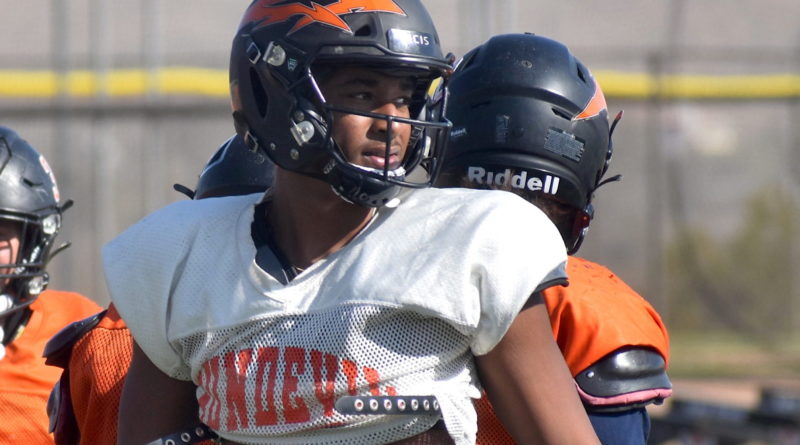 APPLE VALLEY – If their spring 2021 season was any indication, Apple Valley football is poised for big things in the fall.
The program has been on a steep rise since 2015, and put together arguably their best season in school history with a 5-0 spring. Yes, it was only five games, but the Sun Devils were dominant, outscoring their Mojave River League opponents 179-21 on their way to just the third league title in school history.
Apple Valley punctuated its spring season by outdueling reigning CIFSS Division 5 semifinalist Culver City 49-42 in a thrilling shootout.
Four-star junior QB Jayden Denegal reached another level of dominance following a great sophomore season. In just five games as a junior, he threw for 958 yards and 12 touchdowns on 64.8% completion, and also ran for 130 yards and nine touchdowns. He was named the MRL Offensive Player of the Year.
And most of Apple Valley's key players will be back in the fall. The Sun Devils have arguably their deepest team ever, comprised largely of young talent. As a High Desert school, Apple Valley still doesn't have the sheer number of kids to compare to the depth of other Inland Empire powerhouses. But the Sun Devils have a longer list of impact players across the field than they've ever had.
Apple Valley has produced over 30 college players since 2015, but the current squad has a program-record 10 players with multiple college offers. And that doesn't include numerous other D-I and D-II prospects likely to join the club, such as MLB Gavin Hambrick, who recently got his first D-I offer from Fordham.
'NEXT MAN UP' – NEW STARS EMERGE
With a fairly young roster, Apple Valley pulled off a 5-0 spring season missing four senior starters due to opt-outs and injuries. That included Sacramento State signee and 1,100-yard receiver signee Tyron Smith, a senior running back signed to a D-III school, and an all-league cornerback. Still, the Sun Devils didn't miss a beat.
"The coaches here have always preached 'next man up,'" said offensive coordinator Robert Meras. "If you preach it, stand by it, and stick to your guns without flinching, the kids will believe in it."
In alignment with that mentality, numerous sophomores and juniors broke out as foundational pieces for the program.
Middle linebacker Dustin Reynolds emerged as one of the best defensive players in the High Desert as just a sophomore, and went on to win MRL Defensive Player of the Year, finishing with 30 tackles, six tackles for loss, and four sacks. He will lead a formidable front seven returning in the fall, along with four senior first team all-league returners: Hambrick, DL James "JD" Reed, DL Keenan Eck, and OLB/S Nate Downing.
In the secondary, Apple Valley has a new star CB emerging in 3-star sophomore Isaiah Ojeda, who has offers from Florida International and Florida Atlantic.
In total, 15 Sun Devils made first team all-league this season, and that's in addition to Denegal and Reynolds. Of those 17, 12 will return next season. On offense, that group includes breakout Power-5 recruit OL Raymond Pulido (C/O 2023) and four soon-to-be seniors: OL Xavier Arias, WR/DB Logan Moon, and breakout RBs Kaleb Most and Damian Guillen.
SMOOTH TRANSITION FOR NEW HEAD COACH KYLE GODFREY
The "next man up" theme doesn't just stop on the field – it's reflective of Apple Valley's coaching staff as well.
Head coach Matt Rohrbaugh, one of the architects of Apple Valley's rise, had to step away from the team late in the fall due to personal reasons. Meras says the Sun Devils are optimistic they will get him back soon in a major or minor role, but called the transition for new head coach Kyle Godfrey "the smoothest transition I've ever been a part of in any kind of organization."
"Coach Godfrey has been with [Apple Valley] for over 12 years now," said Meras. "He's been coaching receivers and safeties on varsity for a couple years. A lot of the same rules and traditions that were implemented under Coach Pulice and Coach Rohrbaugh still pertain now. We're not babying players, we're coaching them hard, aggressively, and if you don't like it you can go somewhere else. That's the motto we kind of live by. So the transition has been amazing."
"Knowing the staff we had was all staying helped a tremendous amount," said Godfrey. "And being able to rely on the senior class to lead from within."
"Apple Valley has always brought a tough, physical team. We have a goal of proving ourselves outside of this area. We're tired of just being a little Desert school. I want to take the next step of consistently being in the talk of a CIF championship."
CULTURE CONTINUES TO DEEPEN
This past season brought one of Apple Valley's most physical teams yet, and it was perhaps their best defensively. That physical identity led to an increased sense of bonding amongst the players.
"The key this year is having the best chemistry this team has had in a while," said Pulido. "The guys are physical, violent, upbeat. A whole bunch of studs, I love it."
"We've known since eighth grade that this was going to be the year for Apple Valley," said Hambrick.
"Our whole team has been growing up together and been playing together since at least eighth grade. Our league has been rough the last couple of years, so we've been dominating every single team to show them that we're the best team in the High Desert. It's a great bond that we have."
"We work so hard to be able to go out and dominate these teams, and it pays off when our defense can just go out and hit," said Reed.
"Winning, setting those statements in wins against teams that have never been treated like that, especially by Apple Valley, it's been great to show them," said Cato, who will play at El Camino College next season.
"Whoever talks to me on this team, it's like as a family."