SBLive's spring 2021 all-state California high school football team: Los Alamitos sophomore Malachi Nelson is QB1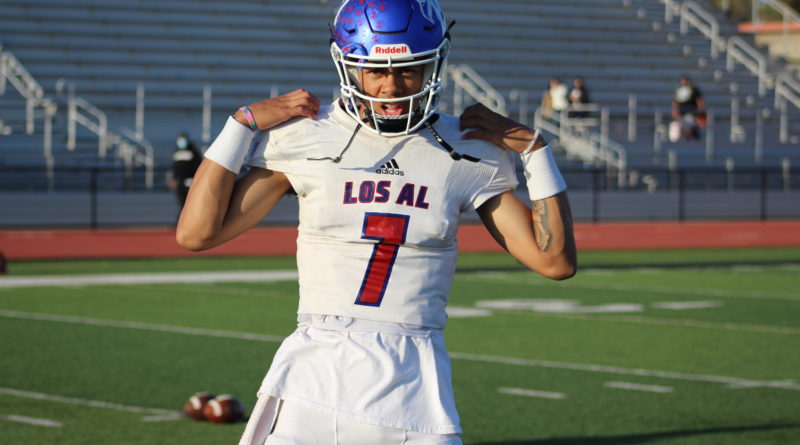 It wasn't easy, but the shortened 2021 California high school spring football season was completed – even without CIF playoffs.
And now it is time for SBLive to release its all-state football team, which spans all corners of the state. We looked at performances in every Section of the state to compile a roster of the 26 best players this season — 11 on offense, 11 on defense and four on special teams.
The all-state team was compiled by reporters Connor Morrissette, Lance Smith and Bodie DeSilva.
SBLIVE'S 2021 ALL-STATE FOOTBALL TEAM
OFFENSE
QB: Malachi Nelson – Los Alamitos – Sophomore
Nelson had about as dominant a spring as possible. He completed 73% of his passes for 1,513 yards and 23 TDs. Los Alamitos went 6-0.
RB: Hassan Mahasin – Serra San Mateo – Junior
Mahasin finished the season with 10 touchdowns and 745 total yards in five games. He can lineup in the backfield or at receiver.
RB: James Bohls – San Clemente – Senior
Bohls had 77 carries for 655 yards and 11 TDs, which earned him South Coast League MVP honors. San Clemente was a perfect 5-0 this spring.
WR: Emari Pait – Culver City – Senior
Pait led all receivers in California with 1,014 receiving yards. He also made two interceptions on defense. Culver City went 4-1 this spring.
WR: Tetairoa McMillan – Servite – Junior
McMillan hauled in 26 passes for 487 yards and four touchdowns this spring. Mater Dei committed seven pass interference penalties covering him.
TE: Matayo Uiagalelei – St. John Bosco – Sophomore
Uiagalelei was dominant at both tight end and defensive end, but he gets the nod at TE thanks to catching touchdowns against Servite and Mater Dei.
OL: Andrew Madrigal – Norco – Senior
Madrigal, a Nevada signee, was the best player on a Norco team that ended Corona Centennial's Big VIII League win streak.
OL: Earnest Greene – St. John Bosco – Junior
Greene is a rare blue chip West Coast offensive line prospect.
OL: Edward Riley – St. John Bosco – Senior
Riley was named the Trinity League Lineman of the Year.
OL: Mason Murphy – JSerra – Senior
Murphy is signed to USC. He was an All-Trinity League first team pick.
OL: George Miki-Han – Mater Dei – Senior
Miki-Han paved the way for one of the state's best rushing attacks at Mater Dei. He's a Colorado State signee.
—
DEFENSE
DL: Ezekiel Larry – Sierra Canyon – Junior
Larry had seven sacks in six games.
DL: Hero Kanu – Santa Margarita – Junior
No one knew Kanu's name before the season started and now he's on the radar of nearly every college team in the country after making 28 tackles this spring.
DL: Jaxson Moi – Cathedral Catholic – Junior
Moi was the best player on San Diego's best time.
DL: Kanious Vaughn – San Clemente – Senior
Vaughn made 28 tackles, with 11 coming for loss, and 8.5 sacks.
LB: Raesjon Davis – Mater Dei – Senior
Davis recorded a pick-six against JSerra and made one of the defensive highlights of the game against St. John Bosco when he bulldozed a Braves' running back for a loss of five yards. He's a USC signee. Mater Dei went 5-0 this spring and ended the season as the No. 1 team in the state.
LB: Lando Brown – Gardena Serra – Senior
Brown made 67 tackles with 20 coming for loss this spring.
LB: Cole Bullock – Sierra Canyon – Senior
Bullock anchored a Sierra Canyon defense that allowed just two points in its final five games. He finished the season with 48 tackles.
DB: DJ Harvey – Sierra Canyon – Senior
Harvey has done a little bit of everything for Sierra Canyon in the past three seasons. This spring, he intercepted a pass and recovered a fumble in addition to making many plays on offense at receiver and on special teams.
DB: Carson Schwesinger – Oaks Christian – Senior
Schwesinger had six interceptions and 36 tackles this spring.
DB: Josh Hunter – Mater Dei – Junior
Hunter had two interceptions this spring. He's a key piece for the best defensive backfield in the state.
DB: Domani Jackson – Mater Dei – Junior
Jackson is committed to USC. His interception against St. John Bosco clinched a victory for the Monarchs.
—
SPECIAL TEAMS
K: Chase Meyer – Mater Dei – Junior
Meyer made four field goals. His long came from 42 yards yards out. He also was a perfect 27/27 on PATS and had 23 touchbacks on kickoffs.
P: Brenden Segovia – Oaks Christian – Senior
Segovia is signed to Maryland.
LS: JT Greep – Glendora – Senior
Rubio Long Snapping ranks Greep as the No. 1 long-snapper in the state.
K/P returner: Vance Jefferson – Poway – Senior
Jefferson was the most electrifying player in San Diego this spring. He scored a whopping 13 touchdowns in five games leading Poway to an undefeated season.