Etiwanda's Darvelle Wyatt hits buzzer-beating three-pointer to beat Damien: 3 takeaways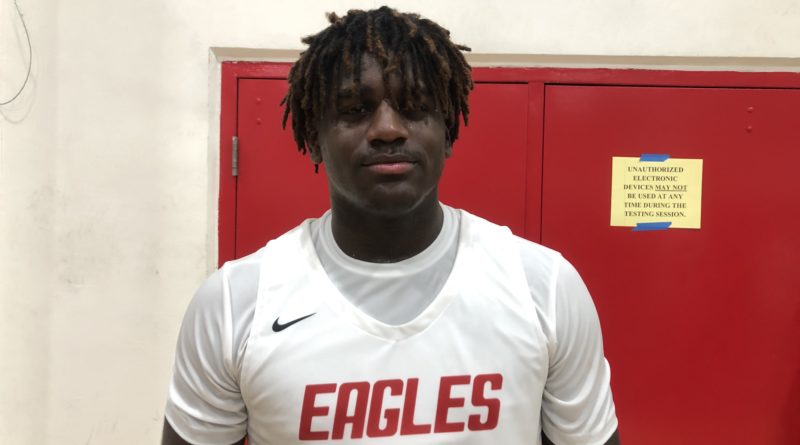 RANCHO CUCAMONGA — In an instant classic, Etiwanda (6-0) took down Damien (20-2) 56-53 thanks to a buzzer-beating three-pointer from senior Darvelle Wyatt. Below are three takeaways.
FINAL MOMENTS INCREDIBLE
Minutes before Wyatt's game-winning shot, Damien guard Malik Thomas hit a contested three-point shot from the right wing that tied the game at 53 with 28 seconds to play. Thomas willed the Spartans back from multiple fourth quarter deficits and finished with 34 points. He did everything he could to push the game to overtime.
Following Thomas' shot, Etiwanda crossed the ball over half court and took a timeout. That's when Eagles head coach Dave Kleckner drew up a play to put the ball in senior guard Jahmai Mashack's hands.
"We wanted Jahmai to try to get to the basket if he could," Kleckner said.
After dribbling out 20 seconds, Mashack began to make his move with 10 seconds to play, but was immediately double teamed. He went left into multiple Damien defenders and then passed to Wyatt who was all alone at the top of the key. He drilled the three as time expired.
"I'm going to remember this for the rest of my life," Wyatt said.
THOMAS HAS SENSATIONAL GAME
Thomas has scored over 2,000 points in his career at Damien. He's the school's all-time leading scorer. After he plays his final game in a few weeks, he'll walk away a Spartan legend.
For as great of a career as he's had, the USC-bound senior has never beaten rival Etiwanda in his four years at Damien. Friday's game was potentially his last chance at a win over the Eagles and he played with a desperate intensity. Thomas really wanted this one. You could see it in the way he attacked the basket and competed on the offensive and defensive glass, especially in the fourth quarter.
When Thomas tied the game at 53 with 28 seconds left, he'd done everything in his power to push the game to overtime. Etiwanda just ended up making one more shot.
KLECKNER UNHAPPY WITH ETIWANDA SLOPPY PLAY DESPITE WIN
Kleckner has coached at Etiwanda for 25 years. He demands excellence and even though his team pulled out a win against the No. 4 team in the state on a last second shot, he wasn't happy with the Eagles' performance.
"We had way too many turnovers," he said.
When asked what it will take to win a Southern Section Open Division championship, Kleckner responded:
"A lot better play than what we just demonstrated right there. That's not going to cut it. We had some poor decision making and undisciplined basketball. We had mental breakdowns and there were times I thought we weren't tough enough."