Morrissette on football: Final thoughts on Mater Dei-St. John Bosco and the Southern Section's spring 2021 season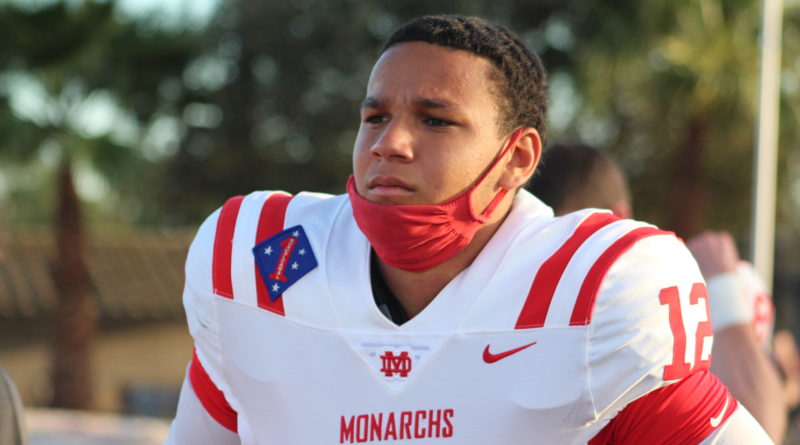 The CIF Southern Section spring football season came to a close last weekend, culminating in Mater Dei's 34-17 win over St. John Bosco, which moved the Monarchs to No. 1 in our statewide California football rankings.
Here are my thoughts on that game as well as a host of other topics including the top unsigned seniors in the Section, the best freshmen, a way-too-early prediction on next year's Division 1 playoff field and much more.
Mater Dei QB Elijah Brown is here to stay
I'm going to come out with a player of the year candidate list for the spring season later this month and the first name on it will be Elijah Brown, Mater Dei's freshman quarterback.
Many assumed that when 2022 QB Emmett Brown transferred to Mater Dei from San Marcos in the offseason he'd win the starting job, but Elijah Brown beat him out and led the Monarchs to a 5-0 season throwing 15 touchdowns to just one interception. Emmett Brown is now at Rancho Verde and unless something crazy happens, Elijah Brown will quarterback the Monarchs for the next three years.
I've written a lot about Elijah Brown this spring because I think his play has been the biggest storyline of the Southern Section football season. If Mater Dei was going to finish number one, they needed good quarterback play. They ended up getting great QB play from a freshman who I hadn't heard of until I published my Monarchs team preview in February.
"All of the seniors helped me a lot with the plays and giving me pointers on what Bryce did last year," Brown said after leading Mater Dei to a 52-3 win over JSerra in his debut. "That helped me a lot."
Will it be Clarkson or Houser at Bosco?
On the other end, I'm looking forward to seeing what St. John Bosco does at the quarterback spot in the fall. Both Pierce Clarkson and Katin Houser will be back for the Braves (barring any unforeseen transfers) after switching off every series this spring.
Overall, Clarkson and Houser each played well, but is a quarterback platoon the best option for a St. John Bosco team with national championship aspirations? Playing both QBs produced a 5-0 start, but I left the Braves 34-17 defeat against Mater Dei wondering if going with one quarterback would have been better for St. John Bosco. Maybe allowing Clarkson or Houser to get into more of a rhythm would have led to a closer game.
Clarkson played better on Saturday, but overall on the year I had a hard time separating the two. Neither stuck out as clearly better than the other, which I think Braves head coach Jason Negro ultimately would have preferred.
"Ideally we want to have one guy that takes the responsibility to be the starter," Negro told me in February before the season started. "That gives us a little bit of a better flow."
I haven't heard anything recently from Negro to suggest he'll move away from the platoon system this fall, but his February remarks show that ideally he wants to have a starter and a backup. St. John Bosco will beat 99% of high school football teams rotating both quarterbacks, but does switching off each series give the Braves the best chance to beat Mater Dei? The St. John Bosco staff will spend a lot of time this offseason trying to figure that out.
Mater Dei's receivers were difference-makers
Outside of Elijah Brown's performance, I thought Mater Dei's receivers were the difference in Saturday's game. The Monarchs have two legitimate big play wide outs in CJ Williams and Kyron Ware-Hudson. Williams caught two touchdowns from Brown and Ware-Hudson caught one. Those two changed the game.
St. John Bosco has a ton of talent at the skill positions, but I thought the Braves insistence on throwing to running back Rayshon Luke was telling. Outside of sophomore tight end Matayo Uiagalelei, it looked like the St. John Bosco coaches thought Luke represented the Braves best chance at a home run play in the pass game. Luke is definitely capable of that, but he's a tailback and not the type of player who will outmuscle defensive backs and catch passes 20 or 30 yards down the field, like Williams or Ware-Hudson did for the Monarchs. That's what St. John Bosco needed.
Uiagalelei is certainly capable making those types of plays and he proved that when he hauled in a 26-yard TD utilizing his size advantage over Mater Dei defensive back Quincy Craig in the first quarter. But that was one of the only big plays St. John Bosco had in the passing game. Jaceon Doss, Jode McDuffie, Chedon James and Logan Booher are all very talented receivers, but they aren't on the level of a Williams or Ware-Hudson. If 2021 receiver Beaux Collins (Clemson) hadn't opted out of the spring season, he really could have helped St. John Bosco against Mater Dei. His size, strength and big play capability were exactly what the Braves were missing.
Outside of the quarterback and wide receiver spots, I thought Mater Dei and St. John Bosco were pretty evenly matched. I'd give the Mater Dei secondary a slight edge over the St. John Bosco secondary, but I didn't think the Braves defensive backs were outplayed by a wide margin. They had some questionable pass interference calls go against them, but such is life. Braves junior safety Jaxon Harley caught my attention. For Mater Dei, Craig made the play of the game when he forced a Houser fumble near the goal line in the fourth quarter that the Monarchs recovered.
I thought both offensive lines played well and each team had moments where their linebackers popped. The major difference I saw was that Mater Dei had big play threats in the passing game that the St. John Bosco offense couldn't match.
The next great California QB class? It's the class of 2023
In 2020, California produced three quarterbacks in the top 50 of 247Sports.com's national recruiting rankings: Mater Dei's Bryce Young (Alabama), St. John Bosco's DJ Uiagalelei (Clemson) and Rancho Cucamonga's CJ Stroud (Ohio State). In 2021 and 2022, no California QBs were ranked in the top 50.
Right now, there are two California quarterbacks in the top 50 of 247Sports.com's 2023 rankings: Los Alamitos' Malachi Nelson and Pittsburg's Jaden Rashada. Warren quarterback Nico Iamaleava is ranked at No. 77.
When the dust settles, I predict all three will end up in the top 50 and that the 2023 California quarterback class will rival the 2020 class. Watching Nelson and Iamaleava this spring, it's clear that they have the chops and the ability to play at any college in America. I expect them both to battle with New Orleans based QB Arch Manning for the final No. 1 quarterback ranking in the 2023 class.
Nelson completed 73% of his passes for 1,513 yards in six games this spring. He threw 23 touchdowns and four interceptions. Iamaleava completed 62% of his passes for 808 yards in five games. He threw 14 touchdowns and only one interception. Los Alamitos and Warren both went undefeated.
I haven't seen Rashada in person yet, but based on discussions with evaluators he's clearly a blue-chipper as well. He split time at QB for 5-0 Pittsburg this spring completing 59% of his throws for 412 yards and eight touchdowns. Rashada did throw five interceptions, which is something he'll look to improve on.
I'm not sure California will ever have two high schools quarterbacks in the same class as talented as Young and Uiagalelei, but I think Nelson and Iamaleava (who happens to be Uiagalelei's cousin), can come close. Those two are that good and are the main reasons why California's 2023 QB class is so stacked. Both have two more seasons of high school football left. Make sure you check them out.
The year of the freshmen
This spring was the year of the freshmen in California high school football as a lot more first year players took varsity snaps than ever before. I've been calling for high school football coaches to play more freshmen for years, so I've been happy to see this development.
Youth sports are changing. 14 and 15 year old freshmen are now getting to high school and have the bodies to play varsity football. This isn't across the board, but the days of making first year players exclusively compete on freshman or JV teams should be over. From big schools to small schools and from publics to privates, we saw a wide selection of freshmen suit up to play varsity this spring.
The LA Times already published a list of freshmen who played well from Southern California this spring, so I won't do the same, but there are a few players I'd like to highlight:
Elijah Brown (Mater Dei QB): What else can I say?
Kyngstonn Viliamu-Asa (St. John Bosco LB): Ohio State has only offered one player in the class of 2024, Viliamu-Asa. He's a future pro.
Ruben Gamboa (Chaminade DB): Gamboa was one of the state leaders in tackles this spring with 56 and a big reason why Chaminade went from 0-2 to earning a share of the Mission League title.
Marquis Gallegos (Chaminade DB): Gallegos had three interceptions this season.
Kobe Boykin (Orange RB): Boykin was a touchdown machine this spring.
Darius Curry (St. Bernard QB): After Brown, Curry was the top freshman QB I saw this spring.
Ryan Pellum (Millikan WR): Pellum was Millikan's best player.
Top unsigned seniors
We all know that because of the pandemic high school football seniors got a raw deal in terms of their college recruitment. Here are some of the best seniors that are still available who had huge springs.
Cole Bullock (Sierra Canyon LB): Made 48 tackles for a defense that allowed two points in its final five games.
Josh Long (Loyola LB): 6-foot-4, 220 pound 'backer who had multiple scholarship offers before the pandemic.
Jordan Walker (St. John Bosco S): Starter on a loaded St. John Bosco secondary.
Ed Riley (St. John Bosco OL): One of the most consistent linemen in Southern California.
Josiah Zamora (Mater Dei WR): Undersized, but the stats speak for themselves: 24 catches for 255 yards and four TDs in five games.
Shoes Brinkley (Mater Dei DB): Can help a Division 1 program as an underclassman.
Daylen Pedroza (Orange QB/LB): 230 pound jack-of-all-trades for Orange. Could play running back, fullback or linebacker at the next level.
Jhamell Blenman (St. Bernard DB): Covered 2022 3-star recruit Arlis Boardingham very well when St. Bernard met Birmingham.
Brenndan Warady (Mission Viejo LB/DB): Described by Mission Viejo head coach Chad Johnson as a "do everything guy."
"If we had had a season, he'd have been a slam dunk prospect," Johnson said.
Lando Brown (Gardena Serra LB): Made over 150 tackles the last two seasons.
Deville Fata (Servite ATH): Fata is lightning quick: "He's a kid where if he gets some senior film, people will get excited about him and he could get an opportunity at the next level," Servite head coach Troy Thomas said.
Dartanyon Moussiaux (Capistrano Valley QB): Threw for 350 yards a game this spring against a tough schedule.
Colt Fulton (Santa Margarita QB): Had a 107.4 rating in the Trinity League thanks to tossing 16 touchdowns to only four interceptions.
Colton Fitzgerald (Saugus QB): Led Saugus to a Foothill League title without throwing an interception. He threw for 1,185 yards and 13 TDs.
Hudson Jones (San Juan Hills QB): Completed 65% of his throws for 1,113 yards and 13 touchdowns. In 2019, Jones led San Juan Hills to a Division 4 Southern Section championship.
Sefa Leatimua (Pacifica Oxnard LB): Made 67 tackles for a team that went 5-0.
Best player no one is talking about
Mikey Matthews (Mission Viejo sophomore WR)
I'm not sure why there isn't more buzz around 2023 Mission Viejo wide receiver Mikey Matthews. He was the Diablo's top pass catcher by a mile this spring ending the season with 34 receptions for 470 yards and a whopping eight touchdowns. He received an offer from Arizona State in January of 2019, but that's his only reported offer.
I think Matthews is a Pac-12 slot receiver. His 5-foot-8 height may be scaring some teams from offering, but he's the real deal.
Fall Division 1 playoff team predictions
A lot will change between now and the fall in terms of transfers, but here's my way too early picks for the eight teams that will make up the Division 1 Southern Section playoff field.
1. Mater Dei
2. St. John Bosco
3. Servite
4. Sierra Canyon
5. Corona Centennial
6. Los Alamitos
7. Long Beach Poly
8. Alemany
On the cusp: Mission Viejo, San Clemente, Gardena Serra
Five under the radar names to know this fall
Xavier Rice (2023 Loyola QB): Loyola's next quarterback. Cubs head coach Drew Casani is very excited about him.
Anthony Wolter (2024 Alemany QB): Wolter played in Alemany's final game of the season this spring and I expect him to win the Warriors starting quarterback job in the fall.
Gage Burnett (2024 Servite TE/LB): Younger brother of Servite TE and USC commit Keyan Burnett. Look for Gage to have a breakout fall.
Emmett Mosley (2024 Servite WR/DB): Mosley showed flashes of his potential this spring. He'll be great as a sophomore.
Khalil Peart (2023 Sierra Canyon WR): Trailblazers head coach Jon Ellinghouse has high expectations for Peart.
Sportsmanship still matters
I wanted to end with a note on sportsmanship and I'll be brief. I never want to be the "get off my lawn" guy, so I hope this doesn't come off that way.
I saw a lot of bad sportsmanship this spring, a lot of getting in the opponent's face after a big play or a victory, which I know is common, but this spring it seemed more over the top than in years past. In a lot of instances, the first reaction following a big play or team win was to talk trash to the opponent rather than celebrate with teammates. It wasn't good enough to be better than the opponent, the opponent needed to be embarrassed.
Maybe that's just how things are now. But repeatedly I left Friday night football games thinking, "is that really the standard?"
I'm interested in hearing what others have to say on this. Let me know if you're seeing the same thing, or if I'm just old.