Even with 9 Power-5 offers and counting, 4-star Apple Valley QB Jayden Denegal is still expanding his game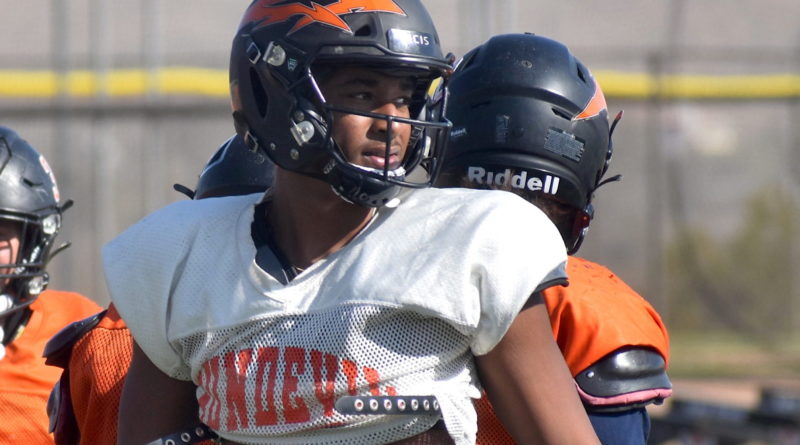 APPLE VALLEY – "I have to make a quick call first," says Jayden Denegal before he can talk at the end of a recent Apple Valley football practice.
Denegal makes sure to be punctual for his 5 p.m. call with Louisville, one of roughly a dozen high-profile Division I college football programs in regular communication with him – not including the 10 schools that have already offered him, nine of which are Power-5 schools.
Denegal, a 4-star Class of 2022 recruit, received most of his offers in a flurry starting late in the 2019 season, his sophomore campaign. Auburn was the first to come knocking, followed immediately by Georgia and Utah. With the NCAA dead period expected to end on June 1, Denegal will finally be able to go visit the schools pursuing him, and they'll finally be able to come see and talk with him in person. It likely won't be long before his offer sheet expands significantly in size, as many of the schools talking to him that haven't yet offered him, such as Louisville, have had limited access to all recruits because of the COVID-19 pandemic.
"It took off in a short couple months," said Denegal of his recruiting. "Then when COVID hit, it slowed down a little bit, and it started picking back up again when the season started."
"I keep in contact with pretty much all the coaches that have offered me, and even more that haven't. If I were to say who I keep in contact with the most, and who contacts me the most, Jay Johnson at Michigan State (offensive coordinator and QBs coach) and UCLA."
As soon as the dead period lifts, Denegal expects to spend most of the summer taking visits when he's not practicing, and wants to make his commitment before early signing day of his senior season.
"I don't have a list yet, no official set date, but definitely in the next six months I want to make a decision," said Denegal.
While Denegal's recruitment continues to expand, so does his game. At upwards of 6-foot-5 in bare feet and nearly 220 pounds, Denegal has prototypical size for a pro-style QB, and may very well still be growing. One of his long-standing goals has been to improve as a rushing threat, something that's common to hear from pass-oriented, pro-style QBs – but not all of them have the physical tools to do it.
Denegal, on the other hand, has a naturally athletic frame, and hasn't lost any agility or coordination the way a lot of QBs coming off major growth spurts do. He's about the same weight as last season, but he's more toned. Denegal isn't looking to change his status as a pocket-oriented gunslinger, but simply wants to be better at running the ball to balance out and complement his passing game. In addition to a lot of film study that helps his decision-making regarding scrambles and keepers, he spends a major chunk of time outside of team activities with a private track coach.
So far this season he's walked the talk, rushing for five touchdowns in four games with zero fumbles. That's already a far cry from his sophomore season, in which he had 23 carries for 14 yards and one touchdown. There's only one game left in the spring 2021 season, but expect Denegal to take the next step as a legitimate rushing threat in the fall with a whole season's worth of numbers to show for it.
Of course, that's not the only area in which he seeks to improve.
"I'm working a lot on getting the ball out faster," said Denegal. "Sometimes I tend to hold on to the ball too long, so getting a pass off faster. Also, the plan is to put on more muscle this summer."
It's nearly impossible to compare players from different leagues or regions in a season where league play is all most teams have had, but Denegal is having an all-state caliber campaign. Next season – just a few months from now – Denegal and Apple Valley have a golden opportunity to continue turning heads and raising their profile among the upper tier of Inland Empire/Southern California football programs.
In Denegal's senior season, the Sun Devils will return the vast majority of their core, and they have a preseason slate that includes the likes of Rancho Cucamonga and Murrieta Valley. Additionally, Denegal and Apple Valley could benefit from a new CIF Southern Section playoff system that will likely land them in a higher division than usual. That all culminates in the potential for prominent preseason wins and a playoff run against highly-touted players and programs.
While Denegal is already in an elite tier of prospects – he's the 12th-ranked pro-style QB in the Class of 2022 – he's looking for an opportunity to shine against higher-level opponents and defenses loaded with college prospects. And at the minimum, he's tired of coming out early in games that aren't close. Next season should bring that chance for Denegal to face more elite competition and help Apple Valley continue its rise as a program.