Top 10 Southern California high school football games to watch in Week 5 (April 8-10)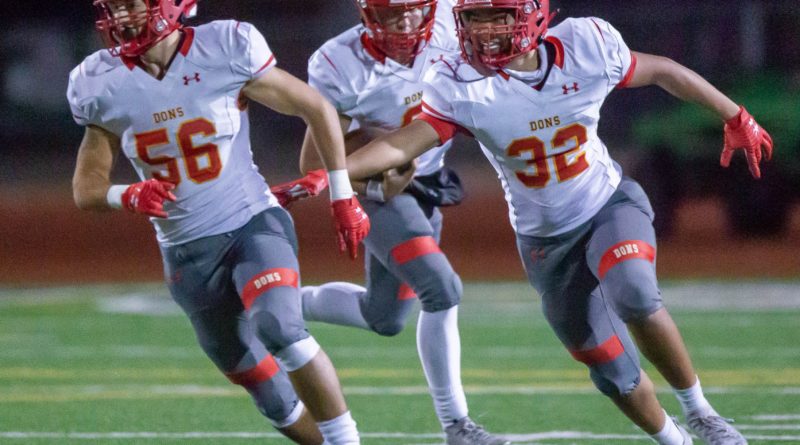 Here are the Top 10 Southern California high school football games to watch in Week 5 of the 2021 spring season (April 8-10).
SBLive California is shining a spotlight on the top football teams and players in the state throughout the 2021 spring high school football season. You can find all of our high school football coverage here. And you can download the new SBLive Sports iPhone app here, and you can download the new SBLive Sports Android app here.
MORE: CALIFORNIA HS FOOTBALL SCORES & SCHEDULES
—
TOP 10 SOCAL FOOTBALL GAMES TO WATCH IN WEEK 5
(All games are Friday at 7 p.m. unless noted otherwise.)
10. South (Torrance) @ Lawndale
A longtime Ocean League heavyweight, Lawndale now has a chance to effectively lock up a title in the Pioneer League. A league crown would likely mean more to a Cardinals squad than usual, given both the lack of postseason and last season's 32-27 loss against Culver City for their league's top spot. Meanwhile, after pulling off a minor upset and a major win against rival North last week, South finds itself in the de facto Pioneer League championship on Friday. But the Spartans will need to find a substantially bigger upset within them in order to potentially pull off the run this week.
9. Crespi @ St. Francis – Saturday at 7 p.m.
After pulling out a one-score victory against St. Paul last week, the Celts can guarantee themselves at least second place in the Angelus League on Saturday. St. Francis, on the other hand, looks to bounce back after taking a 41-14 loss against league newcomer and favorite Loyola, who will face Crespi next week.
8. Corona del Mar @ Edison
As is the case with most leagues/teams featured in this week's list, a silver medal in the Sunset League would be a major accomplishment this season, and one of these teams will lock it up. CdM survived a 10-7 scare in a defensive duel against rival Newport last week, and this could be the game of the week if the Sea Kings' offense returns to the level it was at in their first three games.
7. Santa Margarita @ Mater Dei
After a solid showing in a loss against St. John Bosco, a statement win over JSerra, a late cancellation from Orange Lutheran because of COVID-19, and now a week of rest, Santa Margarita is going to come into this one fired up. The Eagles have proven that they can play with anyone and everyone, and are upset-minded with the opportunity to seriously push a perennial national championship contender that usually blows them out.
Meanwhile, Mater Dei is coming off an ugly but valiant win against formidable Servite, and the Monarchs' three-peat bid in the Trinity League is alive and well. They know that the best SM team in years is going to give them its best shot, and while Mater Dei is still the very heavy favorite, it could be in danger if it's not ready for an intense battle.
6. Serra (Gardena) @ Bishop Amat
There are two teams still unbeaten in the Mission League, and both of them might face their best test yet this week.
Serra is 3-0 in league play with the two incumbent top dogs, Bishop Amat and Alemany, still to play. After back-to-back 5-0 finishes in the Mission League, Amat has dropped two straight games against Alemany and Chaminade, but it's still a strong team that can pick up an impressive win this week. While the two teams have very different stakes on the line in this one, expect a playoff atmosphere and both teams' best efforts. Also, with 5-star Texas commit Maalik Murphy under center for the Cavaliers and Tobin O'Dell at QB for the Lancers, this game has the makings of an exciting quarterback battle.
5. Chaminade @ Alemany – Saturday at 7 p.m.
With Jaylen Henderson back and in the full swing of things, the Eagles are a Mission League contender again. They probably won't be able to compete for first place having already lost to Serra, but it's not impossible – if Serra loses out and Chaminade wins out, the gold medal is theirs alone. Moreover, Chaminade can essentially lock up a baseline of a tie for second place with a win this week, and there are multiple scenarios that could land the Eagles a tie for first place if they can knock off Alemany.
That said, Alemany has even more momentum sitting at 3-0, with the ability to control its own fate in the title race from here on out. A win this week secures a worst-case scenario of undisputed second place in the league. On paper, both of these teams will be "rooting" for Bishop Amat to knock off the Cavaliers on Friday for their own benefits, and by Saturday, they'll each know exactly what a win will secure them.
4. Palos Verdes @ Culver City – Friday @ 7:30 p.m.
When these foes met last season, Culver City pulled out a 55-52 win in a double-overtime classic. And it gets better from there – now that Culver City has moved to the Bay League and both of these teams are 3-0 in league play, there's a league championship on the line this time.
3. Helix @ Granite Hills
Helix has rebounded from an 0-2 start to defeat Steele Canyon and Grossmont in league play by 14 points each. The bad news for the Highlanders is that Granite Hills has also beaten both of those teams in league play, so this week counts for all the marbles in the Grossmont – Hills League. Helix beat Granite Hills 49-27 last season and is the slight favorite again, but something closer is likely in store.
2. Vista Murrieta @ Murrieta Valley
The Southwestern League is always a dogfight, but Vista Murrieta has a chance to essentially lock up an undivided league title this week against the rival Nighthawks, who are also unbeaten in league play. If Murrieta Valley pulls off the win, it still has to win next week against Chaparral, which played Vista Murrieta down to one point, to win a league championship without any ties at the top. But whichever team wins this one is guaranteed at least a partial first place.
Vista Murrieta won this matchup 21-7 last season, but expect a higher-scoring game this time. Murrieta Valley has a little more offensive firepower with QB Brandon Rose, RB DJ Watts, and WR Tiger Bachmeier running the show, but the Broncos have put up 121 points through three games, and their defense has been much more dominant. This one will likely come down to the wire.
1. Lincoln (San Diego) @ Cathedral Catholic
How scary is Cathedral Catholic this season? Lincoln has won all three of its games this season by a combined score of 152-0, and some are still calling the Hornets a heavy underdog on Friday. Cathedral is coming off a bye-week, but in the Dons' last game, they beat another powerhouse in St. Augustine 41-14. If Lincoln knocks off Cathedral this week, it still has a major test next week in St. Augustine, but the odds are that this game will have an undefeated season and Western League championship directly on the line for both sides.
—
MORE SOCAL GAMES TO WATCH
In any given week of California high school football, there are dozens of great games to watch between top programs. Here are some other exciting SoCal matchups happening this week:
San Juan Hills @ Mission Viejo
La Costa Canyon @ Carlsbad
El Camino @ Mission Hills
Loyola @ St. Paul
Oaks Christian @ Calabasas
St. Augustine @ Oceanside
Valencia (Valencia) @ Golden Valley
Chino Hills @ Rancho Cucamonga
Mayfair @ Damien
Mater Dei Catholic @ Eastlake
Garces Memorial @ Paraclete
Notre Dame (Sherman Oaks) @ Cathedral
Oxnard @ Buena
Bishop Diego @ Bakersfield Christian
San Jacinto @ Rancho Verde
St. Augustine @ Oceanside
Ridgeview @ Bakersfield
San Marcos @ Torrey Pines
Glendora @ Ayala
Grossmont @ Steele Canyon
Villa Park @ Foothill
Huntington Beach @ Newport Harbor
Northview @ San Dimas
Scripps Ranch @ Serra (San Diego)
Capistrano Valley @ Trabuco Hills
Glendora @ Los Osos
Apple Valley @ Oak Hills
Murrieta Mesa @ Temecula Valley
Saugus @ West Ranch
Yorba Linda @ El Modena
Pasadena @ Crescenta Valley
Diamond Ranch @ Los Altos
Citrus Valley @ Beaumont
Stockdale @ Bakersfield Centennial
Vista @ Poway
Fullerton @ Sunny Hills
Olympian @ Otay Ranch
Yucaipa @ Redlands East Valley
Heritage @ Elsinore
St. Bonaventure @ Camarillo
Santa Fe Christian @ Mount Miguel